Former congressman and U.S. Interior Secretary Ryan Zinke is running again for the U.S. House of Representatives.
Zinke, the 59-year-old Republican from Whitefish, said he chose to return to politics — having left it draped in scandals during his time in former Republican President Donald Trump's cabinet to avoid being a "distraction" — to bridge the fraught political divide.
"I have friends on both sides of the aisle and there's a tension that I have not felt in my lifetime," he told the Montana State News Bureau on Thursday, invoking his tours overseas as a Navy SEAL. "This country is worth fighting for, but come on, let's not fight each other."
Zinke said protecting the Constitution, securing the border, addressing homelessness and job security for Montanans are all priorities in his campaign. He returned again and again in a phone interview Thursday to denouncing the sharp political discourse that's set in throughout national politics. 
"I think we all feel it," he said. 
Zinke, a former GOP state senator, made an appearance in the 2021 Montana Legislature as a proponent for House Bill 614, sponsored by Helena Democrat Mary Caferro, which set up better workforce training programs in the private sector. Zinke was especially keen on its opportunity for a 10-week cybersecurity training that delivered on high-paying jobs.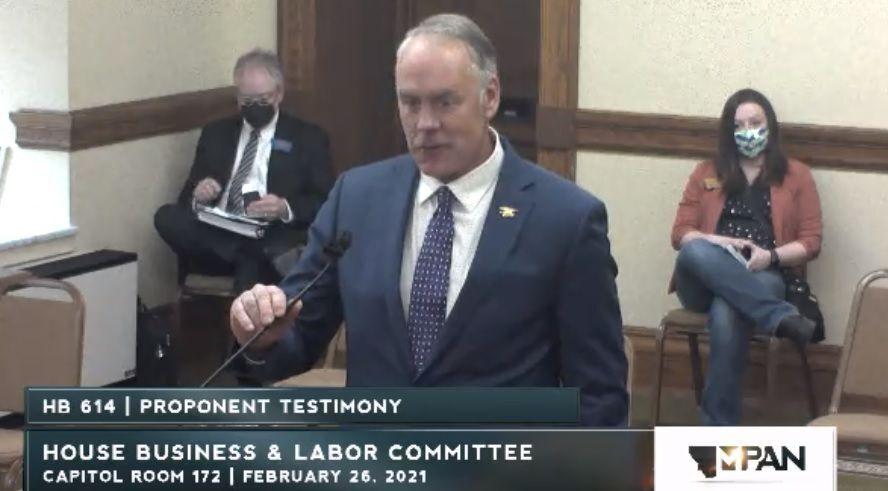 Zinke left his post as Secretary of the Department of the Interior in late 2018 plagued by scandals from nearly every direction. National news outlets were at his heels throughout his term as he rolled back oil and gas restrictions, took chartered flights and shrank the Bears Ears National Monument in Utah. His own Interior Department reviewed a land deal between a foundation run by Zinke's wife and a company co-owned by a Halliburton chairman. 
Asked Thursday if the scandals will be an Achilles' heel to his 2022 campaign, Zinke said he believes voters will identify those claims against him as partisan attacks.
"I got attacked from day one," he said. "It was vicious and I understand they weren't after me, they were after President Trump. … No, people see it for what it is. I went through over a dozen investigations; there was no wrongdoing."
The Associated Press reported in late April that the full details of an investigation into Zinke's dealings related to a casino permit are not public yet, and other investigations into his actions have ended without findings of wrongdoing by Zinke.
"I love mining, but but there's a place to do it and a place to not do it. Yellowstone Park? Not so much," he said. "Troy? Yeah, grab a shovel."
Zinke said he has been working as a consultant in the renewable energy and technology sectors in the years since leaving office. He is also a board member at U.S. Gold Corp, a gold exploration and development company with projects in Wyoming, Nevada and Idaho. The Associated Press reported he also became managing director and consultant for a private investment company, Artillery One, and joined Washington lobbying firm Turnberry Solutions.
"I get to work project by project with people I like," he said. 
Zinke held office as a state senator from 2009 to 2013. He was elected to Montana's lone seat in Congress in 2014 and again in 2016 before he was named to Trump's cabinet.
It's not clear what congressional seat Zinke will run in after Montana picked up its second U.S. House seat earlier this year. The new Congressional district will be drawn by a five-member Montana District and Apportionment Commission, set to meet next on June 10 at the State Capitol. The current at-large seat is held by Republican Rep. Matt Rosendale.