Whitney Williams, a philanthropist and businesswoman who lives in Missoula, announced Thursday she's running for governor as a Democrat.
Williams, 48, becomes the fourth Democrat in the party's primary contest. The seat is open in 2020 as current Democratic Gov. Steve Bullock is termed out from running again and has launched a long-shot bid for president.
Republicans have a three-way primary, with Attorney General Tim Fox, who is termed out from running again for that job, as well as U.S. Rep. Greg Gianforte and state Sen. Al Olszewski. Republicans have made clear that taking back the governor's office after 16 years in Democratic hands is one of their key goals of 2020.
Williams said Thursday she's running because she thinks she's the best equipped to beat Gianforte, who several times through her speech she said would be the GOP's nominee.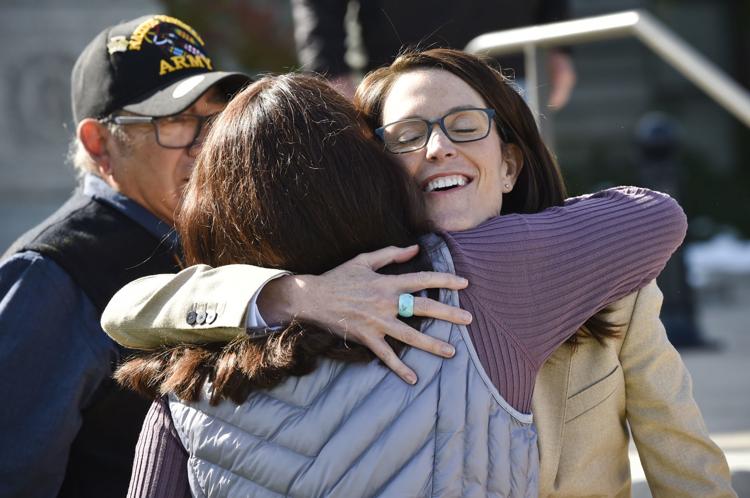 "With friendship and respect to those running in this Democratic primary, I can and I will defeat Greg Gianforte. This fight is not going to be easy," Williams said, adding she believes Gianforte will emerge from the GOP primary because he has financial resources to run an aggressive campaign.
In a speech to supporters gathered on the Capitol steps, Williams tapped into the theme of a changing and growing Montana, where cities like Bozeman are seeing a rapid expansion in population and wealth while some families are struggling to make ends meet at low-paying service jobs.
"Our Montana is at a crossroads. It's changing, and the choices we make today will define how our kids and grandkids make their own memories in this place," Williams said. " ... The wide open spaces of the state we love are now peppered with developments and the mansions of out-of-state wealth. Too many folks are living on the margins in otherwise thriving communities."
Williams also focused on the high cost of health care and prescription medications. She also vowed to protect Medicaid expansion, which covers about 95,000 people in the state and touched on other rallying issues for Democrats, such as public lands and unions.
Williams also came out strongly against a sales tax, an issue that played a role in the 2016 governor's race when old audio from 2002 emerged of Gianforte presenting a tax advisory council possible solutions to create jobs in Montana that included the idea of a sales tax. However, Gianforte said in the 2016 campaign he would never support a sales tax.
Montanans have voted against a sales tax twice before, and it's been seen as the third rail in tax policy for political candidates. But this legislative interim, lawmakers will study the state's revenue structure, which is looking increasingly out-of-date to some, and a sales tax is likely to be a large part of that discussion.
Unlike the other Democrats in the race, Williams is playing up a background in the private sector. Cooney has spent most of his career in state government or as an elected official, and Schreiner is a state representative. Neill is a former state lawmaker. Williams has not held elected public office before.
You have free articles remaining.
Williams has also spent substantial time away from Montana running her business. She said she moved back to Missoula three years ago, and two years ago she registered her company here. In anticipation of likely attacks for a career that took her out of the state, Williams emphasized her family's long connection to Montana, saying they homesteaded in Jefferson City in 1864. As she spoke Thursday, her parents Pat and Carol Williams sat at her side.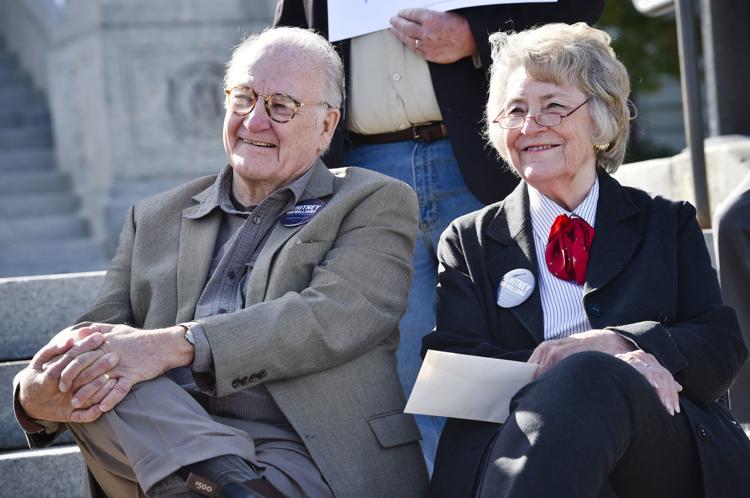 Carol Williams was the first woman to hold a majority leader position in the state Senate. She was in that body from 2004-2012 and served a term in the state House. As a lieutenant governor candidate, she lost to former Gov. Judy Martz, a Republican, in 2000. She also founded Carol's List, which works to get female candidates elected.
Carol Williams said Thursday she's extremely proud of her daughter for taking a "bold step."
"She's had this political skin on all her life. There's nothing she could do to get rid of that, for sure," Carol Williams said. "But she's made her own path. She's coming at it from a different place. Instead of the political perspective, she has a business perspective too."
In a video announcing her campaign, Whitney Williams made an indirect nod to the proliferation of men in Montana politics, saying voters would typically expect a candidate to wear a "power tie" or "pinstriped suit." The state has had only one female governor, Republican Judy Martz.
"I believe very strongly that we should have more women in all sectors and leadership. I think it's really powerful to break glass ceilings, and (former U.S. Rep.) Jeannette Rankin did it first. And Judy Martz did it after that. And it would be the honor of a lifetime to be the first woman Democrat elected governor (in Montana). But I do think that there's some real power in role modeling for little girls," Williams said.
Pat Williams served as Montana's Representative in the U.S. House from 1979-1997. He told the Associated Press on Thursday he's "scared to death" about his daughter's political bid.
"No dad wants to see his daughter come home with skinned knees, and this business is filled with skinned knees," Pat Williams told the AP.
Though it's now a bit crowded, Williams believes the Democratic primary will be a clean and friendly contest.
"We're all good people, and we all want the best for this state. So we're going to be great teammates in this primary, and come June we'll all get behind whoever it is that wins. I believe that is going to be me," Williams said.
"They're friends, and I really admire all of them and what they've done," Williams said. "I simply have a different background and a different approach. I'm a private sector person, I'm a businesswoman who's been solving tough problems and working on charitable activities, with Fortune 500 companies and charities and nonprofits for years, and I think it's just a different sort of solution set than what some of the others who have been in public service for so long."
Cooney released a statement Thursday welcoming Williams to the race:
"I've watched for years as Ms. Williams has done admirable work across the country and around the globe. I welcome her back to Montana and to this race. The governor's seat is critical to protecting all the progress we've made in this state to expand access to healthcare, invest in public education and infrastructure and to keep public lands in public hands — that's why I'm running," Cooney said.