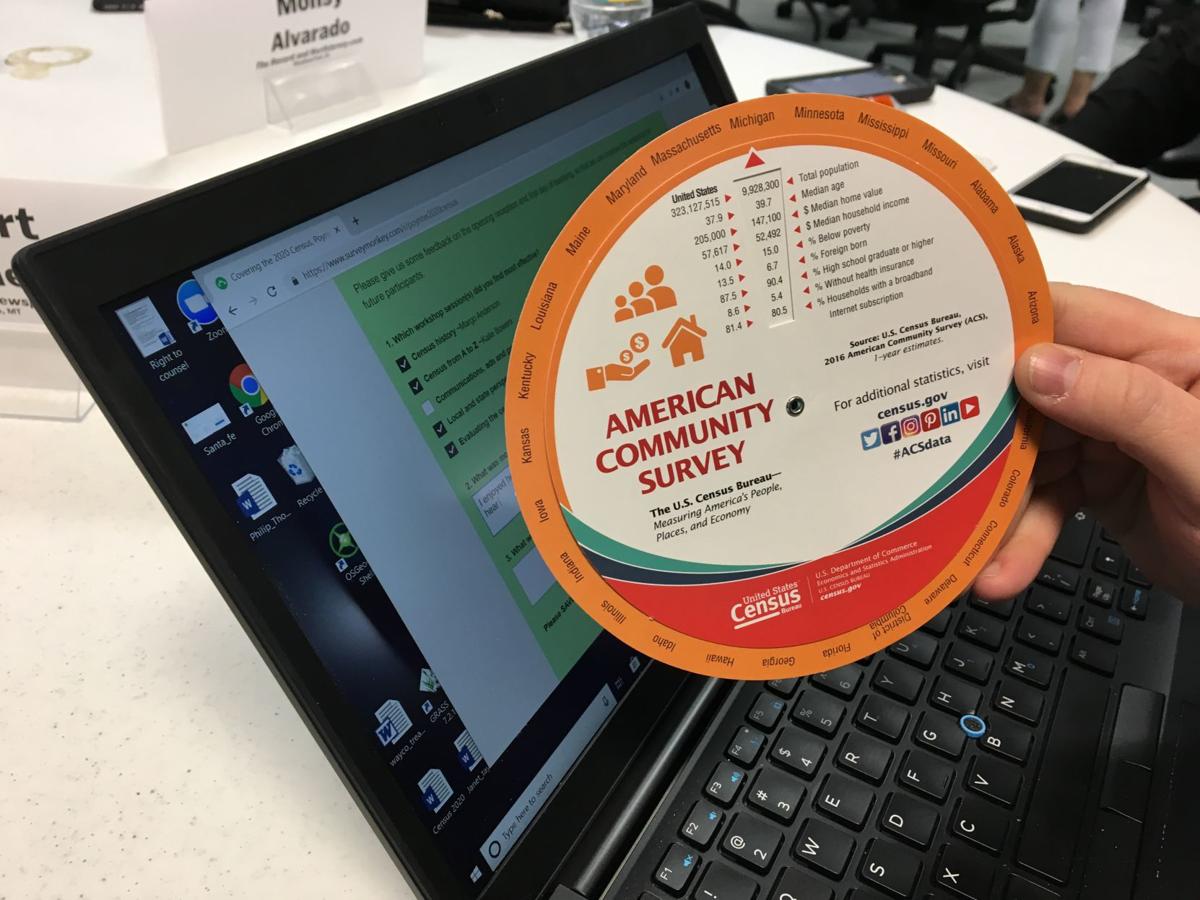 Back in the early 1990s, Joe Lamson was part of the ultimately failed effort that went all the way to the U.S. Supreme Court trying to keep Montana's second seat in the U.S. House.
"We were growing, but we weren't growing enough compared to what the rest of the country was doing," said the longtime Democrat operative, who has worked on drawing district lines in the state for decades. Montana ended up losing one of the 435 congressional districts available, leaving it with the at-large seat that now represents an estimated 1,062,305 people.
"We're very close, on the cusp," Lamson said. "I really think we should have two districts."
Kimball Brace, the president of a consulting firm called Election Data Services in Washington, D.C., that specializes in redistricting, said his firm's methodology shows it's fairly likely that Montana will gain a district, but by the narrowest of margins.
"Montana needs another 13,000 people to answer the 2020 census," he explained. Each state is guaranteed a seat in the U.S. House. After that, the remaining 385 are distributed via a complex mathematical formula that takes into account not just how fast a state is growing, but how rapidly others are, as well as which states are losing population, and other factors.
Montana needs to add enough people in the next two years to beat out states like Idaho, Ohio and Utah, which are growing fast and also could have a shot at adding districts, Brace said.
David Parker, a political scientist at Montana State University in Bozeman, said Rhode Island is losing population and could lose a district, and California is a candidate to lose a district for the first time in that state's history.
Early on Lamson was skeptical about Montana's chances of adding another seat. But the 2020 U.S. Census is expected to be different in a couple of ways from years past, and that's shifted his thinking. Demographics around the country are playing out in Montana's favor, and the Trump administration's intention of adding a citizenship question could dampen turnout in other states like Texas. If that state doesn't pick up a seat, Lamson said that means Montana is most likely to gain.
"All those things are colliding to make Montana right on the cusp," Lamson said. "Especially when you look at our growth rate for the last three years, we've been doing quite well. If that continues, we could coast across the line and pick up a seat. … In my lifetime, we're the closest I've seen to getting a seat back."
Montana a first?
No state that has gone from two districts to an at-large seat has ever regained that seat, so if it happens here Montana would be the first to do so, Lamson said.
Other states are trying to gain districts and forming Complete Count committees to make sure as many people as possible are counted by the U.S. Census. The Missoulian's Rob Chaney took a deep dive into Montana's efforts to boost Census turnout, and the article can be found online.
Aside from the possibility of adding a congressional district, the number of people counted in the U.S. Census has direct ties to how much federal money the state gets for health, social and other programs. And with 45% of the state budget coming from federal funds and the hit of each undercounted person estimated at $20,000, not capturing everyone in the U.S. Census is a big deal.
The Los Angeles Times reported California's spending on getting an accurate U.S. Census count could reach $150 million. Montana's Legislature allowed $100,000 to spend on U.S. Census efforts here, money Cooney said the Complete Count Committee will try to spread by leveraging groups forming in communities around the state and neighbor-to-neighbor outreach, which also helps build trust in the process.
"Our $100,000 works out to about 9 cents a person, and we were lucky to get the $100,000," Cooney said. "We're going to use that $100,000 very wisely and carefully to get the biggest bang for the buck. We're using that money to try to go as deep into all those areas to get more and more people locally engaged and working with us."
Though a citizenship question would likely have a greater effect on turnout in places like California or Texas, it could also hurt Montana's count. The state has other issues in making sure everyone is accounted for.
"Historically in Montana we have had undercounts, especially where you would think there would be undercounts, on the Indian reservations and within the higher-poverty areas within the cities," Lamson said.
The Complete Count Committee is targeting those areas, Cooney said, by doing things like setting up subcommittees on each of the reservations and reaching out to places like food banks, libraries and more to help capture people who can be hard to reach.
For the first time, there will be an effort with the 2020 count to have people respond online. Though that won't help many of Montana's places that are traditionally difficult to tally, it could mean make it easier for people with reliable internet access to self-report, freeing up resources to focus on other parts of Montana.
"We're trying to leave no stone unturned," Cooney said. "Once people are accounted for, we can focus on those areas where we know that didn't work."
Another challenge is finding enough people to work for the U.S. Census. Montana's low unemployment rate means jobs are hard to fill, even for flexible part-time work that pays well like a U.S. Census job, Cooney said. 
Dividing line
If the question of whether Montana gets another district is answered in the affirmative, the next issue to take up is how to split the state in half to accommodate two districts.
If Montana does gain a district in 2020, it wouldn't affect anything until the 2022 elections. 
Parker said that before Montana lost its second congressional district in 1993, the state was divided into a large eastern seat that trended conservative and a smaller western seat that was "arguably" more liberal.
He believes that Bozeman might get split if the state is redistricted.
"I'd be curious to see where Bozeman lands," he said. "A bipartisan redistricting commission does state legislative seats, and the same goes for an additional U.S. House seat. They traditionally try to create seats that are likely to be won by one party or the other. I suspect it would be similar to what we had before, with a western, more-left district and an eastern, more-right district."
He said Yellowstone County, where Billings is located, has become more conservative in the past decade, while fast-growing Gallatin County has become more liberal. Ultimately, Parker believes another district would be a good thing for the state.
"It would give us a little bigger seat at the table in Washington, D.C.," he said. "We would have a potentially more diverse congressional delegation that is a reflection of Montana's political diversity, which is often underrated. Ultimately we're kind of a populist state. Elements of that fit in both the Democratic and Republican parties. It would be good for Montana."
Lamson sits on the Districting and Apportionment Commission, which is just now starting its once-a-decade work on revising Montana's legislative districts to fit the growing state. That same committee is the one that would draw Montana's two U.S. House district boundaries.
If Montana gains a seat, the commission will call a special meeting to review the population data and figure out how to cut the state in half. After a public comment period, it will vote on the new boundaries.
The commission has five members, two appointed by Democrats in the Legislature, two by Republican. Those members nominate a chair, who has yet to be selected and is a choice that often goes to the state Supreme Court. In a meeting Friday, the committee solicited applications from members of the public in an attempt to fill the position with a person who is nonpartisan.
From 2010-2018, 23 counties are estimated to have either lost population or experienced very little growth, with many of those in eastern Montana. Most of the population growth in Montana has been centered in the western and southwestern part of the state, but the Billings area and the oil-boom counties of eastern Montana also saw significant increases.
The newest estimates from the U.S. Census Bureau show that Missoula County's population has grown from roughly 109,000 in 2010 to nearly 119,000 today. That's an 8.7% increase, one of the larger increases in the state over that period. It's still far behind the rapid population growth of 25% experienced by Gallatin County or the 12.3% increase in Flathead County. Yellowstone County grew at 8.2%.
Lamson predicts a western congressional district that makes up about a third of the geographical area of the state to get about half of the population.
"You basically have to take 100,000 people out of the west and put them to the east" to balance things out, Lamson said.
As Montana populations have grown, political voting blocs have developed. Though a western Montana district would contain the Flathead Valley, which tends to support Republicans, it would also include Democrat strongholds like Missoula.
"I think you would end up with one district that would be a swing district, more of a purple district," Lamson said. "The other district would probably be a pretty hard red district, just looking at where people are."
No matter how the politics shake out, having two representatives for smaller geographic areas and fewer constituents will mean better representation for Montanans, Lamson said.
"My No. 1 thing that I think we should all be focusing on right now is getting people aware of how important the Census is and one of the reasons is hopefully we can get what we deserve, which is two representatives," Lamson said. "As a person who's had to run a statewide office, you still only get the same number of dollars and staff to serve not only a larger number of people but a larger geographic area. I don't think we're getting as good of representation as we could have because we don't have the infrastructure to support it."
Get Government & Politics updates in your inbox!
Stay up-to-date on the latest in local and national government and political topics with our newsletter.