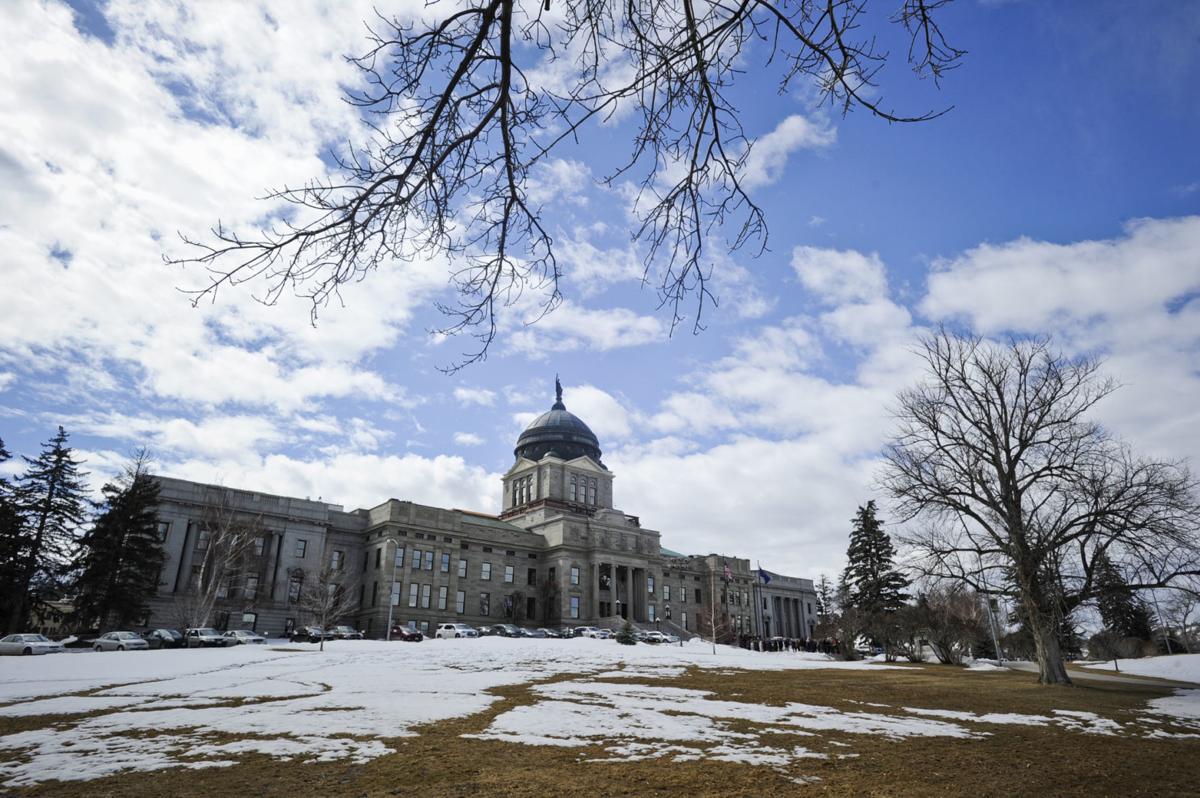 Though the Montana Legislature cleared several of the major bills of the session off its plate at the end of last week — including Medicaid expansion and a $80 million infrastructure bonding package — several key pieces of legislation still loom.
As lawmakers adjourned for Easter break Thursday afternoon, things still yet to be finalized in Helena include a proposal to build a new state history museum, an attempt to revive the hoped outcomes of the so-called "Save Colstrip" bill, and the more than $10 billion state budget.
Action on Colstrip came at the end of last week, with a vote eked out by a mix of Democrats and Republicans in the House. That vote would preserve a bill that will likely turn into the last-standing carrier for the elements of legislation that, in its original form, would have let the state's monopoly utility pass on to consumers $75 million of its cost in increasing ownership in the Colstrip power plant.
Some have said that was in exchange for another vote to revive Senate Bill 338, which would build a new Montana Heritage Center in Helena and create grants for museums across the state. Republicans in the House Taxation Committee tabled that bill earlier in the month.
"This bill becomes another part in the tool shed that we get to leverage with our dear governor to get something because he wants this bill, so what are we going to get out of this?" said Rep. Derek Skees, a Republican from Kalispell, on Thursday.
The Montana Heritage Center bill passed a second reading and is heading to an appropriations committee.
House Bill 597, the utility bill, will move to a conference committee, where it's expected legislators will try to make changes to accomplish some of the intent of the failed Colstrip legislation. That was Senate Bill 331, from Billings Republican Sen. Tom Richmond.
"That'll be the vehicle that one last discussion will be held in," said Rep. Lllew Jones, a Republican form Conrad who is a key crafter of the state budget. "I don't know the success or lack thereof the discussion (will have). … Is there something that the (executive) can agree to, that the House and Senate can agree to?"
Montana Gov. Steve Bullock, a Democrat, made clear he wasn't going to sign Senate Bill 331 before it died. What's less clear is what he would find acceptable if another proposal emerges.
"We'll see what the bill ultimately comes to. Often good public policy is in the eye of the beholder," Bullock said.
The governor has held discussions with lawmakers about what he would be able to sign, he said Thursday.
"I'm looking for solutions that ultimately, from my perspective, are bipartisan solutions on issues the state faces. I won't sign it unless I think that ultimately it's good for our state," Bullock said.
House Minority Leader Casey Schreiner, a Democrat from Great Falls, said it's important for his caucus that whatever comes out of a conference committee supports the increased use of renewable energy resources and protects NorthWestern Energy customers.
"We at all cost need to look out for ratepayers," Schreiner said.
Along with HB 597, a handful of other bills — known as budget companion bills — are moving to free conference committees in the coming week.
Budget companion bills have broad titles meant to execute pieces of the state budget late in the session. But because they have such generic parameters, they can become mechanism to add in last-minute policies and spending.
"It's really a matter of conference committees, in my assessment, and what can be put together on the Colstrip issue," said Senate Majority Leader Fred Thomas of the remaining days of the session. Thomas is a Republican from Stevensville.
One of the issues Democrats and Bullock want to see find a home as the session enters its final days is funding for a statewide preschool program, which has been one of their top priorities.
After two bills to expand preschool options died in March, an amendment to a companion bill in a free conference committee is the best shot at preserving the funding for Montana's existing programs or creating additional opportunities.
"I would hope that among Democrats and Republicans the recognition that we're about to lose 1,300 (pre-kindergarten) slots that exist right now … as well as further opportunities for the state could get folks to move, but we'll see," Bullock said. "Absent funding, and the funding would have to come from the legislative body," the programs will end.
Schreiner said he expects a companion bill to "play a role" in a last-ditch effort on preschool.
"Whatever that looks like, I think, I'm not positive yet. I'm not sure exactly," Schreiner said. "I hope it happens. … I think this it's too important an issue to just let go."
Thomas doesn't think there's much of a shot for a deal on preschool to be struck.
"I know the governor still wants pre-K, but there just has not been an appetite in the Republican caucus for that legislation," Thomas said.
The companion bills still in play, and how much spending they might include, are why Rep. Nancy Ballance, a Republican from Hamilton who is carrying the budget bill, asked to delay a vote on it last week. If lawmakers sign off on Senate amendments, the budget is one more vote away from the governor's desk.
"What we haven't seen yet is pre-K at all. So that's nowhere in the estimate. And we haven't seen anything for Colstrip," Ballance said. "We have a few things we need to resolve. There are still the big pieces we haven't seen yet."
Rep. Forrest Mandeville, a Republican from Columbus, was critical of all the last-minute maneuvering at the end of the week and of the Republicans who have joined with Democrats to set the final puzzle pieces.
"It just gives them more time to make deals," Mandeville said.
Of Republicans who voted with Democrats to blast the museum bill and advance the possible Colstrip legislation, Mandeville said "they control the vote. They have about 20 people that vote with the Democrats (in the House). The conservatives are cut out of it."
"The people of Montana thought they were sending 58 Republicans to the House in Helena. Turns out they sent 38," Mandeville said.
Jones said tempers can flare in the final days of the session, but that the "sausage-making is never pretty."
"We've reached a period of finality. There's hope all the way until the end, because nothing's really dead until it's dead," Jones said. "But as the vehicles available to possibly promote your idea begin to disappear, finality begins to set in. Finality that something you didn't like may really be passing, or finality that something you really wanted to pass may not make it this time. And so as hope fades, anger arises."
Get Government & Politics updates in your inbox!
Stay up-to-date on the latest in local and national government and political topics with our newsletter.