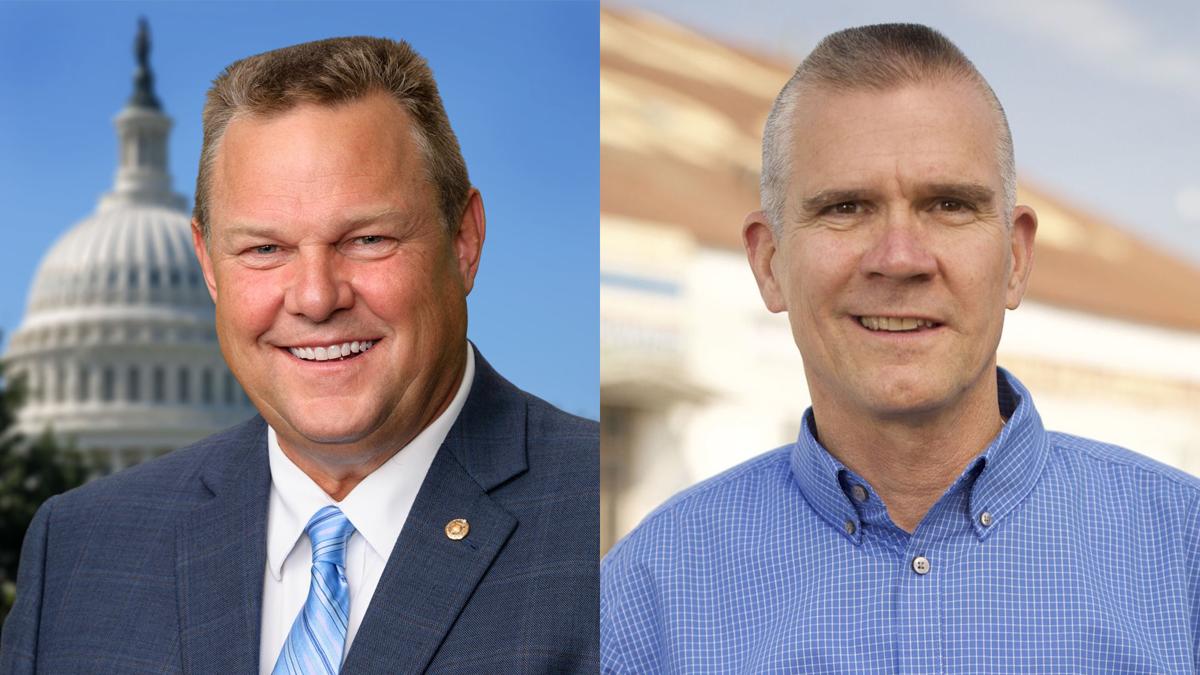 GREAT FALLS — On a blisteringly hot July Friday at the VFW Post 1087 on the east edge of Great Falls, Tom Johnson sat and listened to U.S. Sen. Jon Tester talk about the U.S. Department of Veterans Affairs.
As the air conditioning struggled in the back room behind the bar, Johnson heard Tester tell the group of about 20 veterans about the VA Mission Act, a bipartisan bill Tester co-wrote with Republican U.S. Sen. Johnny Isakson, of Georgia.
Johnson, who worked out at Fort Harrison for decades as a firefighter and retired as a first sergeant in the National Guard after almost 42 years, drove the hour and a half from his home in East Helena to hear Tester because the VA is a topic of great importance to him.
Tester has made veterans affairs one of his trademark issues during his nearly dozen years in the U.S. Senate. What Tester's done to help veterans, and what his opponent Republican state Auditor Matt Rosendale says he hasn't done enough of, are already playing a central role in the U.S. Senate race this summer and will continue into fall.
For Johnson, it's something he tracks closely.
"I'm a very politically minded person," Johnson said. "I try to keep up on all the issues. I always look at the big picture of what works best for America as a whole, but I'm very passionate about veterans issues."
Problems and scandals at the VA hit the spotlight nationally in 2014, where it was found in Arizona veterans died while waiting for medical appointments at the VA and employees altered information to make wait times appear shorter.
Investigations led to the resignation of then-Secretary of Veterans affairs Eric Shinseki and a massive effort, with varying degrees of success, to overhaul the largest health care system in the United States. Tester, ranking member on the Senate Committee on Veterans Affairs, has played a key role in many of those reforms.
Tester's efforts to get Fort Harrison and the VA nationally back on track are laudable, Johnson said.
"I applaud his effort, what he's done with the VA and the veterans," Johnson.
Rosendale's point of view
Rosendale, Tester's opponent, doesn't think Tester has done enough to help veterans in Montana or fix issues at VA facilities here and nationally.
"(Veterans') frustrations honestly are with Jon Tester's lack of accomplishments," Rosendale said when asked what he's heard from veterans he's met with while traveling the state campaigning. "They are sick and tired of listening to rhetoric that legislation is being passed and the conditions on the ground are going to be improved."
Tester often points to legislation he's passed with a bipartisan effort and has been signed by Republican President Donald Trump. During a rally in Great Falls earlier this month, Trump called two of the bills "landmark" legislation, adding "we're taking care of our veterans more than anybody's ever taken care of them."
But Rosendale said it's taken too long to implement reforms and that things like the Veterans Choice Program — which lets veterans get care from community providers if wait times are too long or VA facilities are too far from where veterans live — have been disasters.
"You cannot convince people that things are improving because of this legislation that's being passed," Rosendale said. He pointed to Fort Harrison's internal performance ratings dropping from two stars to one in 2017. Rosendale cited a quote from a VA spokesman when the ratings dropped that said, "Just because we have a low rank it doesn't mean we have a problem."
"If you can't admit you've got a problem then we've got a lot bigger problem than anybody even realizes," Rosendale said. 
Rosendale said staffing issues at the Glendive VA clinic are another example where not enough has been done. The Glendive Ranger Review reported in January that the Glendive clinic has not had a dedicated primary health care provider for a year and a half.
Rosendale also cited a 2014 story in the Missoulian saying wait times for veterans across Montana to get appointments at the VA was 48 days. The VA website now lists average wait times for a returning patient to get a primary care appointment ranging from two to 24 days.
"When we hear the reports that … veterans … are forced to wait 30 days beyond the preferred time to see a physician, to even get an appointment, when we hear the Choice Act, which was supposed to resolve everything —  we hear about all these great pieces of legislation, but the Choice Act was so bureaucratic and cumbersome that the veterans couldn't even use it," Rosendale said.
Tester and the Mission Act
Tester was in Great Falls to talk about the Mission Act, which is meant to improve problems with the Choice program and help recruit and retain doctors.
"Choice wasn't doing what needed to be done to serve the veterans," Tester said, explaining it was rolled out too fast in response to the crisis in Arizona.
The major component of the Mission Act is community care. It's not set up to privatize the VA, Tester said, but is meant to let the private sector meet the gaps where the VA can't get veterans what they need.
Tester spoke for about 10 minutes in Great Falls before taking questions for another 15. Many of the veterans wanted to know about the mechanics of getting care, something Tester's staff works on day to day.
About half of the cases that Tester's office works on are related to veterans. Since taking office, Tester's caseworkers have helped 5,100 veterans through a formal casework process, which ranges from helping veterans find a job or home to appealing disability ratings or even helping a suicidal veteran access immediate help. Thirteen staff members in Montana help with casework.
J.P. Gallagher, of Butte, is one of those veterans who sought help from Tester's office after the Choice program mishandled his knee surgery.
Gallagher's doctor got authorization for the procedure, which was done on a Friday. The following Monday the Choice program called and said they were ready to schedule Gallagher's surgery.
"When I told them I already had the surgery, that's where my nightmare began," he said.
The VA told Gallagher he was on the hook for bills upwards of $60,000, all because of the miscommunication between the Choice program and the local provider.
"I went through trying to remedy it myself," Gallagher said. "I spent probably well over 200 hours calling the veterans health system, through Veterans Choice, everything, and I kept getting spun around in circles until I contacted Sen. Tester's office. Within a week they had answers for me."
Gallagher said veterans issues play a role in how he votes, and are part of the reason he's voting for Tester.
"I'm 100 percent behind Sen. Tester," Gallagher said. "It's not just words, he puts into action what he says he's going to do. When he says he's out there fighting for veterans, he proves it."
Jan Manning, a veteran who lives in Trout Creek, said her problems with getting care from the VA started around 2008 and haven't improved with the Choice program.
After serving in the Army for 17-1/2 years, she retired as a major. She has a disability rating of 100 percent, which means she's authorized to get all of her medical services from the VA.
She said the implementation of the Choice program "really started bogging down" her ability to get care. She's trying to schedule a mammogram and her options are to drive four hours to Helena or get it done in Missoula, a 260-mile round-trip, but there's a backlog of requests so long Manning said she was told she can't even get her name on a wait-list. Meanwhile, her mammogram is overdue.
While Tester told the veterans in Great Falls the Mission Act would remedy many of the problems Manning described, he said it was designed to take longer to roll out to avoid the same pitfalls that hamstrung the Choice program.
But Manning said she's already waited long enough and her frustrations are why she's voting for Rosendale, who she thinks will be able to fix problems. "The thing is, Tester has not fixed anything. They haven't even reinvented anything. What they did was rename a program that sounds like it's going to be wonderful, but so did Choice," Manning said. 
Delivery of quality care
Rosendale said if he wins the Senate seat, he wants to focus on the delivery of quality health care to veterans.
"The No. 1 thing that's going to help us do that is to make sure that we have adequate practitioners, adequate physicians in the field to deliver those services," Rosendale said. 
Rosendale said he would approach the VA like running a business, not through privatization but by improving efficiency.
"I hold people accountable," Rosendale said. "We have a very old saying in our household, 'Inspect what you expect.' You hold people accountable and I use my business background for finding the most efficient and effective solutions to deliver the result we're looking for.
"Let's make sure that we have health care benefits that have been promised to our veterans delivered to them, in the communities that they are living in," Rosendale said. "It really boils down to delivery of those services and making sure they're available to our veterans community. They're promised these services, they deserve these services."
While Tester has nearly a dozen years in the Senate working on veterans issues, giving him a long record to point to, Rosendale has voted on bills in the state Legislature dealing with veterans.
Tester's campaign is critical of several votes Rosendale took while he was in the state Senate. That includes support of privatizing a veterans home in Columbia Falls, which proponents say would have saved $2 million but was opposed by many veterans' organizations and others in the GOP.
Other votes Tester's campaign brings up include votes against using cigarette tax money or $100 million in bonds to help build a veterans home in Butte, tapping $15 million from the coal tax trust fund to help veterans and their widows buy homes, and taking $50,000 from the state general fund to provide scholarships to Purple Heart veterans.
"Tell me how he's better for veterans," Tester said. "He votes against the southwest Montana veterans home, he votes against Gold Star families, he votes against Purple Heart veterans, he votes against the veterans center. He hasn't ever done anything to help veterans. It's been no, no, no."
Rosendale refused to discuss any votes he took in the Legislature.
"I'm not going to go through bill by bill all of my legislation," Rosendale said. "Without having the complete language of each bill before me and the arguments that were there, there's no way I'm going to be able to."
He did point to supporting legislation that would have made $10 million available from investments from the coal trust fund for a veterans home mortgage program, as well as other bills that were aimed at protecting education and work opportunities for veterans, active service members and their children; awarding college credits and truck driving certifications; and funding for a National Guard scholarship program.
Still undecided
For voters like Johnson, the East Helena veteran who said he puts veterans issues at the forefront when making vote decisions, what Rosendale says about veterans' issues isn't enough to win his vote, but he's not sure he'll support Tester yet either.
Johnson said he's a very independent person, especially when it comes to politics.
"My style is fairly conservative, and I tend to vote Republican, but in a heartbeat I will vote for a Democrat if I think they're better."
There's things about Tester that Johnson doesn't like, but Johnson said, "I'm not real fond of Rosendale. I was hoping it'd be one of the other guys."
Johnson said it's hard to articulate why he doesn't like Rosendale, but said, "He rubs me the wrong way."
Johnson voted for Tester the first time, but not during his second run. And while he's not sure who gets his support this year, there's no question he'll be voting.
"I don't care who you vote for, you need to vote," Johnson said.