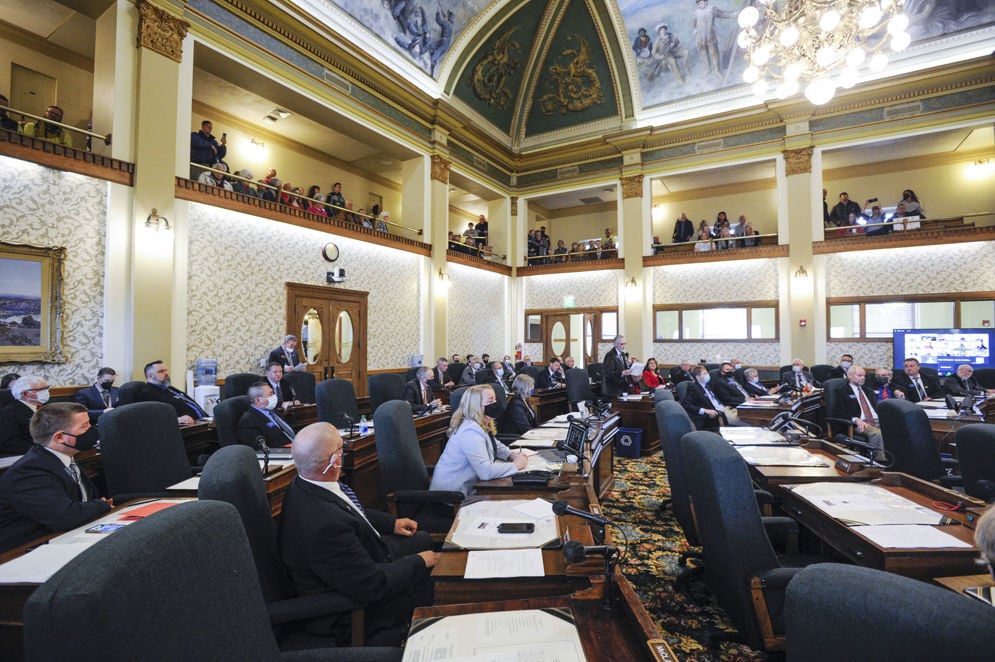 Cheering and applause broke out from a standing-room crowd in the Senate gallery Thursday, as Republican lawmakers advanced a bill that would prohibit medical facilities in Montana from requiring any vaccinations for patients, staff or visitors.
Scores of mask-free spectators packed the seats above the Senate floor as lawmakers debated House Bill 702, which passed a second reading amid unified Democratic opposition, 31-19. Lewis and Clark County, where the Capitol is located, still has a mask mandate.
The bill faces a final Senate vote before going back to the House to review amendments.
"We need to continue to make sure that these vaccines, that are not even officially approved, that are still going through some research, that they're not forced upon people," said Sen. Greg Hertz, R-Polson. COVID-19 vaccinations have received emergency-use authorization by the FDA after evaluation in clinic trials involving tens of thousands of people. Millions in the U.S. have received shots safely.
While much of the conversation revolved around the COVID-19 vaccines, HB 702 would take away the ability of nursing homes and other medical facilities from being able to require any vaccines in order to access or work at the facilities. A slew of organizations representing hospitals and other medical providers have opposed the bill throughout the process.
"Most of these facilities in the state of Montana accept Medicaid or Medicare, and the government, CMS, has requirements that these facilities have to abide by or they lose their ability to accept" those payments, said Sen. Jen Gross, D-Billings, referring to the Centers for Medicaid and Medicare.
The bill is from Rep. Jennifer Carlson, R-Manhattan.
The version that emerged from committee would have classified as discrimination any policy to deny employment, goods or services due to a person's vaccine status, but an amendment that passed narrowly on Thursday carved out exemptions for schools and day cares. Another amendment successfully added to the bill bars any entity from requiring that any vaccine be mandatory if it's available under an emergency use authorization or is in the process of undergoing clinical trials — which would include the COVID vaccines currently on the market.
While most Republicans argued for the measure as one that would reinforce the freedoms of people who don't want to be vaccinated, some also offered misinformation about vaccinations.
At one point, Sen. Keith Regier, a Kalispell Republican, brought up a debunked conspiracy theory that holds that the government or other actors are planting microchips in vaccines, an assertion repeated by at least one woman observing from the gallery.
At another point, a group of people in the audience groaned and booed when Gross brought up the death toll from the coronavirus pandemic, with more than 3 million people confirmed to have died worldwide as a result of the virus.
All 50 states in the country require children to obtain certain vaccines, such as for measles, mumps and rubella, in order to attend public school, according to the National Conference of State Legislatures. Like Montana, many offer exemptions for religious or medical reasons.
Sen. Tom McGillvray, R-Billings, who carried the bill in the Senate, argued the measure would push back against emerging proposals to require "vaccine passports" for certain activities, which he said threatened individual freedoms.
"This is just the beginning of the invasion of our privacy and our fundamental constitutional rights," said McGillvray.
He argued that the current law that allows people to get an exemption to vaccine requirements is too onerous.
"That's not a religious exemption, that's an inquisition," he said.
Holly Hart said she drove to Helena from Bozeman to show her support for the bill. She was motivated by the possibility that her daughter, a high schooler who she said had already been accepted to Montana State University, would be unable to attend college without first getting the COVID vaccine.
"We will move, my husband said, before we take this vaccine," she said, adding, "If this doesn't pass, MSU might be able to say you aren't coming here."
Hart and several others expressed doubts about the safety of the COVID vaccines, sharing stories of people they knew who they said died after receiving one of the vaccines.
According to the Centers for Disease Control and Prevention, which track adverse reactions to vaccines approved to distribution in the U.S., severe allergic reactions have been reported in two to five people out of every 1 million people vaccinated.
The CDC also tracks instances of people who have died after receiving the vaccine, but the agency's website states that "a review of available clinical information including death certificates, autopsy and medical records revealed no evidence that vaccination contributed to patient deaths." Such deaths are equal to 0.0016% of people who have been vaccinated, according to the CDC.
House Bill 703
A companion piece of legislation addressing vaccine status, House Bill 703, also passed the Senate health panel on a party-line vote, but had not yet been scheduled for a floor vote as of Thursday afternoon.
The bill similarly casts any refusal to let someone access goods or services based on their vaccine status as a form of discrimination. It also bars the government from establishing any sort of vaccine passport.
An amendment passed by the Senate Public Health, Welfare and Safety Committee on Tuesday creates a couple exemptions for medical or long-term care facilities to request proof of vaccine status, due to either on ongoing outbreak of that disease or if the federal government notifies a facility that it's in conflict with federal law due to vaccine policies.
"To me, it seems like a pretty good compromise," Sen. Carl Glimm, R-Kila, said Tuesday as the committee discussed the amendment. "You're providing for pushing the envelope as far as we can until the feds come in and say, 'You went too far.' And then we acquiesce."
Democrats, however, said that exemption did not provide nearly enough cover for those facilities. Sen. Diane Sands, D-Missoula, noted that she previously ran a community health center that relied in part on funding from Medicare and Medicaid.
"It is not a minor thing to intentionally be out of compliance with the regulation," she said, adding that the law could create a lot of additional work for those businesses. "It puts them at great risk of losing their funding, and I think that is a risk that is unconscionable."
Democrats on the committee also argued more generally that certain businesses should have the freedom to require that people with access to their facilities be vaccinated, in order to ensure the safety of other people there.
Gov. Greg Gianforte, a Republican, previously issued an executive order banning vaccine passports and prohibiting businesses from requiring customers to show they've been immunized or recovered from COVID-19 in order to receive services or enter a business.
The order, however, did carve out exceptions for nursing homes, long-term care facilities and assisted living facilities that require that documentation for residents.