One man at the "Stop the Steal" protest marched the grounds with a garden fork. But as reports of gunshots came from the Capitol in Washington, D.C., Helena's demonstration was far less menacing, with people standing near the road to elicit honks from drivers and a man strumming his acoustic guitar over an amplifier.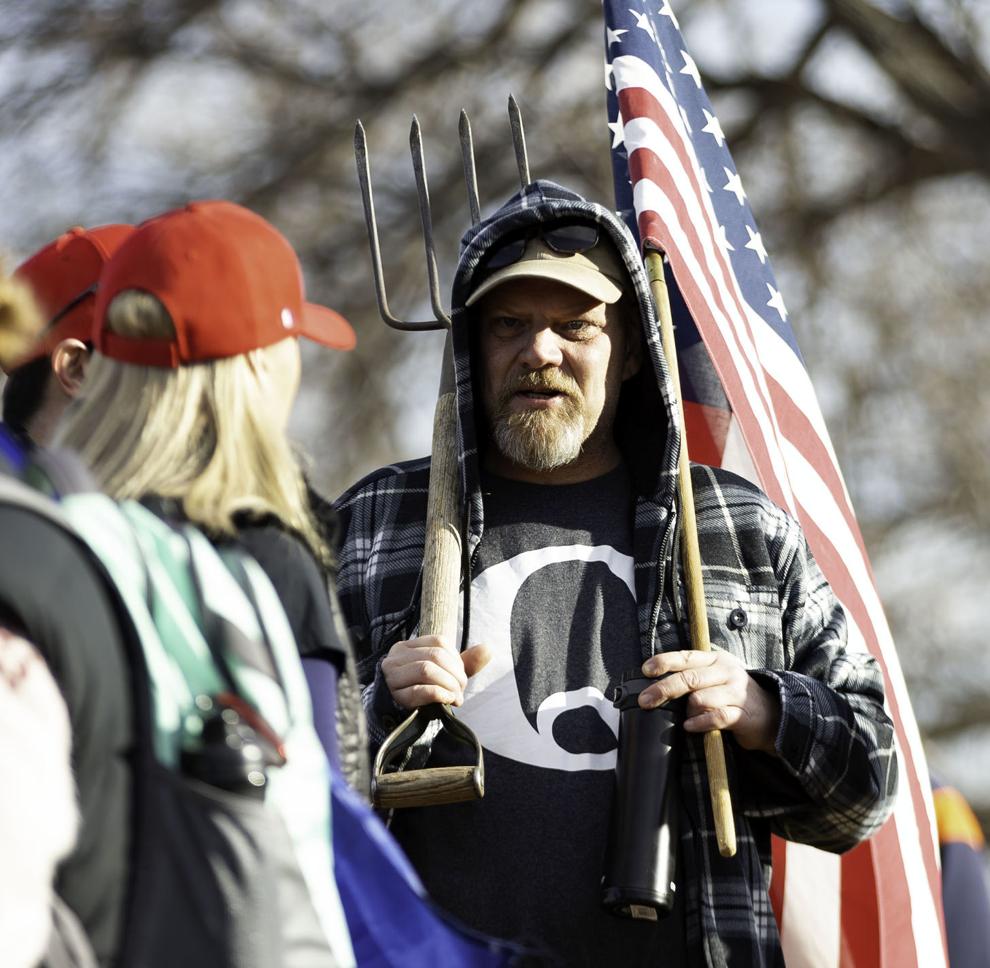 Trump has baselessly claimed that voter fraud led to his loss. Courts have nearly unanimously rejected Trump's efforts to overturn the election. Montana's Republican governor and GOP legislative leadership issued statements Wednesday strongly condemning the violence but not addressing those false claims, while the top two Democrats in the Legislature said both the violence and Trump's unfounded statements must stop.
In Helena, one pair of women had driven down from Kalispell to sell flags and Trump memorabilia from their Subaru parked nearby. Neither agreed to provide their name to the Montana State News Bureau but said they've made a living over the last year selling the Trump merchandise.
"This year's business is Trump," one woman said.
As she spoke, another woman came up and asked for an American flag with a blue line in one of the stripes. One for $15 or two for $25, the saleswoman said. Despite the profitability, the saleswoman said it was all in support of Trump.
She was in Helena on Wednesday because "we couldn't go to Washington." As the Capitol in D.C. went under lockdown, the saleswoman said she supported the mob there.
"I think we should have done it a long time ago and then we wouldn't be here," she said.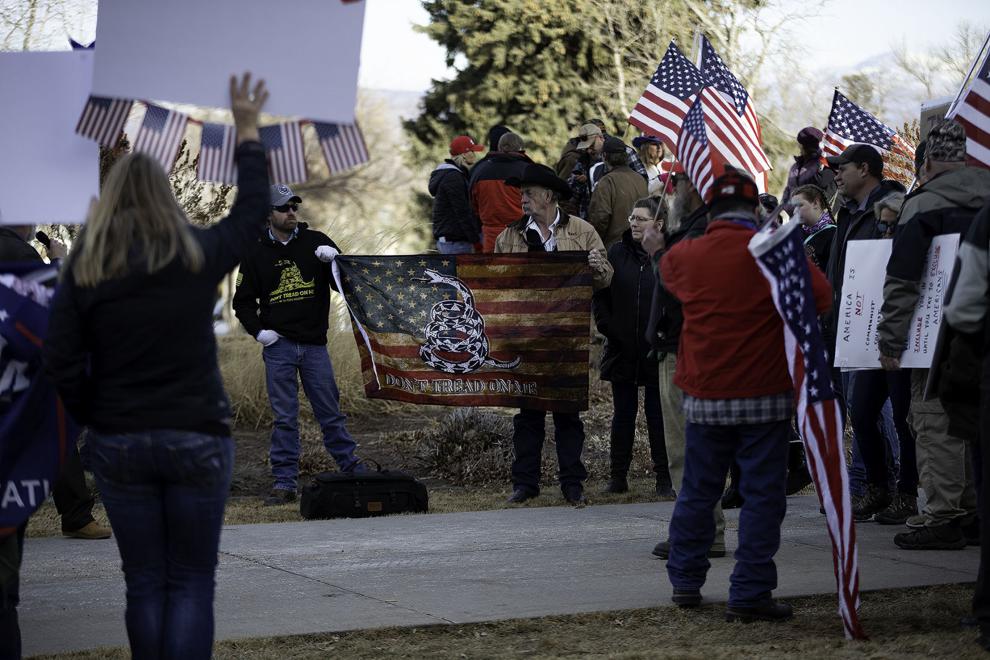 Bruce Troutwine drove from Missoula on Wednesday. Troutwine said he's aware that the U.S. Supreme Court, the U.S. Department of Justice and Vice President Mike Pence had all turned down Trump's efforts to overturn the election results, but believes they are all corrupt. He hoped the military would "restore" the election process, meaning a second term for Trump.
"I'm still hopeful that it can be restored," Troutwine said. "I'm sad now it could take the military to do that."
Within the Montana state Capitol, Republican Gov. Greg Gianforte, who took office Monday, issued a statement denouncing what was happening in D.C.
"Violence has no place in our civil society, and I categorically condemn what's happening in the U.S. Capitol," Gianforte said in the statement.
Republican leadership from the state Legislature issued a statement that said the people who gathered outside the state Capitol should be seen as a model. Neither their statement nor Gianforte's referenced Trump and other Republicans' unproven claims about the election that rioters in D.C. and those in Helena referenced.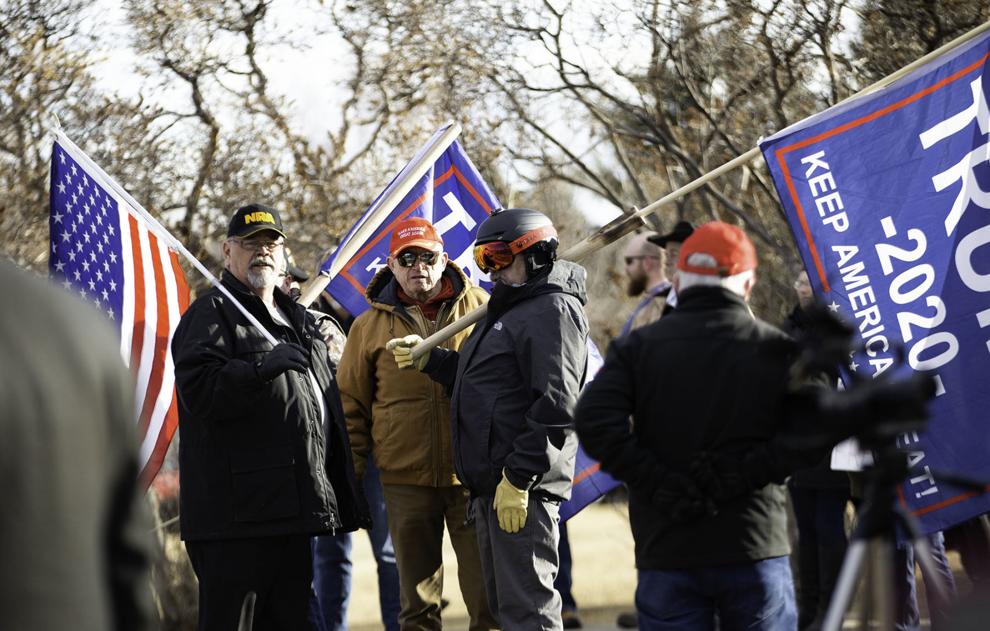 "We are blessed in Montana to have a long tradition of respectful and spirited dialogue and peaceful expression of diverse viewpoints through our First Amendment rights," read the statement from state Senate President Mark Blasdel, R-Kalispell, and Speaker of the House Wylie Galt, R-Martinsdale.
"Violence is not an acceptable response to political differences. Already this week, we've had multiple peaceful demonstrations here at the State Capitol in Helena. We encourage Montanans to continue serving as an example for the nation during these times of intense division."
Democratic leadership in the Legislature was direct in their statement denouncing the violence and the false claims of Trump.
"This is a dark day for our country. I am deeply disturbed by the violence that has taken place in our nation's Capital and my heart aches for our country and everyone impacted," said Senate Minority Leader Jill Cohenour, D-East Helena, in a statement. "Our country deserves leaders that will do more than condemn the violence attempting to prevent the peaceful transfer of power and immediately put an end to the baseless claims and dangerous rhetoric that got us here today."
House Minority Leader Kim Abbott, D-Helena, said her caucus worried for those in D.C. and the future of the country.
"We're watching the events in D.C. with heavy hearts, and a deep concern for both the safety of all those in our nation's capital, and our country's collective faith in the Democratic process," Abbott said in a statement. "This is a critical moment for our country. We will do everything we can to lead by example — and we ask all of our partners in public service to do the same."