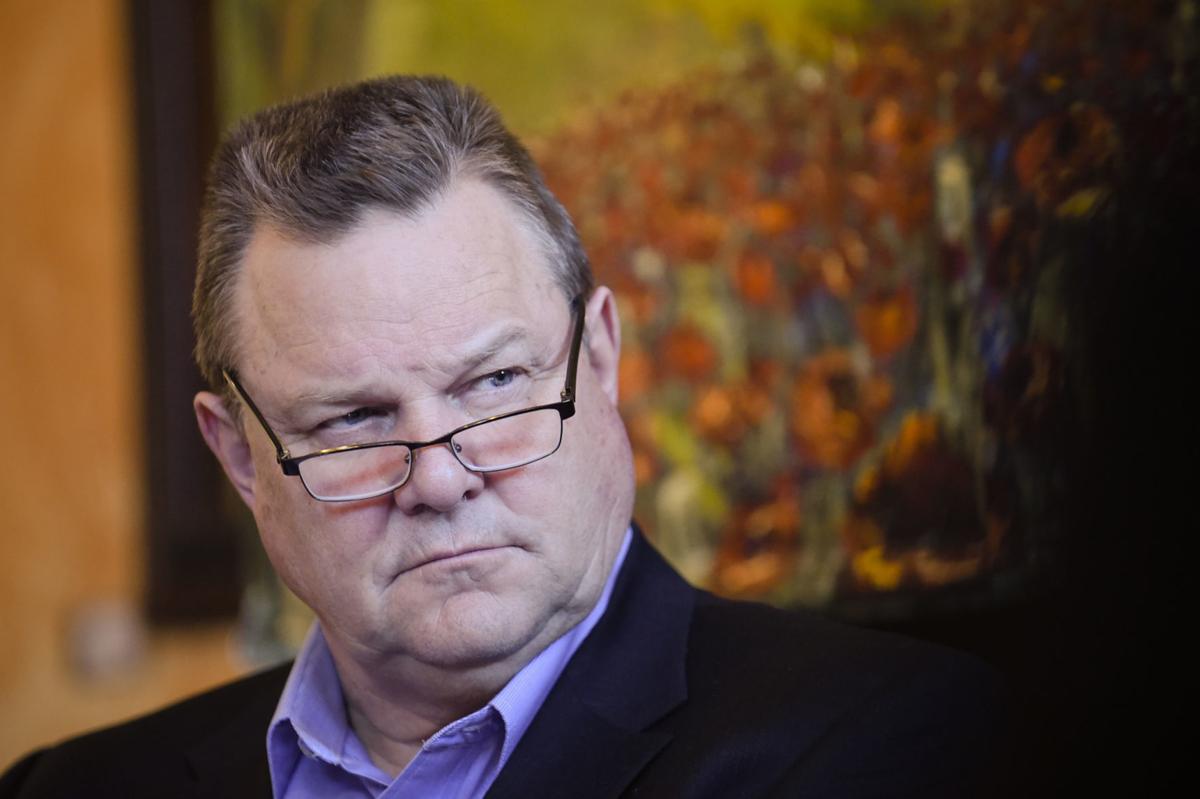 President Donald Trump said U.S. Sen. Jon Tester of Montana, the top Democrat on the Senate Veterans Affairs Committee, has a "big price to pay'' after Trump's pick to run the Department of Veterans Affairs withdrew Thursday morning.
Tester took the lead in bringing forward allegations against Rear Admiral Ronny Jackson of drinking on the job, creating a hostile work environment and doling out prescription drugs — allegations Jackson has denied.
Trump called in to the television show Fox & Friends Thursday morning to blast Tester and the treatment of Jackson, the White House physician.
"I watch what Jon Tester of Montana, a state that I won by, like, over 20 points, you know, really, they love me and I love them,'' Trump said. "And I want to tell you that Jon Tester, I think this is going to cause him a lot of problems in his state.
"I think Jon Tester has to have a big price to pay in Montana 'cause I don't think people in Montana — the admiral is the kind of person they respect and admire and they don't like seeing what's happened to him.''
Tester is seeking re-election to his third term this fall. He is expected to face a close race, with money flowing into the state from national groups both supporting and attacking him.
Nationally, Democrats are trying to win back a majority in Congress, while Republicans are focusing their time and energy on seats like Tester's in states where Republicans generally have strong support and the president did well in 2016.
Tester's first television campaign ad reflected that reality, touting the number of bills the Democrat has gotten signed by Trump.
But while Trump won Montana by 20 points in 2016, a recent poll from the University of Montana shows some of that support may be dropping off. The Big Sky Poll from February found that 41 percent of those polled said Trump was doing a "poor" job. A combined 43 percent, however, said he was doing either an "excellent" or "good" job.
Tester was front and center Wednesday when Democrats on the Veterans Affairs Committee released of a summary of the allegations brought forward by 23 of Jackson's current and former colleagues.
Multiple individuals cited the nickname "Candyman" for Jackson because he would provide whatever prescriptions they wanted without paperwork, the report said. Employees said they feared retribution from Jackson, who was described as "the most unethical person I have ever worked with" and "100 percent bad temper." And the report alleged Jackson was drunk when he wrecked a government vehicle at a Secret Service going-away party.
In a statement after Jackson withdrew Thursday, Tester credited those who came forward to share their concerns.
"I want to thank the service members who bravely spoke out over the past week,'' Tester said. Their names were not released, his staff has said, because they feared retribution.
You have free articles remaining.
"It is my Constitutional responsibility to make sure the veterans of this nation get a strong, thoroughly vetted leader who will fight for them,'' Tester said. "The next Secretary must have a commitment to reform a strained health care system and a willingness to stand up to special interests who want to privatize the VA.
"My sleeves are rolled up and ready to work with Chairman Isakson to vet and confirm a Secretary who is fit to run the VA," he said, referring to Senate Veterans Affairs Committee Chairman Johnny Isakson, R-Georgia.
Tester, who represents a state where one in 10 residents are veterans, has made veterans affairs one of his top issues. In 2017, his Veterans Choice Improvement Act to make fixes to the Choice Program that lets veterans see doctors in their own communities, was signed by Trump. Last year Trump also signed a bill from Tester to allow the VA to more quickly fire bad employees and strengthen protection for whistle-blowers.
Republican primary candidates seeking to unseat Tester this fall were quick to rally around Trump's criticisms of Tester.
State Auditor Matt Rosendale called Jackson a "highly respected man."
"I don't know whether the Democrat allegations against Ronny Jackson are true," Rosendale said. "But, if Republicans assembled a blind sourced list of wild charges against a Democratic nominee, the press would rightfully ignore it."
Former Billings judge Russ Fagg also took a stab at Tester on Twitter, claiming he would "say anything to get re-elected.''
And Big Sky businessman Troy Downing promised via Twitter that "there WILL BE consequences for Tester in November'' for using "rumors and unsubstantiated claims to tear good people down.''
But former Secretary of Defense Chuck Hagel, who served under Presidents Barack Obama and Ronald Reagan, harshly criticized Trump's remarks.
"I find it absolutely outrageous that the president of the United States and others are using something so fundamentally important to our country — veterans and Veterans Affairs, which is the centerpiece for administering most of veterans' benefits including health care — for political purposes,'' said Hagel, who was appointed deputy administrator of the Veterans Administration by Reagan.
"I know a lot about who the real leaders are and who really cares about veterans and when I heard this nonsense today coming out of the White House and some other corners about Tester and the politics, I said I'm not going to stand by and let this happen,'' said Hagel, who served across the aisle from Tester as a Republican senator from Nebraska. "To get this phony charge that Tester has gotten from the president and others that this is politics is just nonsense.
"I think Jon Tester handled this the right way," Hagel said.
Jeremy Johnson, an associate professor of political science at Carroll College, said Thursday he's unsure if Trump's comments will hurt Tester's re-election bid much but they could provide fodder for his Republican opponents.
"In isolation, I'm not sure how much it will really matter," Johnson said. "It's a position in Washington, it's a confirmation, it's kind of inside baseball in Washington, D.C., and I'm not sure how much it will influence voters."