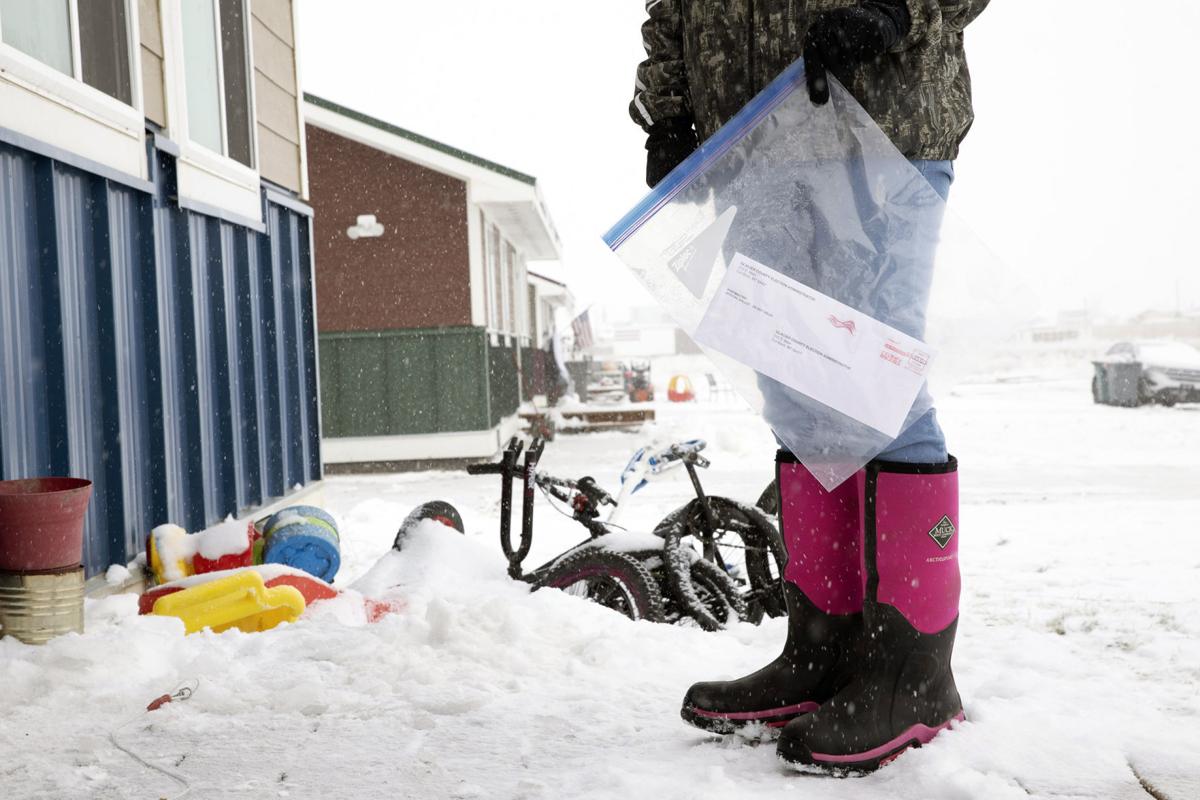 Four Native American tribes in Montana and a pair of indigenous rights organizations are challenging new restrictions on ballot collection that were signed into law by Republican Gov. Greg Gianforte last week.
The lawsuit also takes aim at another recently-signed bill ending Election Day voter registration in Montana. It was filed Monday in Yellowstone County District Court by the Blackfeet Nation, the Confederated Salish and Kootenai Tribes, the Fort Belknap Indian Community, the Northern Cheyenne Tribe, Western Native Voice and Montana Native Vote.
House Bill 530 prohibits people from collecting and submitting other people's voted ballots if they are receiving any financial compensation for doing so. Violators are subject to a $100 fine per ballot. Gianforte signed the bill on Friday.
Republicans, who mostly supported the measure, have said it enhances election security by minimizing the risk of ballot tampering, while Democrats have criticized it and similar proposals as attempts to suppress the votes of more liberal-leaning voters, including those living on Indian reservations and college campuses.
"I hope that we get these two fundamental rights restored to not only Native Americans here in Montana, but for everyone, as they are vital to the success of our elections," Western Native Voice Political Director Keaton Sunchild said Monday.
In the lawsuit, which names Republican Secretary of State Christi Jacobsen as a defendant, the groups argue that the two laws are "part of a broader scheme by the Montana Legislature to disenfranchise Native American voters." Jacobsen is the state's top elections official.
In a statement provided by her office Monday, Jacobsen said, "The voters of Montana spoke when they elected a Secretary of State that promised improved election integrity with voter ID and voter registration deadlines, and we will work hard to defend those measures."
Ballot collection, sometimes referred to as "ballot harvesting," is a practice commonly used by get-out-the-vote groups, in which organizations submit completed mail-in ballots collected from voters. Sunchild said his organization collected and turned in more than 500 ballots from reservation residents during the 2020 general election. There are no known instances of those practices being tied to voter fraud or ballot tampering in the state.
The groups argue in their lawsuit that less reliable mail service and internet access, higher rates of poverty and long distances to election offices or other drop-off locations already create significant barriers to voting for Native Americans living on reservations.
"Because of these many barriers, Native American voters in rural reservation communities rely on third parties' collection and conveyance of their ballots to cast their votes," the lawsuit states. "Groups like Western Native Voice and Montana Native Vote play an integral role in facilitating voting access for tribal community members, by providing a range services from hosting voter registration drives to collecting and conveying their absentee ballots."
The Ballot Interference Prevention Act, a more restrictive law that also curtailed ballot collection in Montana, was passed through a ballot referendum by Montana voters in 2018. It was found unconstitutional by a pair of judges in Yellowstone County state district court last year. A similar law was introduced during the recent legislative session, but was voted down. The language in HB 530 limiting ballot collection was added as an amendment to the bill in the final week of the session.
Rep. Wendy McKamey, a Cascade County Republican who sponsored the bill, acknowledged the absence of fraud in Montana's elections during an interview Monday, but defended the language added to her bill as intended only to bolster their security.
"Never would I try to keep someone from voting, period. I only want to see [elections] more secure," McKamey said. "We all have the same amount of time in which to cast our ballots ... This bill puts no barriers in place."
The complaint alleges that House Bill 176, ending Election Day voter registration, will also have a substantial effect on indigenous voters.
"Native Americans living on reservations often lack access to regular mail service, such that many individuals cannot reliably receive mail voter registration applications or return those voter registration applications via mail," the lawsuit states, adding that those voters are "more likely to be geographically isolated" from polling places.
The groups are asking the court to grant injunctions against Jacobsen to keep the state from enforcing the new laws, while also asking that they be declared unconstitutional for violating the plaintiffs' voting, equal protection, freedom of speech and due process rights.
The Montana chapter of the American Civil Liberties Union is providing legal representation for the groups named as plaintiffs in the lawsuit. Executive Director Caitlin Borgmann on Monday rejected the argument that the Republican-backed measures were passed as part of an effort to shore up "voting integrity."
"I interpret that term as grasping at straws for coming up with a palatable reason for passing laws that restrict one of the most fundamental rights in a democracy — which is the right to vote — in the face of zero evidence of voter fraud," Borgmann said.
HB 176 is also being challenged in a lawsuit previously filed by the Montana Democratic Party, which is also asking a Yellowstone County district judge to toss a new law tightening voter ID requirements. The party on Friday amended its complaint to also include the new ballot restrictions in House Bill 530.