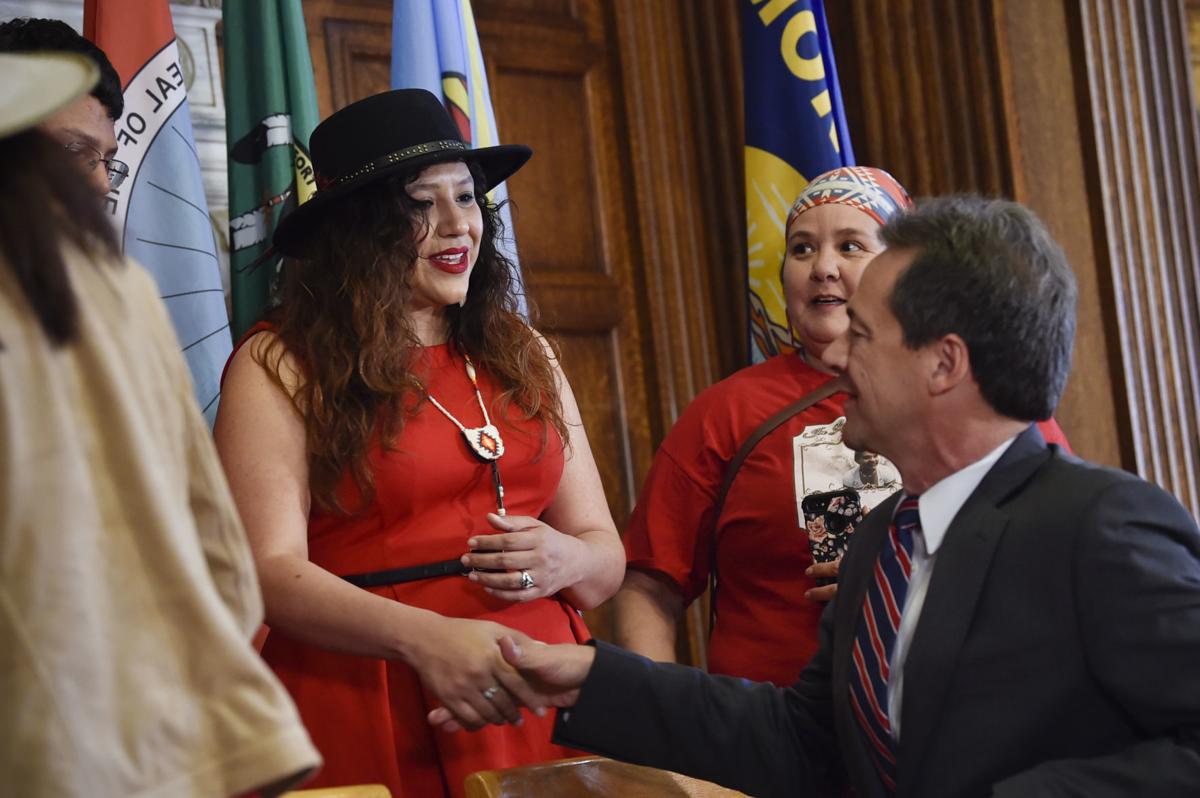 Leaders from Montana's tribal communities met with Gov. Steve Bullock over a two-day stretch last week, in consultations held annually to discuss relations between the sovereign governments and the state.
While each community brought their own set of successes, challenges and concerns to the Capitol, there were some common strands through the discussions, including access to health care and emergency services, and county road conditions.
A record high of 11 Native lawmakers served in the recently adjourned legislative session. Bullock said their work, along with testimony from tribal leaders and community members who traveled to advocate for legislation, was critical in passing key initiatives. That included Hanna's Act, mean to help start the searches for missing people and especially Native women and children more quickly, and a bill to continue Medicaid expansion.
The Medicaid expansion legislation added work requirements to the program, but in talking with tribal leaders Bullock called them "really, really mitigated" and questioned whether they would be implemented after similar programs were struck down in Arkansas and Kentucky. There are exemptions to the work requirements for people living in areas with a high-poverty designation. 
"Those that had coverage before will continue to have coverage. … The expectation is every one of them will continue to have coverage," Bullock said of concerns that people would lose access to the program because of work requirements.
The Indian Caucus was a strong and vocal supporter of the bill, and Sen. Jason Small, a Republican from Busby, carried the legislation through the Senate.
"I think we did the very best we could at this point," said Charles Headdress, vice chair of the Fort Peck Tribes.
Though the bill has another expiration date of 2025, Headdress said he believes the landscape will shift by then.
More American Indians with health insurance coverage means the historically underfunded Indian Health Services is able to get higher reimbursements for services it provides or contracts for in hospitals and clinics on Montana's seven reservations and for services for American Indians who live off-reservation. About 15,000 of the 96,000 people covered by Medicaid expansion are Native American.
For at least the last decade, IHS facilities in Montana operated at Level 1 status. The colloquial term for that is "life and limb," a stark way of saying that unless someone was at risk of dying or losing a part of their body they wouldn't get treatment. Preventive care was not an option.
But in the spring 2018, IHS told the state health department that because of an increase in revenue from treating people covered under Medicaid expansion, all its facilities in Montana had moved to operating at a Level 4. That means people can get referrals for things like preventive care, highly specialized medical procedures, restorative orthopedic surgeries and rehabilitation care not offered at IHS facilities.
In the southeastern part of the state, leaders with the Northern Cheyenne Tribe said people have faced problems getting access to health care, with inadequate local services and only three ambulances able to transport people to Billings.
This legislative session also saw the passage of a bill to permanently display tribal flags on the Capitol grounds, and Bullock shared with the leaders two proposals for where they would be displayed.
"There's a level of progress and respect we haven't always seen," Bullock said of how the Legislature this session addressed issues related to Indian Country in Montana.
"I'm glad to see, particularly the Indian community, rallying around and trying to get something done. I believe the tribal governments have extensive resources and I'd like to see some participation from those tribal governments in financing a position like this rather than just ask the state to do it. Those governments have quite extensive resources available to them through the federal government," Fielder said at the time.
Leaders from two tribal communities brought up Fielder's comments in the meetings with Bullock last week, and Richard Morsette, with the Chippewa Cree Tribe said he wanted to invite her to his Rocky Boy's Reservation to get a better idea of what things look like on the ground.
"This will help us educate those legislators who do not have reservations within their districts," Morsette said.
Problems with counties maintaining roads were also raised by leaders with the Fort Belknap Tribal Council and the Blackfeet Nation.
Andrew Werk Jr., president of the Fort Belknap Tribal Council, said his government has struggled to come up with agreements with Blaine County to keep county roads in good repair. A bill meant to address the issue was tabled this session.
"We're really at the point where we're going to take further action," Werk said. "It's just been too long."
Timothy Davis, chairman of the Blackfeet Tribal Business Council, said his community faces similar issues. He pointed out problems with plowing the roads that stranded the Heart Butte basketball teams for more than two weeks during the winter of 2018.
"The infrastructure of our roads are questionable right now, our county roads and the maintenance of the roads, as well as the snow plowing," Davis said.
Get Government & Politics updates in your inbox!
Stay up-to-date on the latest in local and national government and political topics with our newsletter.