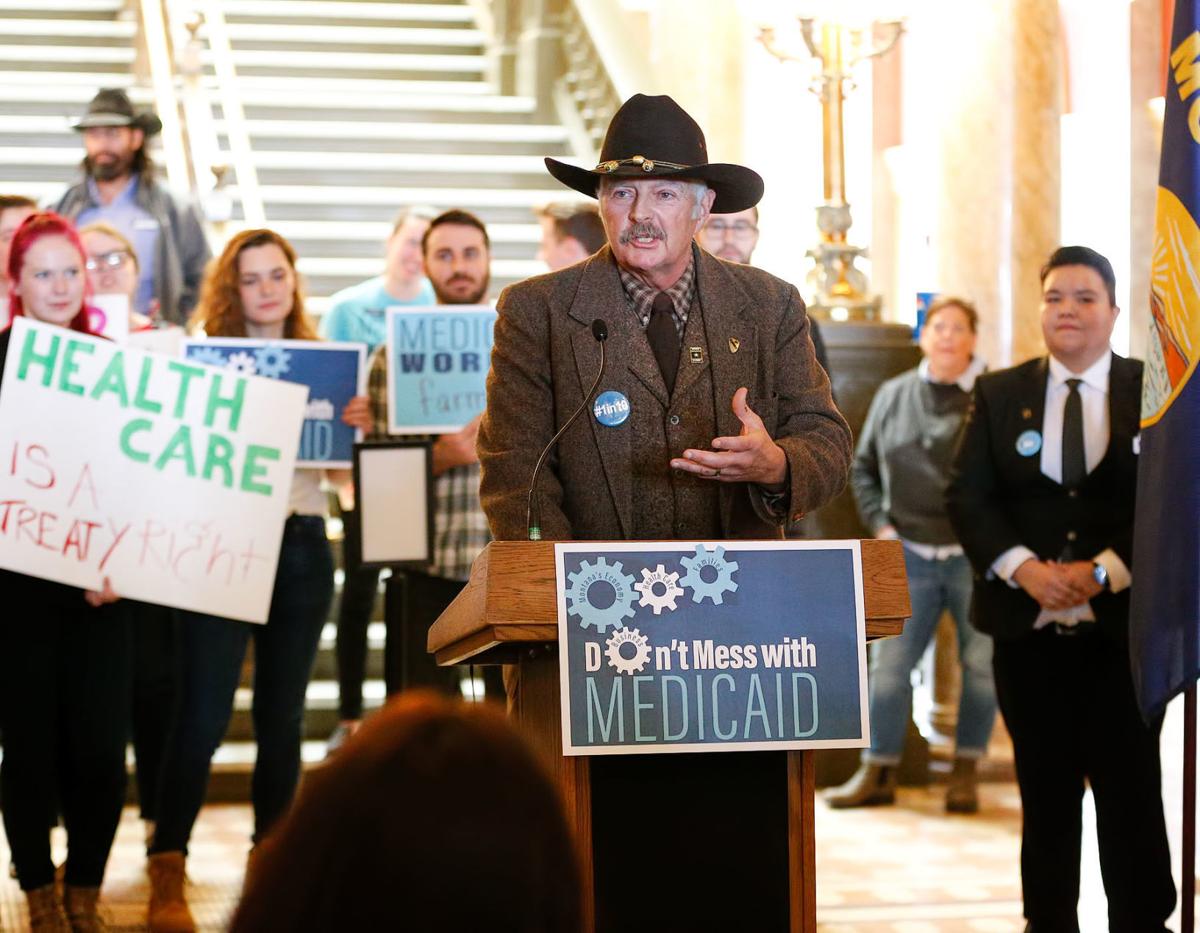 As lawmakers on the third floor of the Montana Capitol heard hours of testimony Saturday on two Medicaid expansion bills, ralliers convened at noon in the rotunda to support lifting the sunset on the health care program.
The "Don't Mess with Medicaid" rally featured several speakers before a crowd of more than 400 cheering for the Democratic bill that would continue Medicaid expansion without the work requirements some Republicans want to add. The legislation they came to support was House Bill 425, brought by Rep. Mary Caferro, D-Helena, that makes the Medicaid expansion signed into law in 2015 permanent.
The crowd was also there to oppose House Bill 658, brought by Rep. Ed Buttrey, R-Great Falls. The bill also continues Medicaid expansion but imposes new work requirements supporters say would move people out of poverty, and assets and means testing they say are necessary to prevent fraud and abuse of the program. Critics argue the complexity of reporting work hours and what they say are insufficient exemptions will kick people off coverage.
Without legislative action, Medicaid expansion will sunset in June.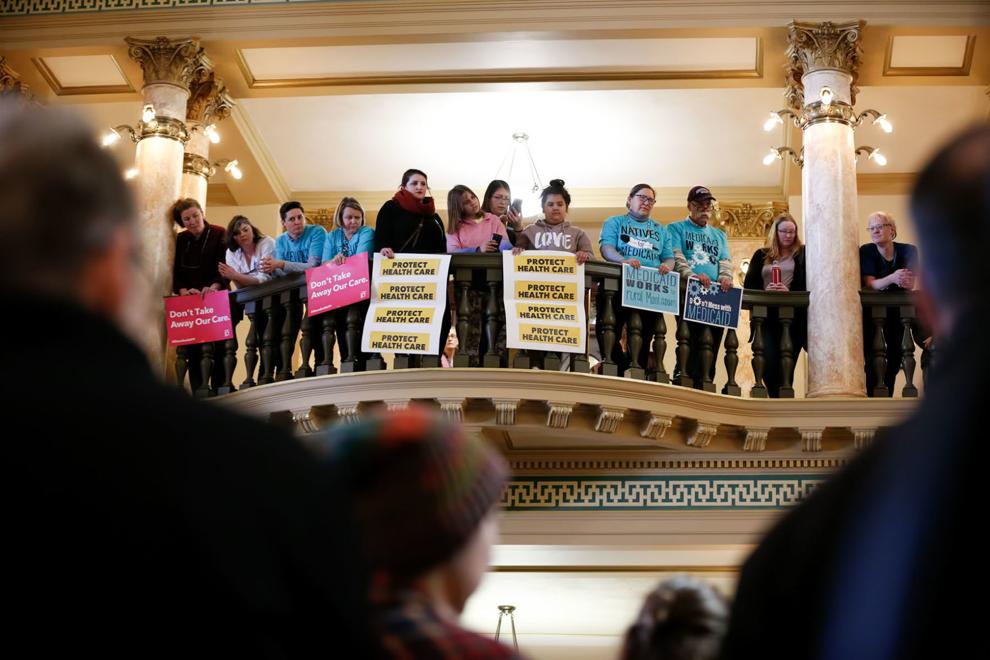 "We're not just here to say we support Medicaid expansion, we support access to coverage for all people who need it," she said. "We support making sure we don't have red tape, we don't have burdensome reporting requirements, we don't have other things that don't serve people trying to get healthy but instead make it harder for folks to take care of themselves, to go to work, to take care of their families."
Kristi King, a nurse practitioner from Bozeman, told the crowd that Medicaid expansion has led to positive effects for her patients and financial benefits for clinics in terms of new revenue and retaining providers.
"I don't see just a few patients whose lives have been changed by Medicaid expansion, I've seen hundreds," she said. "People who've finally been able to take care of their own health and thus take better care of their families, contribute to our economy and give back to our community."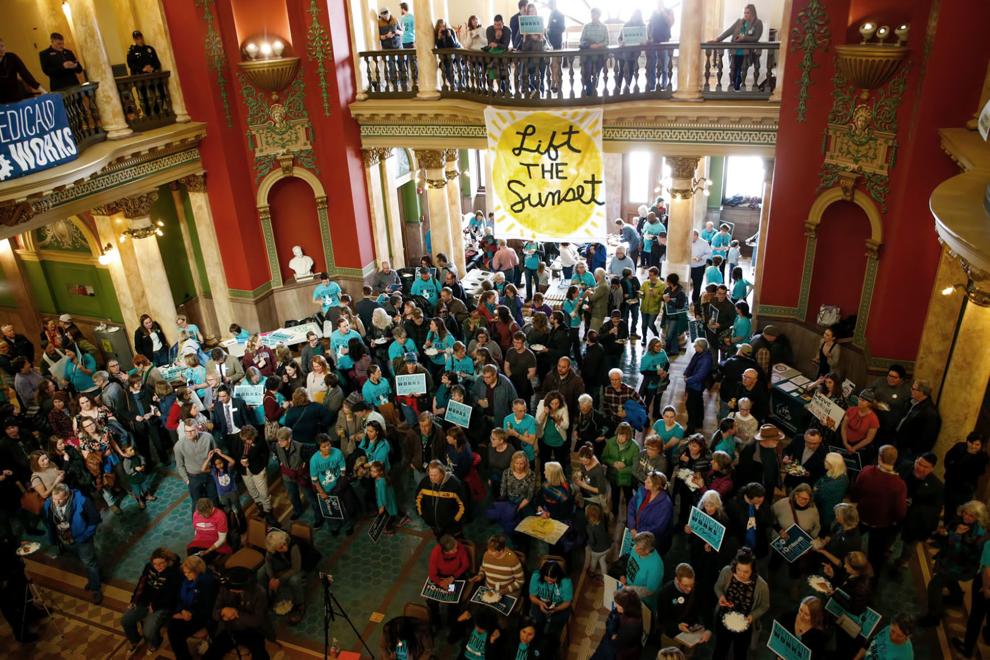 Retired Lt. Col. Richard Liebert rattled off a mix of statistics and scripture when it comes to health care for the poor and for veterans. It is a misconception that all veterans access health care through the VA, just as it is a misconception that all Native Americans access health care through Indian Health Services, he said, and "literally people will die for a lack of Medicaid expansion or if it gets cut back."
"Some people think we're gaming the system, we're letting people get a free ride with Medicaid expansion," he said. "I don't think anybody takes pride in going to get government help. I mean, you try to do it for your family, for your children, for yourself, just to do better so you don't go bankrupt."
Loren BirdRattler opened his speech with a personal story before talking about the impact of Medicaid expansion on his tribe, the Blackfeet, and other tribes around the state.
BirdRattler was prominent in state and national tribal politics when side effects of medication caused his mental health to spiral. He eventually found himself homeless and before Montana expanded Medicaid in 2015, he went to Spokane, Washington, to seek health care in a state that had already expanded Medicaid.
"When we think about what we're fighting for in these halls, it's not just health care for natives, it's not just health care for veterans, it's not just health care for the disabled, it's health care for everyone," he said. "We all deserve to have access to a doctor."
The "Don't Mess with Medicaid" rally featured several speakers before a crowd of more than 400 cheering for the Democrat version of a bill tha…
Reporter Tom Kuglin can be reached at 447-4076 @IR_TomKuglin