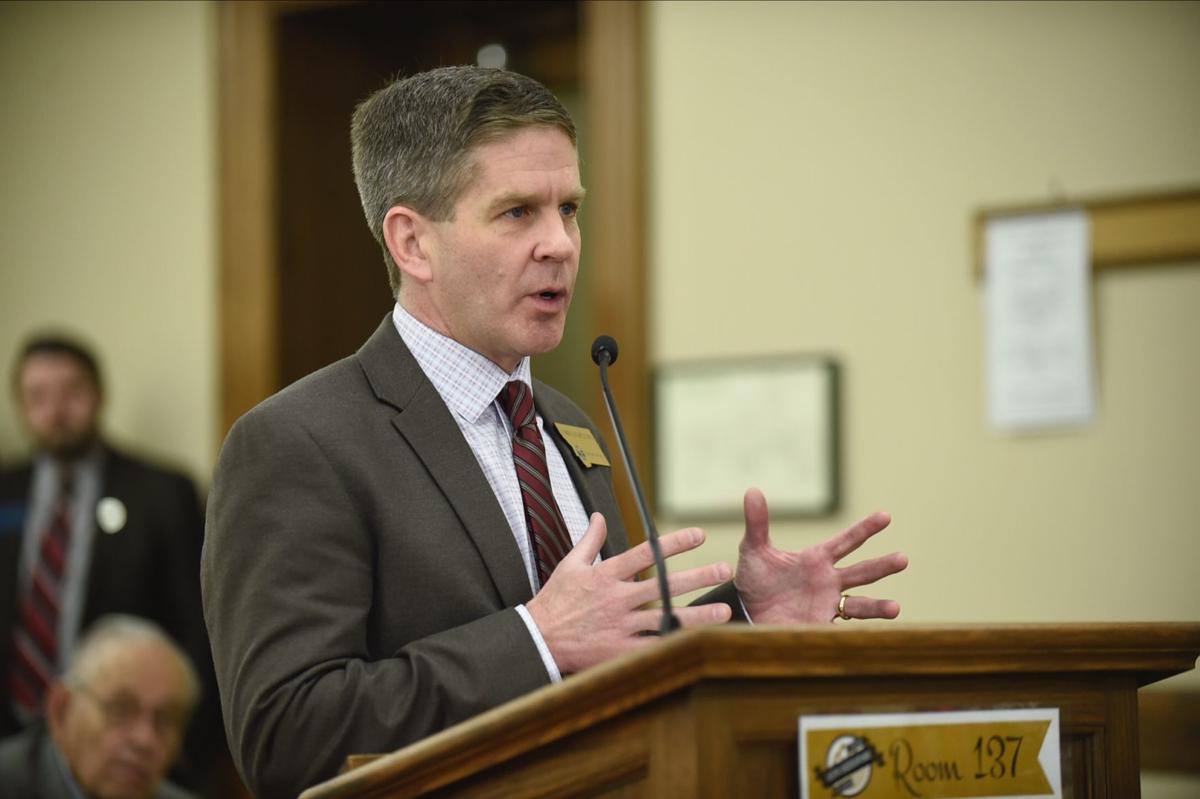 "We don't need a bunch more awesome people running for governor," Stapleton told fellow GOP members gathered for a party convention in Helena. "We've got plenty."
The wide-open nature of the 2020 political landscape in Montana has Republicans angling to regain the governor's office after what will be 16 straight years of Democrats in power. Gov. Steve Bullock is termed out from running again, and has launched a bid for his party's presidential nomination.
"I'm from Montana. I can win the big race. You know it. We need to do that. This seat is too important," Stapleton said.
Stapleton was elected secretary of state in 2016. He ran for governor in 2012, coming in second in the Republican primary. In 2014 he also came in second in the Republican U.S. House primary. He previously said he'd run for U.S. Senate that year. Stapleton is originally from Great Falls and was a two-term state senator from Billings. He served as a surface warfare officer in the U.S. Navy.
Other Republicans are expected to join the U.S. House race soon. The conservative PAC Club for Growth, which endorsed state Auditor Matt Rosendale in his 2018 race against U.S. Sen. Jon Tester, already had an ad ready to drop against Stapleton in anticipation of his Saturday announcement.
In a short speech Saturday, Fox took a dig at Gianforte, signaling the start of what could be a lively primary. Fox told Republicans he was not leaving his seat to run for another one but instead because of term limits. Gianforte was first elected to the U.S. House in a 2017 special election and won it again eight months ago.
"I keep my promises. I sought the office of attorney general because I wanted to make a difference in communities across Montana. And that remains my No. 1 priority," Fox said. "Now due to term limits, my time is your attorney general is almost over. Out of the six statewide elected Republicans, I am the only Republican that is term-limited."
Fox emphasized party unity, something that's plagued Republicans during the last few legislative sessions. Republican members of a group called the Solutions Caucus have worked across the aisle with Democrats to pass legislation like Medicaid expansion.
"If we're going to take back the governor's office from the Democrats, we have to be unified and we have to be organized," Fox said.
The attorney general also focused on an issue he's spent much of his time in the office dealing with, the influx of drugs like methamphetamine coming into Montana from countries like Mexico.
"Much of the crime in Montana, it's no secret, is drive by the increase in drugs coming into our state from across our southern border," Fox said. "We need to secure our southern border."
Olszewski, who came in near the bottom in a four-way GOP primary for U.S. Senate in 2018, touted his support from fellow state legislators in a short speech Saturday and also urged harmony in the party.
"United, we win and we serve. Divide, we're going to lose," Olszewski said. " … Politics is not the game of exclusion, it's the game of addition."
Still, even with calls for solidarity, the divide in the party was evident over the weekend, with members of the Solutions Caucus holding parallel meetings to the main gathering Friday.
Gianforte didn't speak Saturday, but told the convention Friday he was running for governor because he'd been asked to by people around the state.
"It's time to set a new course with a new leader. And after talking to Montanans in every corner of our state, many have suggested that I should use my experience in business, creating jobs and solving problems, to serve Montana in an even bigger way," Gianforte said Friday.