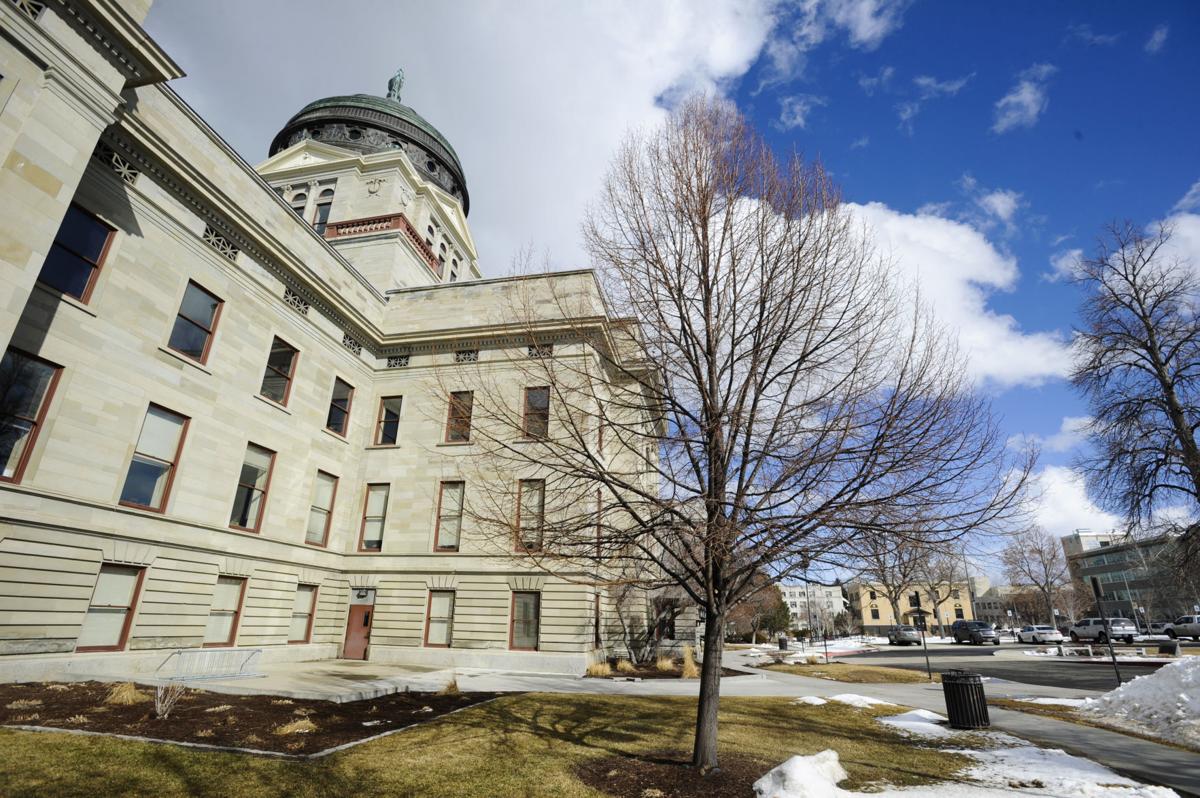 Regardless of whether they believe the session reinforced the security of Montana's elections or amounted to an assault on the voting rights of its residents, lawmakers agree that the 67th Legislature passed the most sweeping changes to the state's election laws in years.
Sen. Mike Cuffe, a Eureka Republican who carried two of the most substantial voting bills to pass, said the session was the most consequential for Montana's elections since his first legislative session in 2011. And it's no coincidence that Republicans won historic gains in the state during the last election. In addition to capturing the governor's office for the first time in 16 years, the GOP also expanded their majorities in both the House and Senate.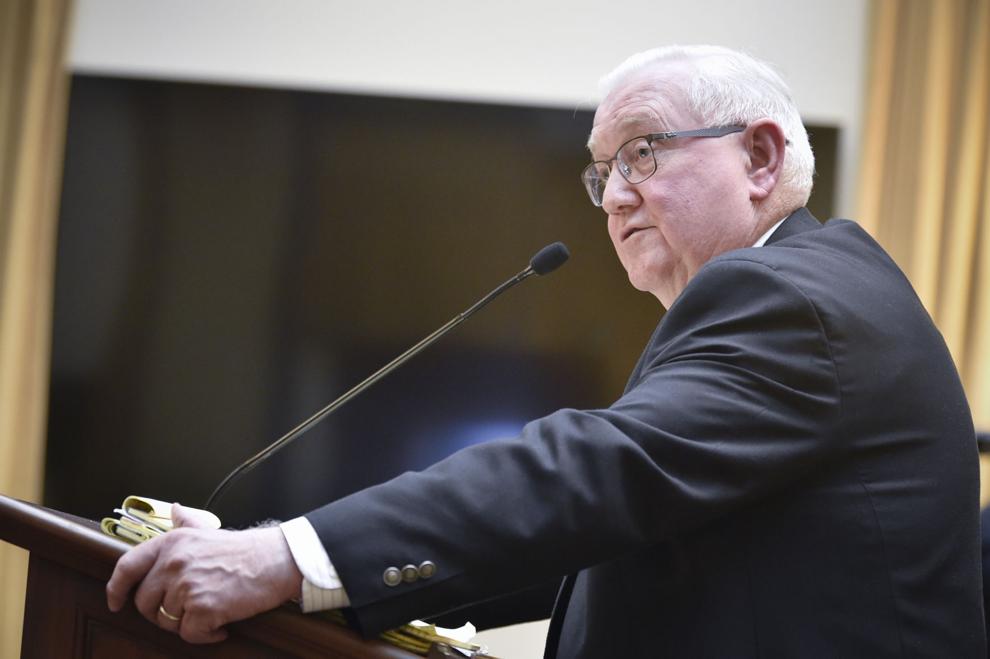 "It's kind of a national mood, a national sweep of concern about elections and consequently I've felt a responsibility to remove any questions about how elections are conducted," Cuffe said.
Democrats agree with part of that statement — but worry that the only effect the changes will have is to lock more voters out of an already-secure election system.
"Without thinking for themselves, the Montana Republicans, trying to meet the needs of their constituents, have basically taken and rammed the national agenda down their throats," said Rep. Sharon Stewart Peregoy, a Democrat from Crow Agency. "And there will be a lot of collateral damage that will come out of that."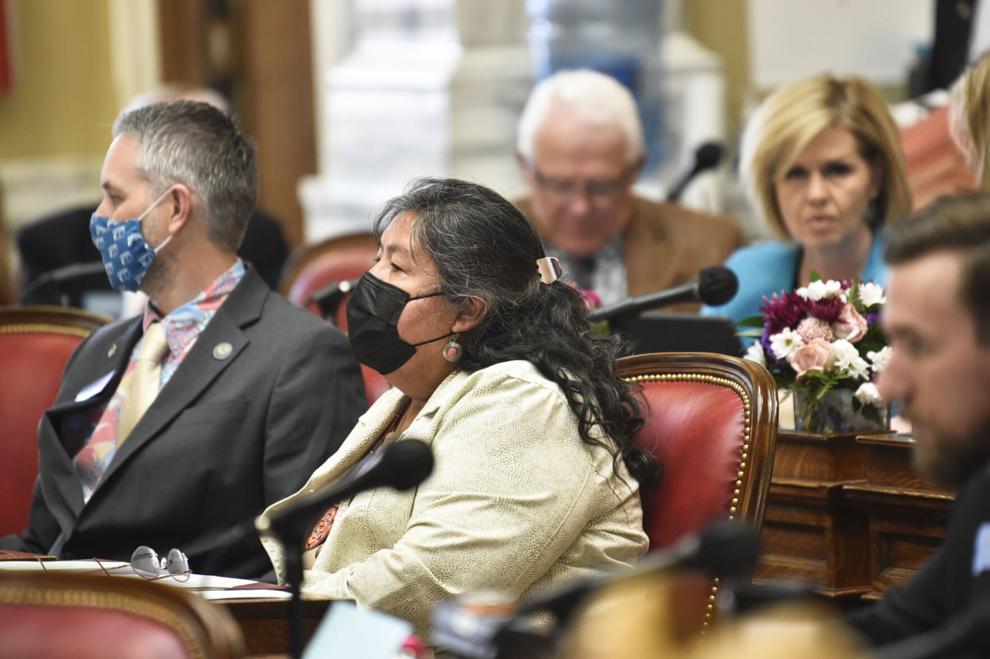 The two bills Cuffe was most closely involved with — ending Election Day voter registration and tightening requirements for voter ID needed to vote in person — became tied up by court challenges almost as soon as Republican Gov. Greg Gianforte signed them into law. But he said he and Secretary of State Christi Jacobsen, a fellow Republican who was closely involved with drafting and passing the legislation, remain confident they'll hold up to legal scrutiny. 
"I've asked her, does it look like we did a really solid job on what we needed to do, as far as these bills holding up in court?" Cuffe said. "And she's said that yes, we did what we needed to do and these bills will hold up in court."
Jacobsen's office did not respond to phone calls and emails since May 21 requesting an interview for this story.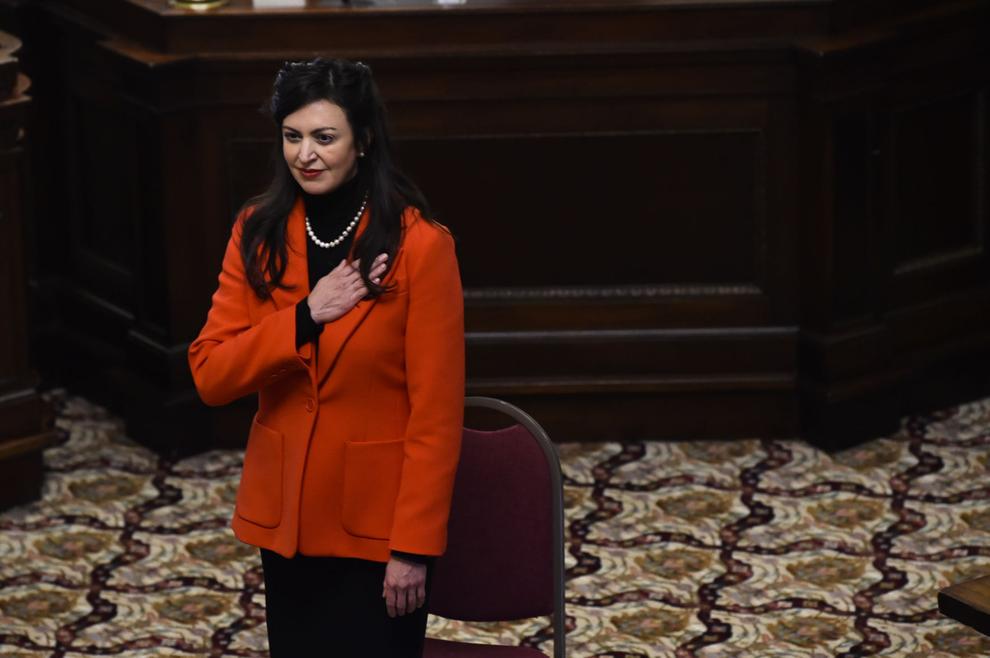 While the voter ID bill made a number of changes to acceptable forms of identification for both registration and casting ballots in person, the removal of school IDs from the list of acceptable photo ID prompted the most heated debate. Democrats called it an overt attempt to reduce the votes of college students, who tend to vote more Democratic, while Republicans said they ought to be responsible for bringing another form of identification, such as a utility bill or bank statement with their address on it.
House Bill 276 was more straightforward, requiring that voters be registered by noon on the Monday before Election Day. Montana was previously among 19 other states that allow voters to register at the polls on Election Day, including neighboring Wyoming and Idaho, according to the National Conference of State Legislatures.
A previous attempt by Republicans to end same-day registration was voted down in a 2014 referendum. Voters rejected the legislative referendum, proposing to set the registration deadline on the Friday before the election, 57.1% to 42.9%.
"A lot has happened since 2014," said Cuffe, who carried the bill in the Senate. "I don't take citizen initiatives lightly, [but] there's been several elections since then."
For election administrators who must implement those changes, education is key to preventing voters from having to find out on Election Day that they won't be able to vote.
In the 2020 general election, held by mail in most of the state because of public health concerns, 3,352 voters registered to vote on Election Day, according to information provided to a committee by the Secretary of State's office in January. In the 2018 midterms, 8,053 voters submitted their registration on Election Day. For the 2016 presidential election, that number was 12,055.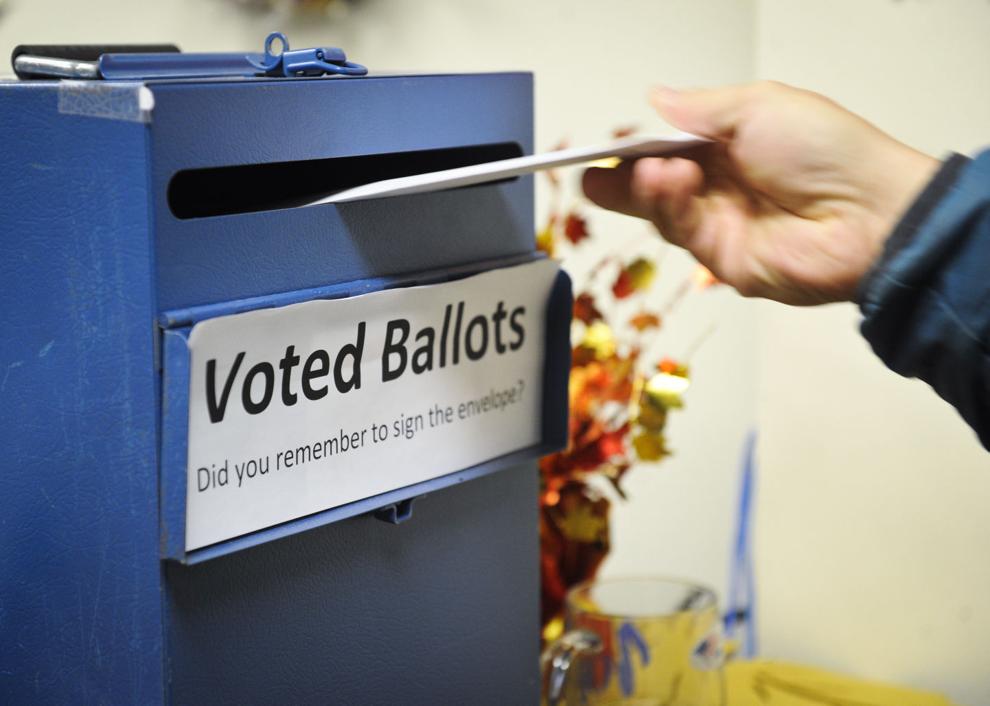 Regina Plettenberg, legislative chair for the Montana Association of Clerks and Recorders, said her organization will wait until the court cases are resolved before issuing guidance to county election administrators. Two lawsuits, one brought by the state Democratic Party and another brought by several Native American tribes and Indigenous rights groups, are currently challenging the law ending Election Day registration. The Democrats' lawsuit also takes aim at the voter ID bill.
"You hate to start telling voters one thing and then have the court switch it, because that becomes even more confusing," Plettenberg said.
As the law now stands, voters who are already registered on Election Day could also be affected. If they moved to a different precinct or county since the last election and neglected to update their voter information, they would have previously been able to simply re-register in their new county or precinct, and then vote. Now their only option would be to return to their old precinct in order to cast their ballot. Montana allows residents to vote one last time in their previous precinct after they move.
Keaton Sunchild, the political director for Western Native Voice, one of the groups challenging the law, said limits on ballot collection appear designed to specifically target voters on Indian reservations, where the practice is commonplace.
"I think it's kind of funny how the election that got all off these officials elected is suddenly being questioned, but I think that kind of shows that there's a national agenda that the Republican Party is kind of following," Sunchild said. "These bills kind of fit right in that agenda, and not much as a representation of what Montanans want."
Republicans pushed back on that assessment, however, arguing that this session's changes to election laws are the result of long-standing concerns about potential voter fraud.
"I think the perception is there and I know it has been there in elections past," said Rep. Julie Dooling, R-Helena. "Anything we can do to help the public feel more secure and know that our elections are safe, it's our duty to do so."
Since the November election, Republicans across the country have been calling the results into question, especially in states narrowly won by President Joe Biden. A recent opinion poll conducted by Reuters found that 53 percent of Republicans nationwide and a quarter of Americans believe Trump won the 2020 election, blaming the results on illegal voting.
Despite scores of lawsuits and Republican-led investigations around the country, those efforts failed to uncover any evidence of coordinated or widespread voter fraud related to the 2020 election. In the months since the election, however, Republicans throughout the nation have proposed or enacted dozens of laws restricting voting characterized as attempts to shore up election security.
As the pandemic raged last spring, Bullock, a Democrat, had cited safety concerns in his directive allowing counties to hold the 2020 primary election without in-person voting at polling places. As virus cases again surged in the fall, he issued a second directive for the general election. Republicans had criticized the move as an overreach of power, and responded during this year's legislative session by passing a bill requiring the Legislature to approve any emergency suspensions of election laws by the governor.
Other successful Republican bills include new laws requiring election administrators to clean their voter lists annually instead of every other year, and allowing more rural polling places to reduce their Election Day hours if the number of voters is under a certain threshold.
While a pair of measures to make it harder to get voter initiatives on the ballot failed to pass, Republicans did successfully enact language that requires the Attorney General to place a warning on ballot initiative petitions if the proposal could harm businesses in the state. And another measure passed in the waning days of the session included controversial changes to the state's congressional redistricting rules.
Election bills brought by Democrats largely failed to advance, although the party did have one notable success, in mustering sufficient Republican votes in the Senate to kill a bill that would have resurrected much of the Ballot Interference Prevention Act. That law, which voters overwhelmingly passed in 2018, effectively ended the practice of ballot collection until it was struck down by a pair of state district judges last year.
The bill attempting to bring it back was decisively voted down in the Senate, although some similar language was amended into a successful bill near the end of the session.
House Bill 613, also called the "Native American Voting Rights Act," was arguably the most ambitious piece of voting legislation brought by Democrats during the session. It would have set minimum requirements for counties that overlap with Indian reservations to operate satellite or alternate election offices on the reservation — an attempt to address long-standing difficulties faced by Native American voters who often live far from their county election office.
The panel that heard the bill spent a full week working on it before amending it and unanimously voting to send it to the House floor. Stewart Peregoy, who sponsored the legislation, said she wasn't surprised that it failed to pass — Jacobsen's office testified against it — but called it an opportunity to educate other lawmakers about issues facing voters in Indian Country.
"Those are small victories, and we're able to educate our colleagues in terms of Indian law, the treaties and treaty rights, and tribal rights, how state and Indian relations are different, how there's certain parameters we're restricted to," she said.
Senate Bill 15, one of the few Democrat-sponsored voting bills to pass last session, will require election administrators to provide voter interface devices for most local elections, as is already required for federal elections. Those devises are designed to communicate voting instructions to people with disabilities. The measure also strengthens privacy protections for people with disabilities who need extra assistance casting their ballots.
It was sponsored by Sen. Janet Ellis of Helena, and overwhelmingly passed both chambers before Gianforte signed it into law in March.
"I think Senate Bill 15 is probably the best one," said Plettenberg, noting that it emerged from a bipartisan interim committee. "It does make big changes in our smaller elections, like school districts and local districts … we will be required to have accessibility equipment, and polling places will be surveyed for accessibility."
The ongoing legal challenges to some of the higher-profile new election laws will likely take months to resolve. In anticipation of resultant lawsuits against the secretary of state, Republicans appropriated an extra $100,000 to Jacobsen's office to cover the added legal costs.
With few victories during the session, Democrats are now placing their hopes in the courts to find that Republicans violated the constitutional rights of Montana's voters.
"I don't need to be an attorney to know that a bill is highly suspect or most likely unconstitutional, or flies in the face of federal law," said Rep. Denise Hayman, D-Bozeman, a member of the House State Administration Committee who often took the lead in arguing against Republican voting bills in committee and on the house floor. "I think the only identifiable group to benefit from this session are the attorneys."
But Republicans, who were mostly careful to avoid accusations of election fraud while arguing in favor of boosting "election integrity" in Montana, said the new laws should leave the state's voters with more confidence in the election system.
"I just tried to make a good thing better," Cuffe said. "I'm not saying they're perfect, I'm not saying there have been major problems. I think we eliminated potential problems."