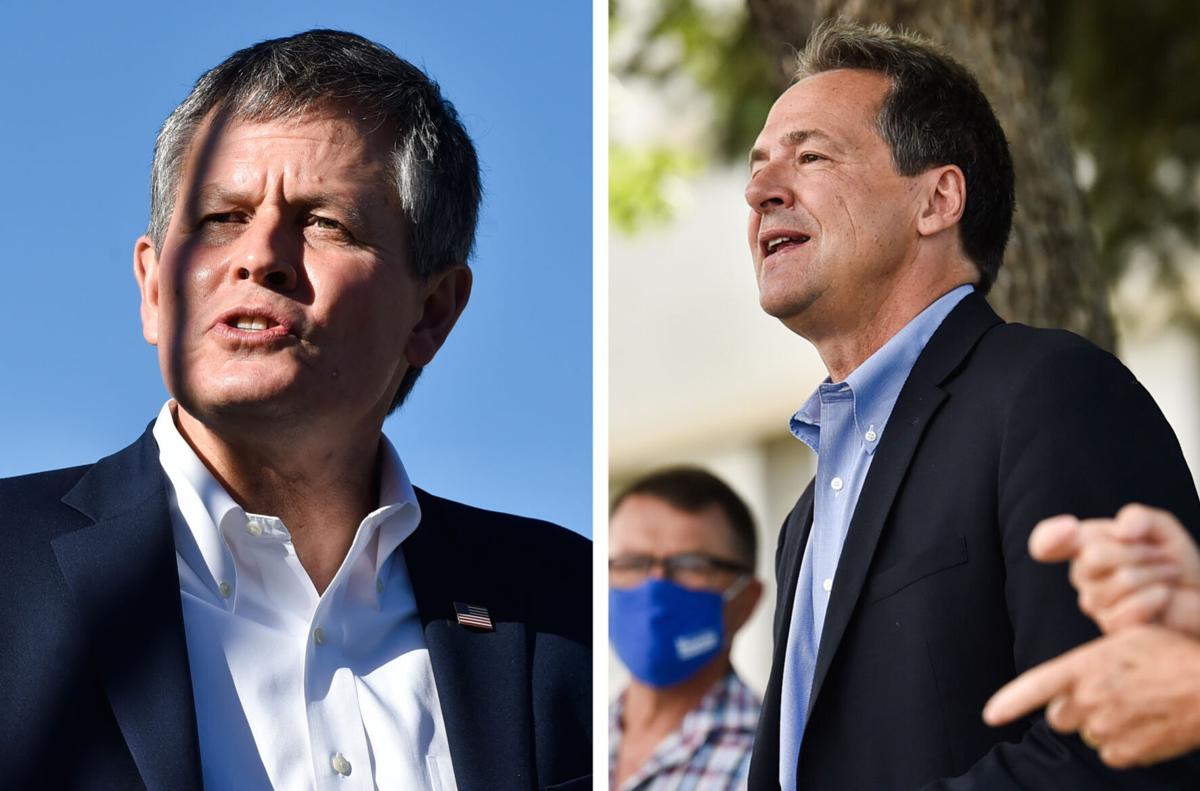 Democratic Gov. Steve Bullock's stewardship of the $1.25 billion sent to Montana from the federal Coronavirus Aid, Relief and Economic Security Act has become an attack point for incumbent Republican U.S. Sen. Steve Daines as Daines tries to fend off a challenge from Bullock in one of the tightest Senate races in the country. 
Daines has criticized Bullock for the lack of money that has gone to tribes in Montana, specifically the Crow Tribe in southeastern Montana. He's also questioned the task force Bullock convened to advise on distributing the money, claiming those on the committee who had financially contributed to Bullock's current or past campaigns improperly have received outsized awards from the relief funds.
The governor's office and Bullock's Senate campaign have sharply disputed Daines' claims.
The gist of a letter Daines sent to the governor's office this week centers on what Daines called inequitable treatment of the tribes in how the $1.25 billion pot was awarded. Daines referenced what he called "a troubling audit" by the Legislative Audit Division. The document is a memo sent within the division discussing tribal allocation.
That memo does show that tribal governments have received a bit less than $600,000 from the $1.25 billion, and that the Crow Tribe has not received money from that specific pot of funding. However, the Crow Tribe also did not apply for any grants, which is how the money has been allocated, despite repeated outreach from the governor's office to do so and an extension of the deadline.
In his letter, Daines wrote, "I urge you to coordinate with tribal leaders to ensure our tribes are treated fairly and receive a proportional amount of aid from Montana's CRF distribution."
Indian Country in Montana has been hit harder by the novel coronavirus than the rest of the state. Native Americans make up 7% of the state's population, but the most recent epidemiological report from the state health department shows a quarter of the state's cases are among Natives, and that 30% of deaths where the race of the deceased is known where Natives. 
In a press release Tuesday, Bullock said "the claims made in Sen. Daines' letter are patently false ... The Crow Tribe was actually encouraged multiple times by our Department of Public Health and Human Services staff to apply for the public health grant, and was given a deadline extension, but still has not yet applied."
Bullock's office provided emails that show the state health department's tribal relations manager emailed the tribe's chairman and another tribal official in August about the availability of the grants and how to apply.
While the official said he would apply the next day, an email from a month later shows the tribe had not yet applied. By then the grant was technically closed, but the tribal liaison said the tribe could still submit an application.
Crow Chairman A.J. Not Afraid and the official, Karl Little Owl, did not return an emailed request for comment Wednesday, and attempts to reach them or those who could contact them by phone were not successful.
In a statement Oct. 13, Not Afraid wrote "I acknowledge that in dealing with the daily matters or life and death and public health and safety, it is possible that I or my staff missed a form somewhere along the line. Indeed, many members of my staff have been hospitalized with COVID-19 over the last weeks and months. But at no point did Gov. Bullock reach out to me to tell me I had missed the Montana relief boat. He didn't call. He didn't write. And he certainly didn't say anything about missing paperwork the two times he visited the Crow Reservation this spring and summer to distribute PPE with me."
Not Afraid wrote in his statement that "tribes do not have the luxury of being partisan." However, the tribe is significant in the Senate race, after Not Afraid said July 31 he was endorsing Daines' re-election campaign.
Not Afraid and Daines have also said too little of the state's $1.25 billion went to the tribes; the $600,000 represents less than 1% of the pot while Natives in Montana make up 7% of the population.
"Aid and resources sent for the benefit of Montanans and to combat this virus should go to everyone residing in Montana, including Native Montanans. I urge you to reverse course and ensure Montana's tribes are treated equitably compared to the rest of our state," Daines wrote.
Bullock said the $600,000 figure reflects only grants awarded to tribal governments and does not capture grants that would have been awarded to tribal businesses, nonprofits or members who received individual assistance. More than $4 million from the state's $1.25 billion has been awarded to people, businesses, nonprofits and agencies in Big Horn County, which the reservation covers a large part of.
Both Bullock and Daines' letters point out the CARES money that went directly from the federal government to tribal nations. That was about $173 million to the eight tribal nations in the state, which the Crow was a part of.
"That amounts to about two and a half times the per-person ration the state was allocated through the state's coronavirus relief fund," Bullock said earlier this week. Bullock also said that Daines should work in the Senate to extend the deadline to spend that money, saying tribes told him they would not be able to use all their funds by the end-of-the-year deadline. Daines' office said the senator is the lead sponsor on a bill aiming to do so.
Bullock also pointed to other aid the tribe has received, such as 10 Montana National Guard members, three civilian registered nurses, four community testing events and about $161,850 in personal protective equipment to the tribe, its tribal health department, the tribe's incident command team and the IHS hospital, as well as the Crow/Northern Cheyenne Hospital.
On Thursday, Daines through his campaign wrote a letter to the 25 members of the task force Bullock formed to craft recommendations on how to spend the $1.25 billion. It was in response to a letter from some committee members asking Daines to stop politicize their work.
"By no fault of your own, the governor chose to design his Coronavirus Relief Fund Advisory Council in a way that packed it with his own political donors, calling into question the impartially of the funds' distribution," Daines wrote. He also said Bullock did not include a single member of legislative leadership or a tribal leader. That is true, though the council did include state Rep. Llew Jones, a Republican from Conrad heavily involved in the state budget, and Bullock's director of Indian affairs, Jason Smith.
Daines said Bullock packed the council with his donors, who then have received grant awards much higher than the average distribution amount of about $11,300. Some of those amounts were $360,000, $70,000 and $20,000. Another who contributed to Daines received $35,500.
A Lee Newspapers review of the board's campaign contributions show about a dozen of the 25 have contributed to Bullock over his political career, with the largest contribution at $4,120 over several cycles and the smallest $25. Five council members have given to Daines, in amounts per individual ranging from $11,000 to $1,000 over several cycles. The council is made up of high-profile people who in some cases have a history of giving to various candidates of both parties.
Daines had highlighted a $1 million grant to Logjam Presents, LLC, which is owned by council member Nick Checota, who has contributed to Bullock. It's one of two $1 million live entertainment grants awarded so far; the other is going to Missoula Children's Theater.
"The people of Montana deserve an answer from Gov. Bullock on why certain advisory board members have received exponentially more in COVID aid than the average Montanan," Daines wrote.
Applicants for that grant had to show their revenue from April to June this year was 10% or less than in 2019, and $10 million total was available. The arts and entertainment industry has been decimated by the coronavirus.
The advisory council's letter to Daines told him to not politicize their work in a video advertisement. 
"Over the last few months, your allies in Washington have smeared our work. We spoke up against them, but clearly you did not listen. Now, by running this false ad and defaming small businesses and community leaders across Montana, you have shown that you are no better than they are," the letter reads.
In Daines' response Thursday, he wrote: 
"I agree this pandemic should not be political, which is why I maintain that those advising the governor on the distribution of COVID relief should not be his donors, and they certainly should not be benefiting exponentially more from this aid than other Montanans."
Bullock's campaign responded Thursday.
"The advisory council was made up of a diverse group of Montanans from a wide background of industries in Montana and they (were put on the council) because of their experience and because they wanted to help the state navigate the pandemic in this unprecedented time," said Olivia Bercow, the campaign's communications director. "It's a shame that Steve Daines is dragging these Montana business owners and community leaders through the mud."
The council also took public comment in drafting their recommendations. Bullock adopted those, and the state Department of Commence is in charge of managing and approving grants.