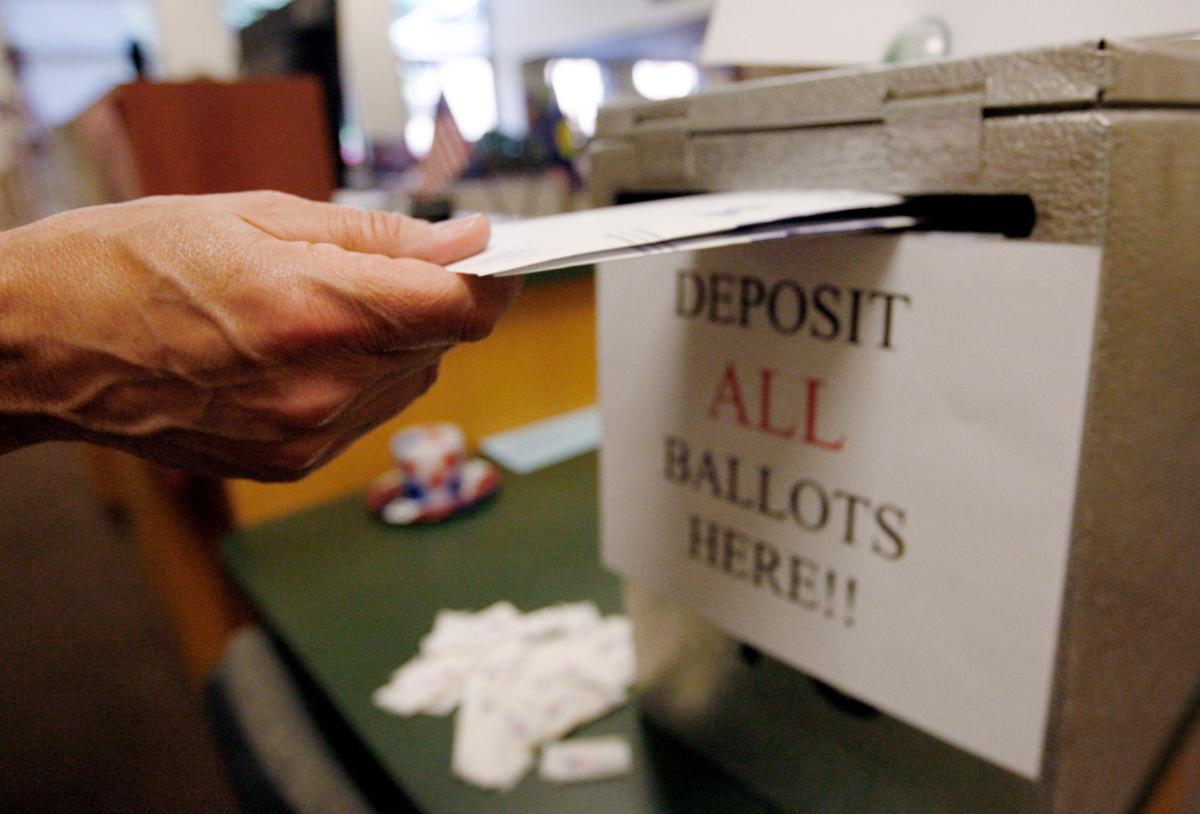 On Monday McCue sent an email explaining how things have gone so far under the law that limits who can drop off ballots for others and how many they can bring in. It also requires people dropping off ballots for others to fill out a registry form.
McCue emailed because she didn't have time for a call. Election day is Tuesday.
From April 24-26, 285 people had dropped off ballots for someone other than themselves and filled out a ballot collection registry form. That's out of 930 ballots returned. A person can drop off up to six ballots each election, but McCue said the vast majority of forms were from people returning a spouse's ballot.
But the first big test of whether voters are aware of and ready to comply with the law and the capacity of local and state election officials to deal with the increase in paperwork hits this month with about a dozen school district trustee and levy elections around the state.
"The school and city elections this year should be good practice for voters so they can get in the habit of submitting a ballot collection registry form when they drop off another person's ballot," McCue wrote. "Our goal for next year is to find a way that we can help voters comply with (the law) without creating lines to drop off voted ballots. We're considering everything from staffing to the layout of the form. Based on this election, we do think it will be a full-time job for the bigger elections."
Commissioner of Political Practices Jeff Mangan said his office is also preparing and working with local officials to do outreach. In eight small elections held by mail between February and early April, there were 469 registry forms filled out for 566 ballots cast. Registry forms only apply for one election, so a person would need a new form for a general election even if they provided one in the primary.
The law limits who can drop off a ballot for someone else to a family member, someone else who lives in the same household, a caregiver or an acquaintance, which is defined as an individual known by the voter. People who drop off ballots for others must fill out a registry form.
If a person does not fill out a form or turns in more than six ballots for each election, the law establishes a fine of $500 per violation.
Though some counties, including Lewis and Clark, have made efforts to help educate voters about the law by including information in voting packets, talking to local newspapers and TV stations, sharing information on social media and posting signs at ballot drop-off locations, people are still unaware or confused about the change.
"We are finding that most voters are not aware of (the new law) or at least don't realize it is in effect for this election," McCue said.
The Secretary of State's office said it has worked with the commissioner and elections clerks on guidance in following the law, provided information on its website and encouraged clerks to do the same. In an email, the office said it would monitor school elections to "see if there is a need for additional communication."
The number of people who vote absentee in Montana has grown rapidly over the last two decades. In the most recent 2018 election, 73 percent of the ballots casts were absentee. In 2000, absentee votes made up only 15 percent of total votes. Absentee ballots can be dropped off or mailed; the new law does not apply to mailed ballots.
Mangan said he expects the 2020 election to be the biggest in state history, and hopes that through outreach, education and experience people will be more familiar with the law by then.
"We're talking during a period of 30 days, potentially hundreds of thousands of reports coming to our office, twice a year at least for the general and primary," Mangan said. "But we'll handle that. More importantly, people don't understand if they take more than their ballot to drop off, they're going to be required to fill out that form because of the law, and if they don't they risk a $500 penalty."
His office did not get any funding to do educational outreach for the new law. It will get a part-time employee in the summer of 2020 who will help work on compliance.
It's the responsibility of local election workers to provide and collect registry forms from people who deliver ballots. Election administrators then scan the forms and email them to the commissioner's office. Any complaints about possible violations are made to the commissioner's office.
As with campaign finance complaints, the commissioner will investigate, issue findings and make recommendations, if needed, in conjunction with the county attorney.
In the Helena school board election, so far a few people who returned ballots and should have filled out forms refused. The law says ballots that are dropped off in that situation still must be counted, though the person dropping them off could be subject to a fine.
"In those cases, the staff person noted the exchange on a form to be sent to the Commissioner of Political Practices," McCue said. "From what we could tell, we thought it was a spouse dropping off a spouse's ballot in each of those cases. We have also had a few people who brought in their spouse's ballot and upon learning of the (legal) requirements, decided they would instead have their spouse return their own ballot."