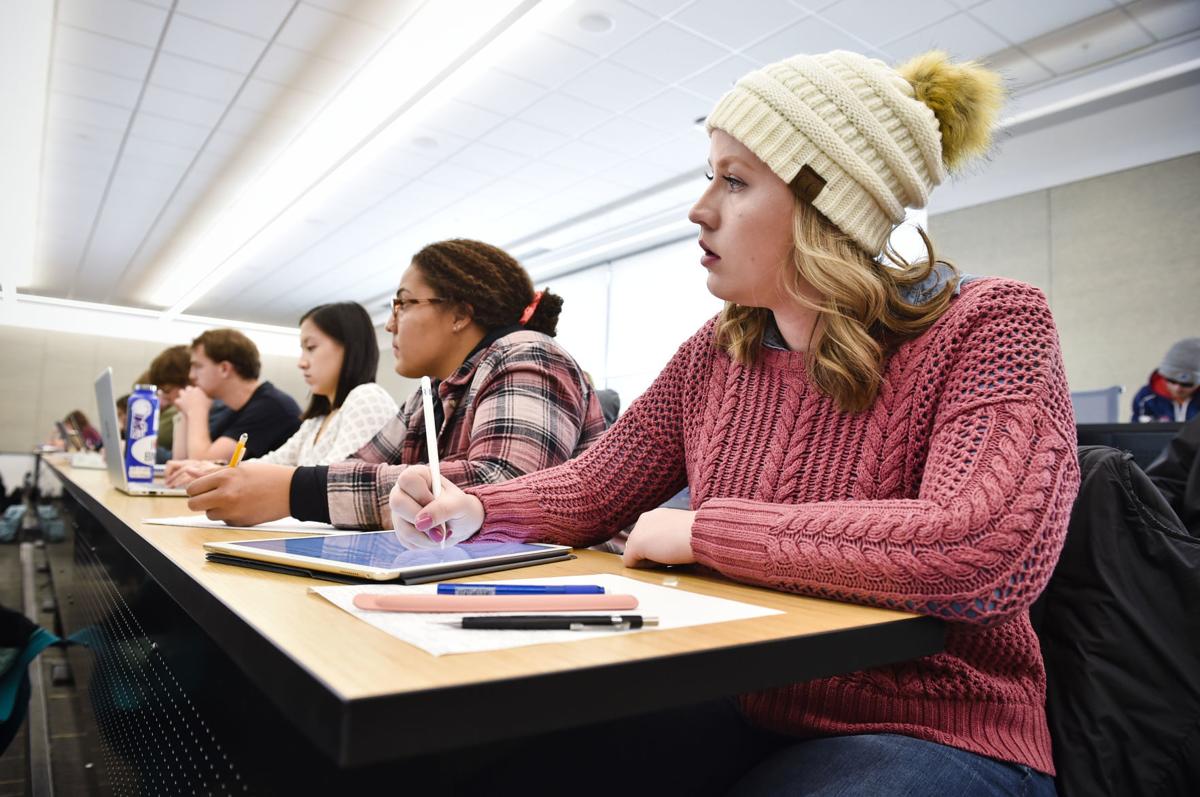 BOZEMAN — It is abundantly clear when meeting Madison Haagenson that she's a woman who will accomplish considerable things.
In middle school, she competed on the Science Bowl team at Will James in Billings and went to nationals for the battery-powered mousetrap car she and her dad designed.
"That's what first sparked me," Haagenson said. She took first place in engineering and design at the national level. By high school teachers were saying "Hey, you'd probably make a good engineer."
Her career path and talent were obvious. But when she was 16 her dad's back was crushed in a job accident and he was no longer able to work. That made it uncertain whether college would be financially feasible.
Larry Haagenson was covered under a workers compensation policy, but that only pays about two-thirds of what a person earned before their injury. And while Madison Haagenson said her parents would have found a way to finance her education, it became a daunting proposition.
"I think we were on the 27th page of the (scholarship postings) website, and I thought, 'Man, I think we fit in this one,'" Haagenson said recently from her dorm building at Montana State University. "So I brought it to my mom and we just took a shot in the dark."
The year Haagenson, who is now a sophomore at MSU studying civil engineering, applied was the first time Kids' Chance offered scholarships in Montana. She received $2,500. This year, she re-applied and got $3,500.
"We're just so blessed to have Kids' Chance in our lives, because that money is money my parents are no longer able to support me with," Haagenson said. "When we were figuring out how seriously hurt my dad was is when we were starting to talk about colleges."
The state Department of Labor and Industry recently released a report that showed the state had 14,100 workplace injuries or illnesses in 2018. Of the 11,900 injuries that happened in private industries, according to labor data, 5,700 were severe enough that the person hurt had to recover away from their job, transferred jobs or had their duties changed.
Peter Van Nice, president of Kids' Chance of Montana and operations bureau chief at the labor department, said the scholarship program got its start in 1988 when Robert Clyatt, a Georgia attorney in the field of workers compensation, observed a client's struggling child. That spurred him to do something to help the kids of hurt or killed workers pursue education beyond high school. Clyatt started the scholarship with the hopes programs would operate in each state.
Van Nice said there are Kids' Chance programs in 47 states now, and Montana was the 43rd to start one. 
As have other states, Van Nice said Montana has struggled with how to reach the children whose parents have had serious workplace injuries or died. For one thing, there are privacy concerns about health information. Some workers might have children who are a decade or more away from college when they're injured.
"It's not easy," Van Nice said. "We're trying to figure out how big our (scholarship-eligible) population is."
From a report produced by the Occupational Safety and Health Administration, the Montana Kids' Chance board can get the name of the business where a person had a fatality, so the board can mail a letter to the employer.
Van Nice is also hopeful the 2021 state Legislature will consider a bill that would allow the program to send out information about the scholarship as a possible benefit to anyone who is seriously injured or to the family of someone killed on the job. Nevada passed a similar law recently, he said.
"Only being out there for two years, we're getting rolling and we hope to see more," Van Nice said. "Hopefully the momentum starts picking up and we'll find candidates and serve our purpose."
The funding is there to increase the number of scholarships Kids' Chance awards. In their first year, six people received $2,500 each. The next year five applied and got $3,500. Haagenson said she was "in a public place and screamed" when she learned of the increase, which covers about half her tuition.
Sixteen corporations have committed funding for five years, Van Nice said. Backing has reached more than $100,000 and the program has the capacity for about 10 scholarships, he said. Now it's just a matter of reaching people like Haagenson.
Larry Haggenson worked at a Billings auto dealership for more than 20 years, installing accessories. Because of the repetitive and strenuous nature of the work, the cartilage in his thumbs separated from the main muscles in his hands.
Because of that damage, Haagenson moved into a new position as a warehouse inventory specialist. It was an exciting time for the family, because he could keep his benefits and retirement plan. But in the fall of 2016, his back was crushed by a 300-pound truck grille that fell from a rack in the warehouse.
At first her dad brushed it off, only treating the injury with heat packs, because he is a "super tough guy," Madison Haagenson said. But it became clear after a few months something was seriously wrong and he'd need an intensive back surgery.
Following a 12-hour procedure that placed eight screws, two rods, two cross bars, four inserts and three fusions in his back, and still with permanent nerve damage, Larry Haagenson was declared permanently disabled. He walks with a cane and has to take breaks often, but his daughter said it's a blessing versus other outcomes.
While Larry Haagenson was covered by workers compensation, it didn't replace his full salary. Going onto Social Security early made it hard for her parents to get financial assistance to help her pay for college, Madison Haagenson added.
Her dad's surgery happened during ACT testing season, when Haagenson scored an impressive 32. She always knew she wanted to go to college and her parents supported that. The high test score made a lot of schools an option, but the cost of tuition anywhere was an issue.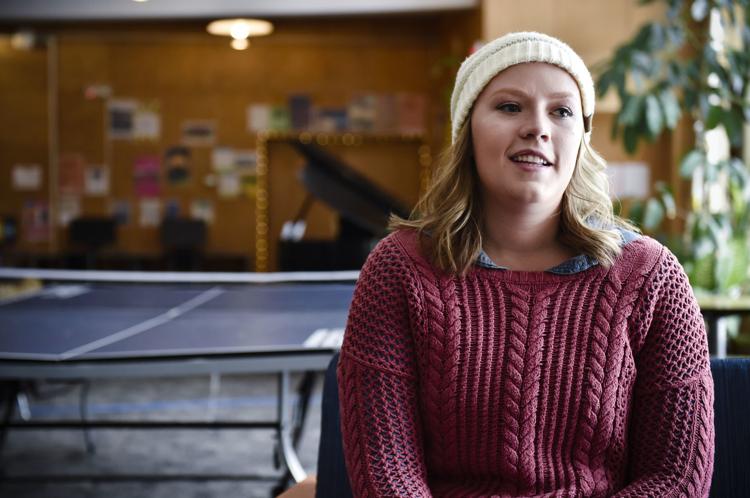 "There was always talks of them supporting me in whatever decision I made, so it was a little shocking for me when they were finally saying, 'I don't know if we can help you as much as we wanted to anymore,'" Haagenson said.
There wasn't one definitive conversation, but as Haagenson started to apply to schools it became clear how expensive her dad's surgery was and how much the landscape had changed.
"My parents didn't really talk about the bad things. That's not what they're into, they're really positive people," Haagenson said. "My parents really, really wanted to help support me and pay for college, but with him not going to work, not working all, that wasn't really an option anymore."
Montana State was always on her list, and she was familiar with the campus because her mother took her to a lot of educational events there over the years. In high school she thought about going to school out of state or even out of the country, but her father's injury changed that, too. As an only child, it's important for her to get home to see her parents and help out as much as she can.
Haagenson describes herself as someone who naturally wants to get good grades and push herself. She's doing well in the engineering program at MSU, which encourages students to take high credit loads to get done in four years. Though she's self-motivated, Haagenson said she's thankful the Kids' Chance scholarship doesn't come with GPA or credit limitations, like some others do.
"If there's ever a time where it's too much, it's so good to know my scholarship is going to be there, that it's OK to get a C in this class," Haagenson said. "I'm so grateful for that because engineering is very hard."
If Haagenson hadn't come across Kids' Chance, she said her college course likely would have been much different.
"If I didn't have the money I do, I probably would have done my generals at MSUB and lived at home for two years," Haagenson said of Montana State University-Billings. "I'm super grateful I can do all four years here. It would have made my college experience a lot different."
She knows and has close friends in her engineering track, which is a huge benefit since it "takes a village" to get through the program.
"Coming in at your third year would have been a little odd," Haagenson said.
Van Nice said the scholarship also isn't limited to higher education. The board has been working with someone who is trying to pursue a commercial driver's license, and Van Nice, through his role at the labor department, is also tied into apprentice opportunities around the state.
For now, Haagenson thinks she might want to stay in Montana when she graduates and work on engineering related to transportation, water resources or sustainability. Seeing her parents go through the financial toll of her dad's injury has changed her ideas about college debt, so graduating in four years is important, as is finding a job as soon as she can. She already has a possible internship this summer at the Billings airport, a connection that also came out of Kids' Chance and that could turn into a post-college opportunity.
"I'm just extremely grateful because there are a lot of students here who are already in massive debt, and yes, I'm probably going to be in debt at the end of college, like every other college student. But not having that huge of a burden is really nice," Haagenson said. "My parents didn't want to put it on me. My life was going to move on, but now there is this great opportunity through Kids' Chance."
For Van Nice, he'd like to see the program solidify with more applicants and financial support.
"I'd like to see it gain the strength so it can maintain," Van Nice said. "It's there for a purpose and it's always going to be there, that would be my dream to say it's established. It's there for a purpose and it'll serve that purpose for the rest of time."
Get Government & Politics updates in your inbox!
Stay up-to-date on the latest in local and national government and political topics with our newsletter.