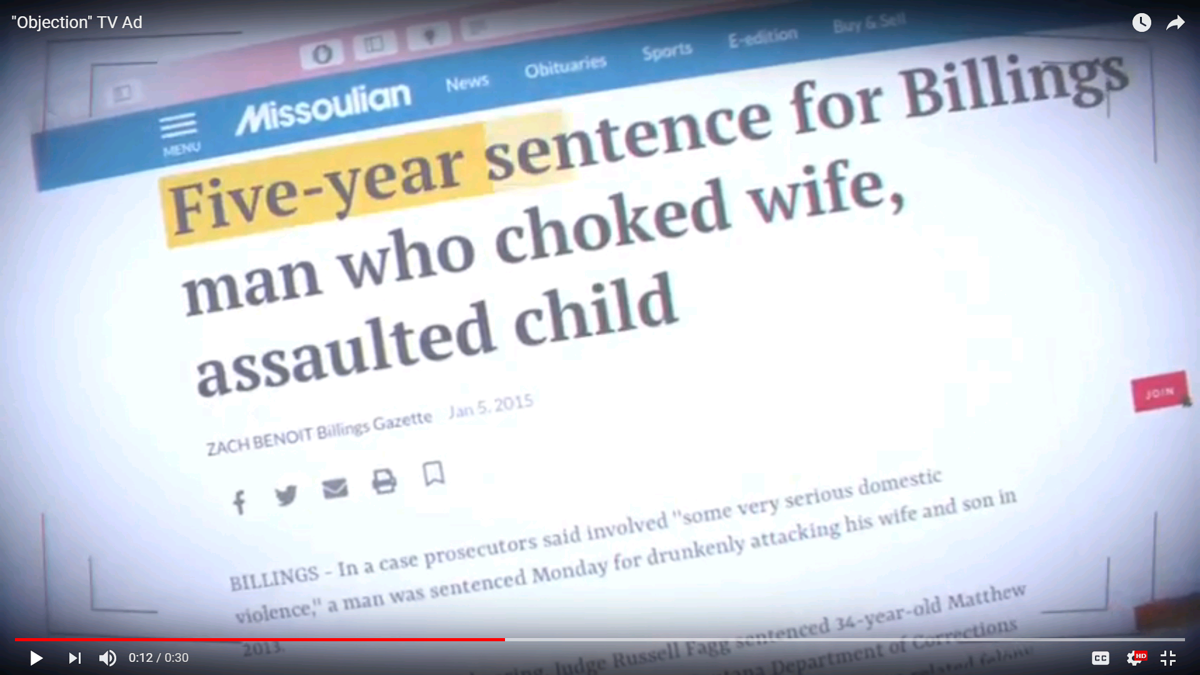 Russ Fagg, a candidate in the Republican primary for U.S. Senate, is objecting to an ad placed by a Super PAC attacking his record as a judge.
Club for Growth Action announced Friday it would spend $250,000 on the broadcast and digital ad, called "Objection."
Fagg is running against state Auditor Matt Rosendale, Big Sky businessman Troy Downing and state lawmaker and Kalispell doctor Al Olszewski. Fagg and Rosendale have drawn the most financial support from donors, and Club for Growth has spent $1.6 million supporting Rosendale. The winner of the primary will run against incumbent U.S. Sen. Jon Tester, a Democrat. 
The ad cites a specific case in Yellowstone County in which Fagg sentenced a man to prison for five years for assaulting his child and stranging his wife, then coming at her with a knife. The sentencing was part of a plea agreement that avoided a trial.
Fagg on Monday defended the sentence, saying it was recommended by the state, and the victim agreed.
"I think that's really important: the victim was OK with it and it avoided the turmoil of going to trial, and he's sitting in prison today," Fagg said. "I totally stand by that sentence that I gave, even in the light of 20-20 hindsight."
Fagg, who was a judge for more than two decades in Yellowstone County, said when he handed down sentences, he took into account many factors, such as the defendant's record and the victim's willingness to testify and relive a very difficult event.
Fagg especially criticized the fact that the ad means the victim is seeing her assault rehashed in public.
"I think what's offensive is Club for Growth never contacted the victim and now she's had to relive all of this again," Fagg said.
Yellowstone County Attorney Scott Twito also weighed in on the ad, sending a letter to newspapers and television stations around the state last week defending his office's decision to offer the plea agreement.
"I believed the prosecutor's sentencing recommendation was well thought out, and it included the victim's input in formulating this recommendation. I stand by the offer my office made," Twito wrote.
On Tuesday, Twito said he saw the ad on social media and television, and while he's seen past cases used for political messaging, he can't recall one that has been "sensationalized" this much.
"We dedicated significant resources in my office to the plea agreement," he said.
Twito said he had a 10-15 minute conversation with the woman, who said no one from Club for Growth had reached out to her.
"She was frustrated with the process but she felt that my office did a good job communicating with her and telling her what to expect," Twito said. "She was certainly upset with the fact that her case was involved with political advertising."
David McIntosh, president of Club for Growth, said Tuesday the group weighed contacting the woman.
"We did think about reaching out to her and then honestly concluded that even calling her about it might appear that we were trying to drag her in and use her in a political battle," McIntosh said. "We were very sensitive to the fact it was probably a horrible event in her life and we knew enough of her history to know she's moved on. We didn't want to even try to approach her about it because she might feel we were pressuring her to become part of our story."
As of late Tuesday afternoon, the woman had not responded to a request from Lee Newspapers for comment.
McIntosh said that Club for Growth tried to balance concerns about using the woman's case with pushing its message opposing Fagg. The group has run other ads and also maintains a website critical of Fagg's record as a judge.
"We concluded it was important for voters to know about the judge's history because he was talking about he was strong on crime and had run an ad about that," McIntosh said.
Club for Growth has focused its efforts, to the tune of $1.6 million in support of Rosendale and opposing Fagg, as part of an effort to target U.S. Senate races where incumbent Democrats are running for re-election in a state Republican President Donald Trump won in 2016.
"We're very committed to this race," McIntosh said.
The Super PAC threw its support behind Rosendale, McIntosh said, because his views align with Club For Growth's on issues such as lowering taxes and opposing Medicaid expansion. The group's polling also shows Rosendale was the most electable when put up against Tester.
Club for Growth will have one more wave of advertising before the primary, McIntosh said.
Get Government & Politics updates in your inbox!
Stay up-to-date on the latest in local and national government and political topics with our newsletter.