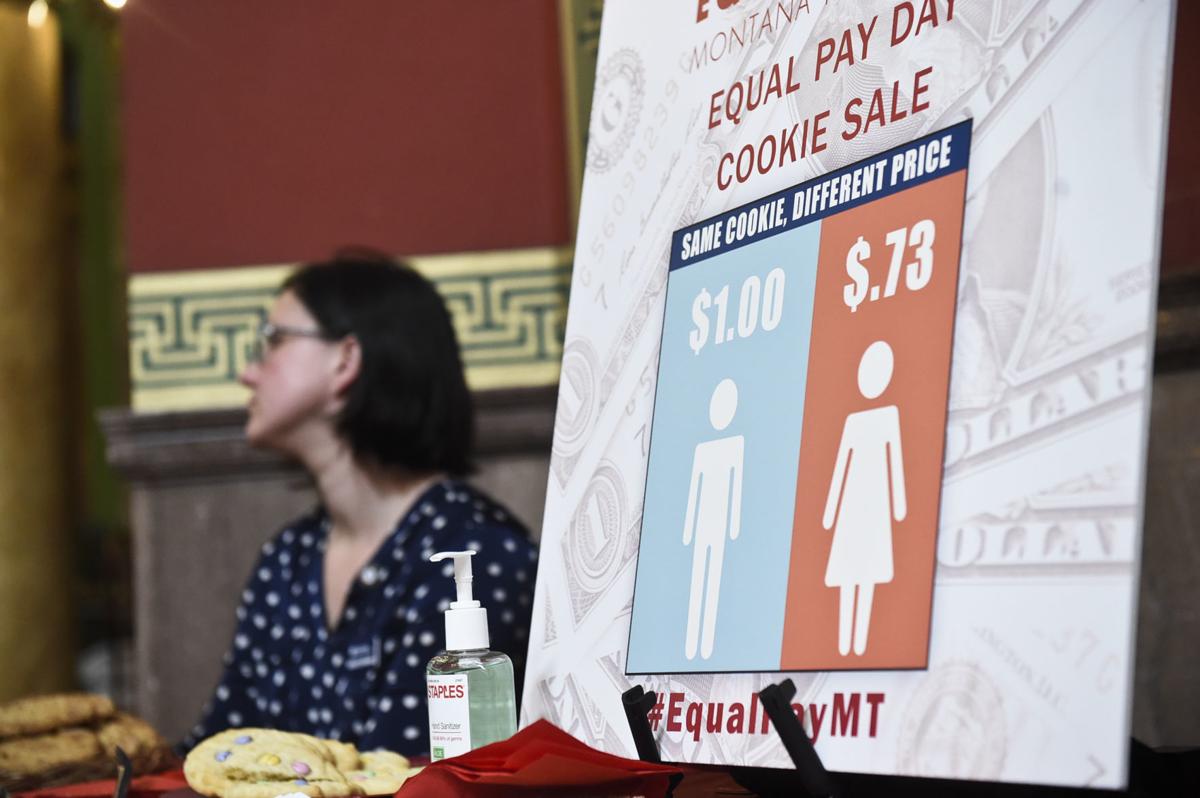 Lawmakers on Wednesday heard debate about a heavily amended bill that tries to address some of the problems that cause gender-based pay disparity.
House Bill 547 is carried by Rep. Laurie Bishop, a Democrat from Livingston. It came out of work done by the Equal Pay for Equal Work Task Force formed by Gov. Steve Bullock in 2013.
As amended, the bill would prohibit employers from making a person provide information about past wages, benefits or other salary history as a condition of applying for a job or employment. It would also say that employees can't be stopped from discussing their wage with coworkers.
"We already know that there's an inherit inequality in women's pay compensation," Bishop said Wednesday in discussing the need for the bill. "We know that women are going to be at a disadvantage from the start, or they are way more likely to."
Montana ranks 29th in the nation for pay equity. Women here make 73 cents to every dollar a man makes. Bishop said studies have shown wage transparency leads to more equal pay for women and a better workplace.
Emilie Ritter Saunders, the communications director for the Montana Department of Commerce and co-chair of the task force, said the legislation has been a longstanding recommendation of the task force.
You have free articles remaining.
A similar bill in the 2017 session carried by Sen. Diane Sands, a Missoula Democrat, was defeated in the Senate Business, Labor and Economic Affairs Committee and a motion to blast it onto the Senate floor also failed. That's the same committee that heard the bill Wednesday. The committee did not take immediate action. The bill cleared the House on a 52-47 vote last month.
In its original form, the bill would have also made it unlawful for an employer to discipline employees who choose to discuss their wages and required employers to post information about paycheck transparency in the workplace.
The government relations director for the Montana Chamber of Commerce spoke in opposition to the bill, said he's heard concern from some chamber members that discussions of pay among employees may not take into account all the different factors that go into setting a person's wage and that things could be taken out of context.
Sen. Jason Ellsworth, a Republican from Hamilton, said he worried the bill could make it difficult for an employer to know what an appropriate wage is for a position without knowing what someone was paid previously.
Bishop said that while the bill would prohibit forcing a person to disclose their past wage information to be considered for a job, it wouldn't stop people from entering salary negotiations and discussing prior pay.
Sen. Steve Fitzpatrick, a Republican from Great Falls who chairs the committee, said in a law firm where he used to work, discussions on how much people earn has affected workplace operations.
"Quite candidly after a while it got to be incredibly disruptive," Fitzpatrick said.
Bishop said it's the role of supervisors to manage employees if those types of situations occurred.