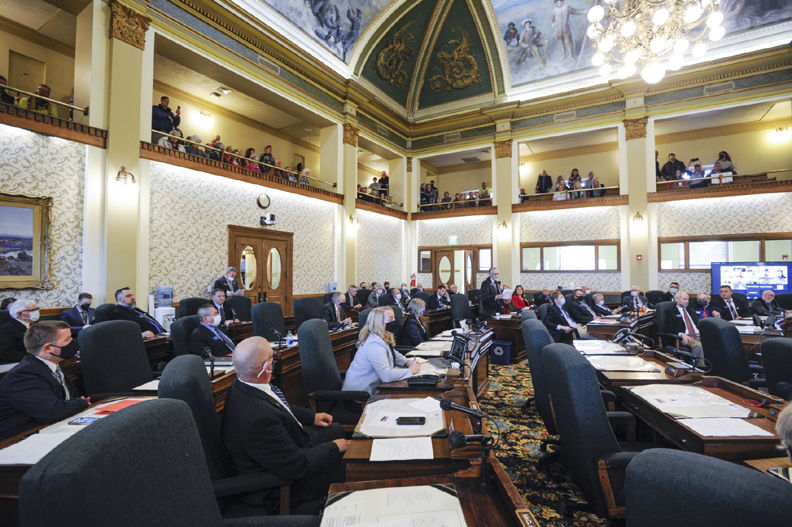 A much scaled-down bill aimed at helping residents of mobile home parks if a park goes up for sale passed an initial vote in the state Senate on Friday.
Senate Bill 269 from Sen. Brian Hoven, R-Great Falls, originally would have required a 90-day notification period given by an owner selling a mobile home park to allow residents an opportunity to purchase.
But after an amendment stripped that provision, the bill that cleared a second reading in the Senate on a 46-4 vote Friday will let sellers exempt a part of the capital gains from their personal income taxes if they sell to a resident association. It faces a final vote before moving to the House.
Hoven told the Senate on Friday that a number of recent sales of parks to private equity firms that have raised rents has made clear it's time for the Legislature to step in.
"Mobile home parks have been profitable for those people that develop them over the years. They've stayed under the radar in terms of the increase in rental rates versus apartments and single-dwelling housing," Hoven said.
Hoven said as rents increase mobile home owners can be essentially held captive because of the cost to move a trailer.
"This bill is a win-win-win," Hoven said. "It's a win for the park owners, it's a win for the residents and it's a win for the state of Montana."
Hoven was successful in amending the bill Friday to require the state Department of Revenue to send out notification once a year to mobile home park owners informing them of the tax advantages of selling to residents.
In amending the bill earlier this month in the Senate Business and Labor Committee, Sen. Steve Fitzpatrick, another Great Falls Republican, said he supported the capital gains tax credit part but not the rest of the bill, saying he felt it could conflict with existing contracts.
While Fitzpatrick argued his change kept "the heart of the bill," Sen. Carlie Boland, a Great Falls Democrat, said she would have liked to see more meat in the bill.
"This is just a huge issue that's captivated this whole state and probably others as well," Boland said. "I still have to support the bill, even though I don't like the (amendment made in committee)."
Residents of about 14 parks in Montana have been able to buy their land.
When the bill was first heard in committee, the residents of several parks that had sold to a private equity firm in Montana told lawmakers it created difficult situations.
Jim Burrington, who lives in The Highwoods in Great Falls, said rent had increased in the two years he'd lived there after that park sold to Havenpark Communities.
"If this continues to go up, its going to be a financial burden on us," Burrington said in February. "It would have been nice to have been offered a chance to purchase."
Cindy Newman, who also lives in The Highwoods, said residents didn't know about the sale.
"The cumulative effect of having Havenpark is fear and frustration," Newman said. "These are our homes and it's just sad that in their senior years people have to live under these conditions. I wish we had this opportunity."