Montana's Superintendent of Public Instruction would no longer be required to hold a teaching certification or a bachelor's degree under a Hamilton lawmaker's proposal.
Republican Rep. David Bedey's House Bill 371 would strike that requirement, which dates back to the turn of the 19th century, he told the House State Administration Committee on Thursday.
"This is no longer the time of buggies and horse-drawn carriages and one-room schoolhouses. This is a time where public education is a large enterprise," Bedey said. "I think the current law unnecessarily restricts the pool of candidates for Superintendent of Public Instruction and denies qualified citizens the opportunity to serve our state."
Bedey offered the examples of generals in the military and chief executive officers at corporations as examples where a specialist isn't necessarily needed to successfully oversee a large organization.
Current Superintendent Elsie Arntzen, a Republican, testified during the hearing, neither backing nor opposing the bill, but saying that both her experience as a public school teacher and in the private sector helped prepare her for the job. She spoke during a time designated for informational witnesses.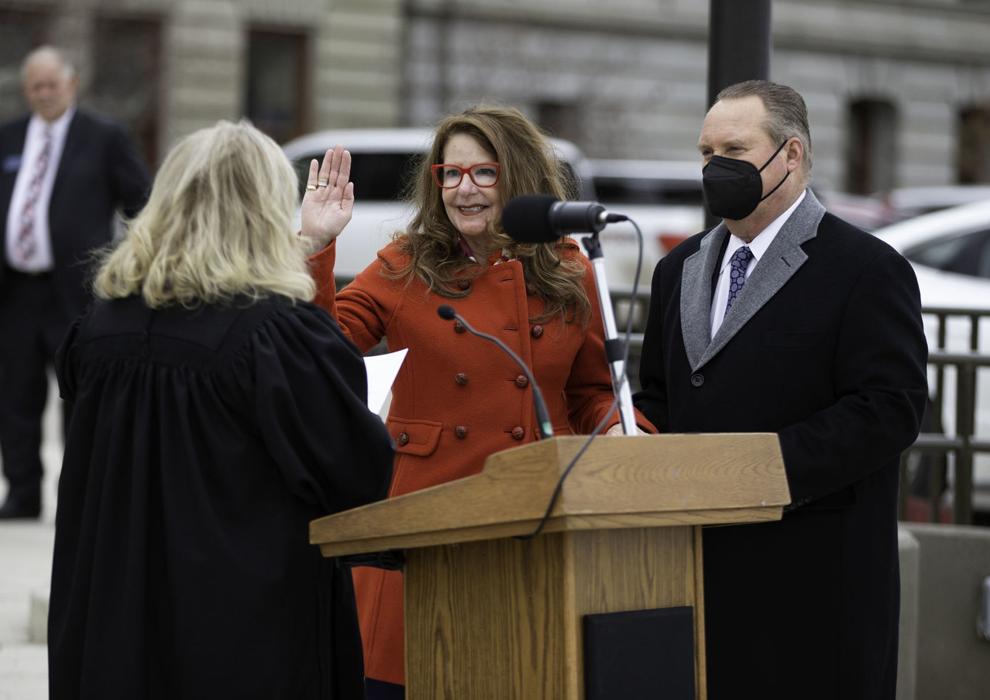 "I know that I need both of those in making a $2.3 billion budget flow to our schools," she said, adding later, "My passion comes from being a classroom teacher, my parents were teachers, but I do have a business background."
Pad McCracken, a legislative research analyst, added that only four states currently require a teaching certification for the top education post.
Dennis Parman, executive director of the Montana Rural Education Association, said he observed thousands of decisions made by the top education official during his seven years at the Office of Public Instruction.
"It truly is unfathomable to me how those decisions could be made for the best benefit of public schools, students, their parents, teachers, school leaders and trustees, by an individual whose greatest experience in education was probably being schooled in some manner in some location," Parman told the committee.
The Montana Federation of Public Employees, which represents the public teachers' union in Montana, also opposed the bill.
Rep. Denise Hayman, a Bozeman Democrat, noted that she had served on a board of trustees for 14 years before offering a forceful denunciation of the bill.
"I cannot believe you are bringing this bill," Hayman said. "It just is inconceivable to me that we would attract highly qualified superintendents to work under someone that did not have the broad breadth of experience in education."
The committee also heard a proposal by Rep. Dave Fern, a Whitefish Democrat, to loosen the requirements for independent candidates to get on the ballot for local races.
Current law requires that any candidate not affiliated with the two major parties in state has to get signatures from at least 5 percent of the number of votes for the winning candidate in the last election. Under House Bill 347, those candidates would need just 50 signatures to qualify for the ballot as a state House candidate, and 100 signatures for state Senate or county commission.
Fern used the example of a friend he described as a "ticket-splitting individual who would have had a hard time committing to either party," who was interested in running as an independent for the Flathead County Board of Commissioners.
In the last election, the winning candidate for that seat received 38,309 votes, meaning an independent candidate would have had to get 1,916 signatures to be on the ballot.
Because the hearing on the bill was abruptly rescheduled Tuesday, proponents that Fern said had planned to testify in favor of the bill were unable to attend, and there were neither proponents nor opponents to the legislation at the hearing. Fern instead read a quote from state lawmaker from Maine, a state that he had used as a model when drafting the change in statute.
"It is important that a nonpartisan voice is elevated in our state politics to show a different style of leadership," Fern said, quoting from the lawmaker's email. "I am socially progressive and fiscally conservative. The rural values of self-sufficiency and independency run through all my political decisions."