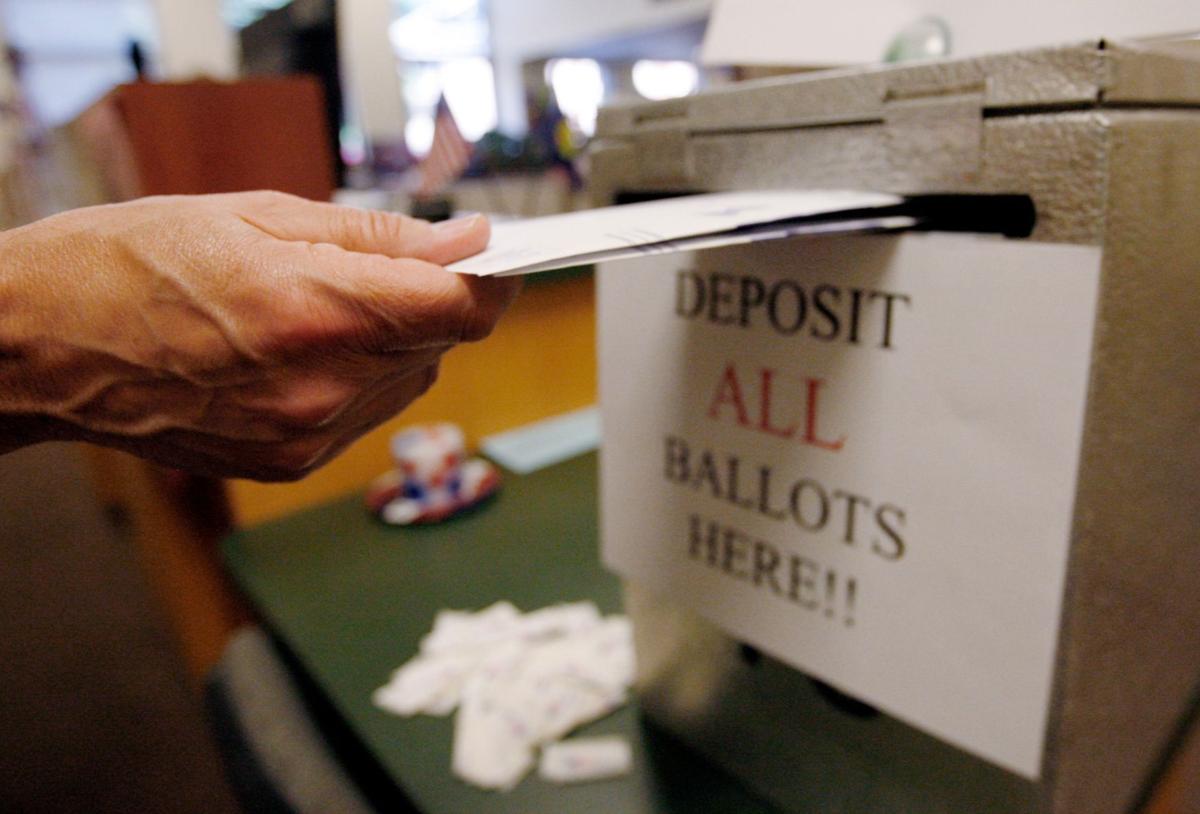 A political consulting firm may have engaged in unreported paid activity to help the Montana Green Party qualify for the ballot this year, according to a complaint filed Tuesday by the Montana Democratic Party.
Montana Democrats claim Advanced Micro Targeting paid people to gather signatures but did not report its activities to the state Commissioner of Political Practices, which will investigate the complaint.
The complaint is against the Las Vegas company, not the Montana Green Party, and does not claim any improper actions by the latter group.
"It is clear that an out-of-state political firm with ties to the Republican Party and a history of misleading voters was hired to electioneer in Montana," said Montana Democrats executive director Nancy Keenan in an emailed statement.
"However, the names of who bankrolled this extensive effort are being hidden from the people of Montana. Montanans demand truth in our elections, and we deserve to know if out-of-state dark money is trying to influence our democracy."
On March 12, the last day possible, the Montana Green Party filed to get candidates on the ballot for this year's election. The last-minute addition of a far-left party may pull voters away from Democrats like U.S. Sen. Jon Tester, who is running for his third term in what's expected to be a closely contested race.
Several Green Party candidates filed to run in races, including the U.S. Senate and House races, as well as a handful of state legislative districts.
Since the Green Party qualified, some have raised questions about the party's candidates, including Tim Adams, who filed in the U.S. Senate race and was formerly on the Montana Republican Party payroll. Earlier this month, the Montana Green Party disavowed Hamilton legislative candidate John Gibney for bigoted statements made about immigrants.
Secretary of State Corey Stapleton's office verified 7,386 voter signatures out of the 10,160 signatures submitted by the Green Party, with the bulk of those signatures gathered over 19 days. Five-thousand from 34 legislative districts were required. 
In the complaint, Montana Democrats' chief financial officer Trent Bolger targets Cody J. Pope, who on his LinkedIn page identifies himself as the national campaign director of Advanced Micro Targeting. Pope also includes state director of the Green Party qualification initiative in Montana for Advanced Micro Targeting as a job.
A call Thursday to Cody Pope went to a voicemail box that was full.
If Pope gathered signatures as part of his job, but that activity was not reported, that would violate campaign finance law.
No political committees, groups or candidates in Montana have reported paying Advanced Micro Targeting for work to gather signatures for petitions to get the Green Party on the ballot, according to records kept by the Commissioner of Political Practices.
If the business was paid to gather signatures, it would have to be reported in financial disclosures used to monitor spending in Montana political campaigns.
That includes Garrett Laubach, Matthew Maaske and Nicholas Mahrer, all from North Dakota; Jacob Steele, from Wisconsin; and Jeff Hatfield and Robert Carter, of Las Vegas.
You have free articles remaining.
The complaint says that Advanced Micro Targeting website  lists North Dakota, Nevada and Wisconsin on states under its "reach."
Seven signature-gatherers, including Pope, listed Montana addresses.
The complaint does not take issue with the signatures gathered by Montanans besides Pope, including Danielle and Thomas Breck.
Danielle Breck is head of the Montana Green Party and her husband, Thomas, who tried to run as the party's candidate in a special election last May to fill Montana's U.S. House seat before the party failed to get on the ballot.
In his complaint, Bolger says the Brecks gathered about 700 signatures in a volunteer effort between Jan. 20, 2017, to June 14, 2017, to try to qualify the party for the special election.
But a year later, about 13 additional people gathered about 9,461 signatures over 19 days, with an average of 500 signatures a day across four counties.
"The short amount of time, as well as the relatively small number of petition gathers, suggests that a professional effort to qualify the Green Party was undertaken during this time period," Bolger wrote in the complaint.
Bolger also raises the question of why people would travel from other states to gather signatures on a volunteer basis.
"It would be highly unusual and expensive for people as far away as Las Vegas, NV, Bismarck, ND, Fargo, ND, and Baraboo, WI to volunteer to spend three weeks gathering signatures in Montana without payment or reimbursement," Bolger wrote.
Lee Newspapers also learned through records requests that the signature petitions in Missoula were dropped off by a person named Billy Rogers, who listed a phone number with a Las Vegas area code in a receipt book for the Missoula County Election office on March 5.
Rogers has not returned calls seeking comment, but a reporter who has covered him in Nevada for years confirmed that the phone number left belongs to Rogers.
Shortly after qualifying for the ballot, Danielle Breck said the Montana Green Party did not pay signature-gatherers, but later said the party motivated signature-gatherers with things like gift cards. A Facebook post from October 2017 from the Montana Green Party says that for each 100 signatures, petitioners would get a $10 Amazon gift card as well as some gas money.
The Green Party of the United States told Lee Newspapers that it did not pay for signature-gathering in Montana, but did give $2,000 to the Green Party of Missoula to support efforts to qualify for the ballot. Breck last week said the newly formed Green Party of Missoula didn't know it needed to report that money or its spending but would remedy that.
Advanced Micro Targeting has done work in Montana before. In 2015 the company was paid $462,000 by Marsy's Law for Montana.