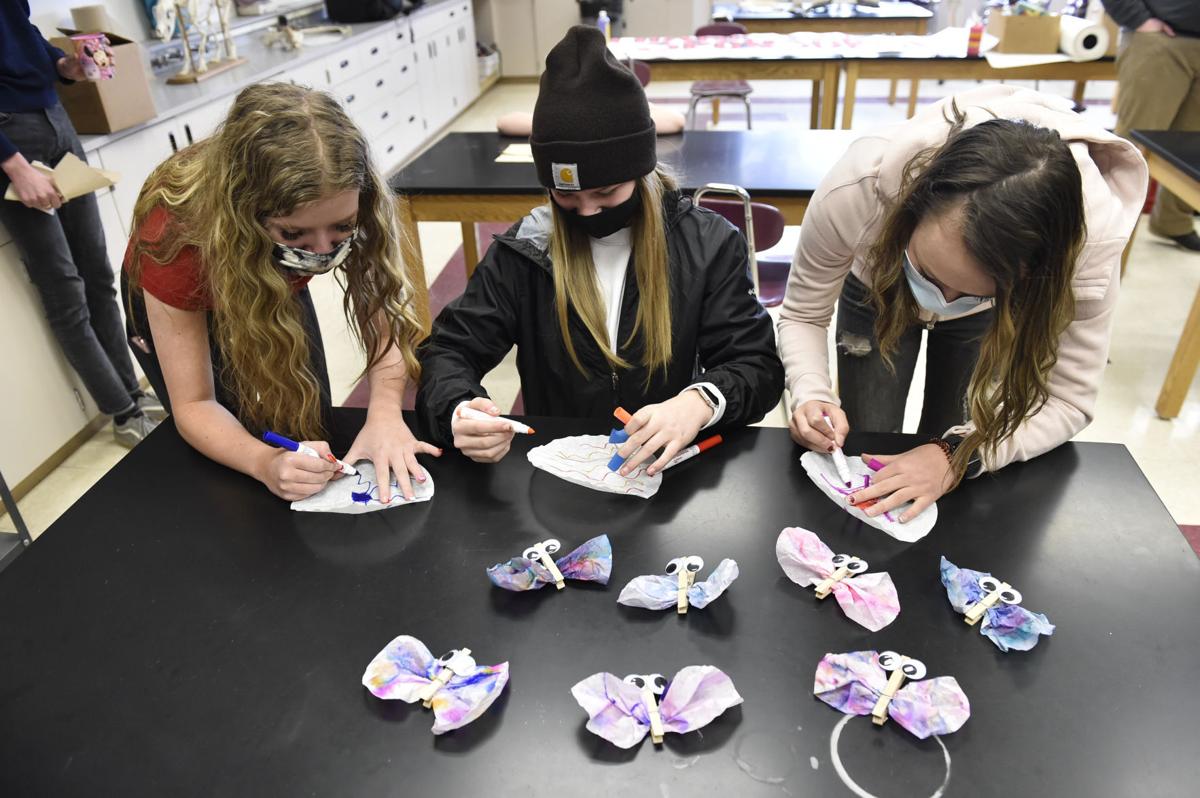 State officials Tuesday adopted an emergency rule urging Montana's public schools to consider parents' requests for students to opt out of mask mandates, which education officials say is already part of the process.
"Montana parents deserve to know their voices are heard in schools when health-related mandates for their children are being considered," Gov. Greg Gianforte said in a press release announcing the emergency rule.
Issued by the Department of Public Health and Human Services, the rule directs that schools mandating masks in the classroom "should … be able to demonstrate they considered parental concerns in adopting the mandate" and that they should allow students to opt out based on "physical, mental, emotional or psychosocial health concerns, as well as on the basis of religious belief, moral conviction or other fundamental right."
Education officials reached Tuesday, however, said that won't have any practical effect on school districts that have implemented mask mandates for the new school year.
"The rule doesn't require anything, but says what 'should' be done," Lance Melton, the executive director of the Montana School Boards Association, said in an interview.
He added federal and state laws already require schools to accommodate students' sincerely held religious beliefs, as well as any physical or mental disabilities, and said the rule amounts to "a lot of superlatives" that essentially restate those requirements.
Mask mandates are currently in place in several Montana school districts, including Billings, Bozeman, Helena, Butte and Missoula. Existing rules, Melton said, allow for accommodations for students such as allowing them to wear a plastic face shield instead of a mask, or off-site instruction.
"What you do not have to do is allow them to choose their accommodation without any regard for the health and welfare of others," he added.
The emergency rule "specifically provides that school districts 'should consider' parental concerns and 'should provide' an opt-out system for certain reasons," Missoula County Public Schools Superintendent Rob Watson said in an emailed statement Tuesday. "The district has done both. The district will continue to enforce its face covering guidelines to ensure the safety and welfare of all students and staff."
As with much of the rest of the country, COVID-19 cases in Montana have been on a sharp, upward swing since late July. New cases continued to climb this week, with the state reaching a seven-day average of 482 cases per day on Monday, according to CDC data. That's the highest rate of new cases since January.
Guidance issued earlier this month by the Centers for Disease Control and Prevention recommends "universal indoor masking by all students" age 2 and older. In a statement Tuesday, Gov. Greg Gianforte dismissed such mandates as "based on inconclusive research that fails to prove masks' effectiveness in reducing the incidence of COVID-19 in the classroom."
Gianforte, a Republican, pointed to several studies that he said "reveal the adverse impacts of masking on a child's health, wellbeing and development" as the administration works to "promote the role of parents as the ultimate decision makers on matters pertaining to the health of their children."
"A number of scientific studies indicate that universal mask use among children can adversely affect their health and development, particularly among children with learning or developmental disabilities," DPHHS Director Adam Meier stated in the press release.
But the conclusions drawn by Gianforte and Meier are inconsistent with most public health guidance, said Teresa Blaskovich, a pediatrician at the Children's Clinic of Billings and the secretary and treasurer for the Montana Chapter of the American Academy of Pediatrics.
"The evidence all points toward masks are one way we can help with COVID and the spread," Blaskovich said. "If you take that away, it's going to be a very, very difficult year just because we've already seen the negative impacts of kids because school closures and social isolation because they weren't able to be in school and what that can do to teens and kids and their mental health."
Dr. Lauren Wilson, the vice president of the Montana chapter of the American Academy of Pediatrics, treats hospitalized children and those in the pediatric intensive care unit in Missoula. She said Tuesday the emergency rule is confusing for parents and that many studies point to the effectiveness of masking.
"There are a lot of health organizations whose job it is to look at the entirety of published evidence on an intervention and decide if it is effective and that's what multiple organizations in the U.S. have done, including the CDC and American Academy of Pediatrics. When you look at the entirety of the evidence out there and you have the ability to properly analyze it, it's clear masks make a difference," Wilson said.
The emergency rule became effective Tuesday and will remain in place "no longer than 120 days."
The Gianforte administration's announcement comes one day after news broke that the federal Department of Education is investigating five other states with policies that forbid their local schools from implementing face mask mandates. The department told education leaders in those states that their policies may put them at odds with federal civil rights laws protecting students with disabilities.
— Missoulian reporter Skylar Rispens contributed to this story.