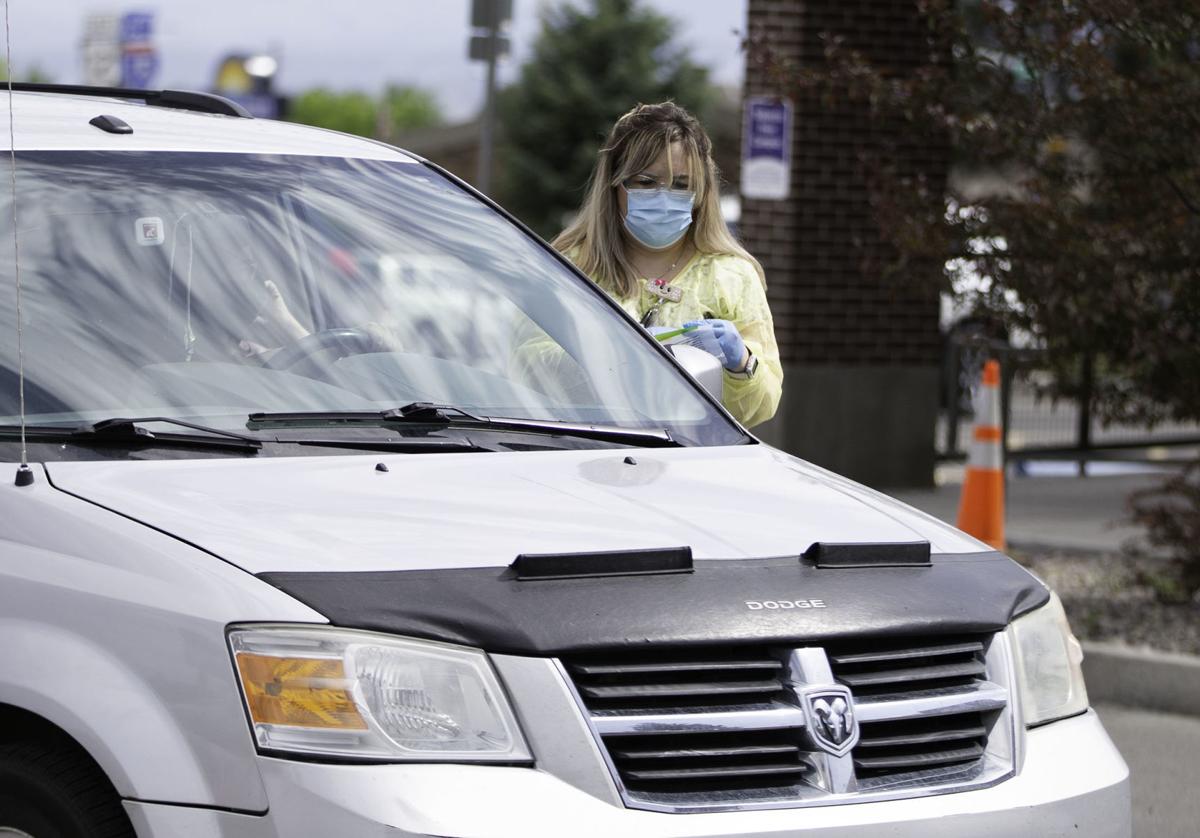 Montana state health officials on Wednesday detailed some of the scenarios that have led to notable coronavirus clusters in Montana over the last couple of weeks as case growth continues to climb following a relatively mild period.
Several of the clusters are tied to workplaces, while others are connected to group settings like transporting someone in a vehicle to a medical appointment or co-workers traveling to a job site.
Jim Murphy, head of the state Communicable Disease Control and Prevention Bureau, said Wednesday that to the best of his knowledge, in some settings like clusters tied to people together in vehicles, those who transmitted and caught the virus were not wearing face masks.
The Centers for Disease Control and Prevention recommends wearing face masks in settings where the 6-foot social distancing guidance can't be followed.
Gov. Steve Bullock again strongly encouraged Montanans to wear masks in situations their use could prevent the spread of the virus, but stopped short of ordering people to. That's a measure Washington Gov. Jay Inslee took Tuesday. Fifteen other states also require the use of face masks in some settings.
"If precautions are taken such as mask wearing, that really decreases the risk of the virus spreading to another individual," Bullock said on a call with reporters. "I'm not asking folks to wear a mask at all times. You don't have to do so when you're fishing with your family or when you're driving in your car alone. But do so at the grocery store, the pharmacy, grabbing a coffee, going into the gas station. That 15 minutes of inconvenience can make all the difference between one case turning into a dozen or more. If we don't get things right in Montana, this virus can quickly get out of hand."
Over the last week, Montana has added 136 confirmed cases of COVID-19, the disease caused by the coronavirus. For comparison, the state added 140 cases between April 20 and June 12. That 7 ½-week period included the start of Phase 1 of reopening, as well as the first two weeks of the next phase with more businesses allowed to operate at greater capacity and the end of a 14-day travel quarantine.
"There's no doubt we've seen a spike in cases since Phase 2 began," Bullock said, adding that while Montana still has the lowest number of cases in the country and the lowest case count per capita, it's not the time for residents to let their guard down. Montana hit 174 active cases Wednesday; there have been 766 cumulative cases and 571 recoveries to date.
The state now permits gatherings of up to 50, workers in offices, dining in restaurants and drinking at bars up to 75% capacity. Movie theaters, gyms and more are open.
Bullock also said Wednesday he would issue a directive Thursday loosening some restrictions on visitation at nursing homes and assisted living facilities, though significant measures will still remain in place. That had been limited to visits to those at the end of their lives.
As the state has moved to reopen, testing capacity has increased. As that's happened, the rate of positive tests has decreased from a high of around 4.5% to hovering around 1%. State health officials said Montana's rate is low compared to other places around the country and attributed that to increased testing here. It's also just one of many measures they use to determine how cases are spreading through a community.
As visitors have returned to the state with the start of summer, Bullock said about 8% of the cases in here have been tied to out-of-state travel, but tourism isn't the biggest risk associated with spread.
"Out-of-staters visiting family in Montana, or Montanans returning from out-of-state travel presented a bigger risk for exposure than the tourists, with a more transient nature traveling through our state," the governor said.
A significant amount of the new cases are in Big Horn County and tied to the Crow Reservation, where there were 30 active cases Wednesday at 68 total. Lead state epidemiologist Stacey Anderson said part of a cluster there is tied to people traveling together in a vehicle for a medical appointment. Asymptomatic spread played a role in 35% of the Big Horn County cases, according to Bullock.
Murphy said outbreaks can also happen quickly in workplace settings, such as among health care workers in Missoula or a van of people traveling to a job site together. Some cases in Lewis and Clark County are also tied to a work setting, officials said.
"Workplaces play a major role, especially as people go back, as we reopen Montana. I think we really have to stress caution," Murphy said.
In that van setting, which officials didn't identify by county, all seven people inside tested positive, Anderson said. One person was likely symptomatic at the time of transfer, though maybe with not traditional symptoms, she said.
"This really stresses the fact that when we talk about being in places where you can't social distance, it would be a great idea to wear a mask," she said. " ... This one again rapidly expanded to multiple cases from multiple counties in Montana, and each person has multiple contacts that were identified who are now in quarantine. Some of them have tested negative so far, so they remain in quarantine and are watching for symptoms. But some of those individuals are in different states."
There are four distinct clusters in Miles City that officials are still investigating for connections.
State medical officer Greg Holzman said that Montanans should limit the number of contacts they have and that business, schools, government facilities and other workplaces should be implementing strong mitigation plans.
"If we can stop the transmission of the virus, we stop the disease in our community, and we have the options to do that. We have control," Holzman said.
Concerned about COVID-19?
Sign up now to get the most recent coronavirus headlines and other important local and national news sent to your email inbox daily.