Unsubstantiated election claims made by Republicans at the national level have filtered down to Montana — despite the state GOP's historic success in the 2020 general election — where local politicians are rallying behind what some see as an emerging purity test in a long-running feud between factions of the party.
Most recently, hundreds of people gathered for a pair of events in western Montana two weeks ago, including an "Election Integrity Symposium" sponsored by the Ravalli County Republican Women. It featured speeches by nationally prominent members of a group that has for months sought to overturn the election results and insist that Donald Trump was the true winner of the 2020 presidential race.
Earlier that day, more than 100 attendees had listened to a similar series of presentations during an event in Missoula.
Just a week later, all but a dozen of Montana's 98 Republican lawmakers had signed onto a letter to their leadership in the House and Senate, urging them to form a special committee that would probe the state's election security. That letter, spearheaded by GOP legislators who have advanced unsubstantiated allegations that the 2020 election was marred by widespread fraud, culminated from a monthslong effort to cast doubt on the election results and pressure elected officials in the state to respond.
The local events in western Montana were attended by several state lawmakers central to that push. In early August, six of them had traveled to Sioux Falls for a three-day "Cyber Symposium" organized by Mike Lindell, the chief executive of MyPillow and a prominent Trump donor who has worked relentlessly since Election Day to overturn the official results.
In Hamilton, speakers outlined several theories that have failed to hold up to scrutiny in court, have been previously debunked or are reliant on methodology that experts say is insufficiently transparent to evaluate. 
Douglas Frank, teacher and chemist from Ohio, has become a minor celebrity on the right after former President Donald Trump seized on his theories that the 2020 election was rigged. In presentations at both events in Western Montana, Frank claimed to have discovered an algorithm showing that hackers infiltrated election machines in nearly every county in the United States.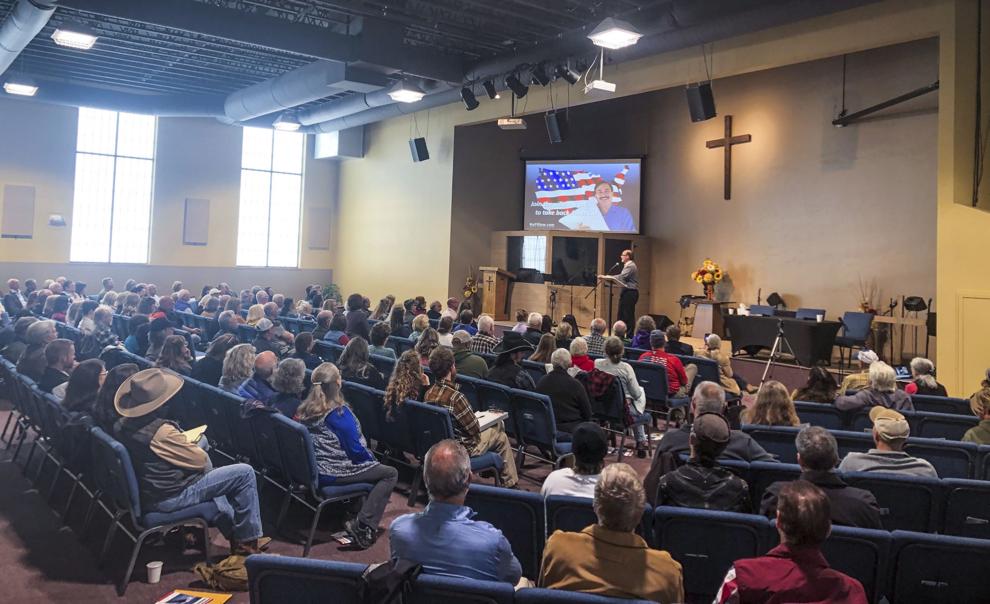 He offered up graphs which he claimed illustrated how the voter rolls were inflated based on census data. The inflated numbers were then funneled through the complex equation to create a predetermined election result, he claimed. He acknowledged that his predicted turnout failed to align with three of the state's 56 counties.
"These are the three that I'm not predicting too well; I bet you they're real," Frank told the audience in Missoula. "… So we need to go talk to those counties and find out what they're doing right. Why are their elections not hacked?"
Like some others who have advanced theories of widespread election fraud, Frank's allegations hinge on the assumption that internet-connected vote-tabulating machines were infiltrated throughout the country by unnamed assailants. But 10 counties in Montana still don't use voting machines at all, and instead hand-count each paper ballot cast.
An analysis of Frank's methods by the Washington Post found that instead of pointing to major statistical anomalies, his approach essentially uses a complicated process to demonstrate that voter turnout was strongly correlated with age groups — a well-known phenomenon. The fact-checking website Politifact, run by the journalism nonprofit Poynter Institute, reached similar conclusions.
Part of the difficulty in challenging those ideas, University of Montana political analyst and professor Lee Banville said, is that they force elections experts and others to attempt to prove a negative, rather than putting the onus on the skeptics to actually prove their allegations.
"This isn't just people hanging out on Reddit, sharing conspiracy theories," Banville noted in an interview last week. "It's a message that's being clearly outlined by many leaders in the Republican Party, as well as on Reddit, as well as the former president. So it's not a message that's on the fringe of the Republican Party, and so it's not believing in something that's extreme, as it's seeing the system as broken and (full of) widespread corruption."
It's also a message that found purchase with many of the attendees at the two events in western Montana. Barbara Starmer, who attended the morning session in Missoula, said afterwards that she gives more credence to what she heard at the event than the news media, which she views as corrupt.
"This is all information that's good for us," Starmer said. "And the more information you can get and give out and distribute to people, they give it to 10 people, and then they give it to 10 people, and it just mushrooms."
Casting doubt in Missoula County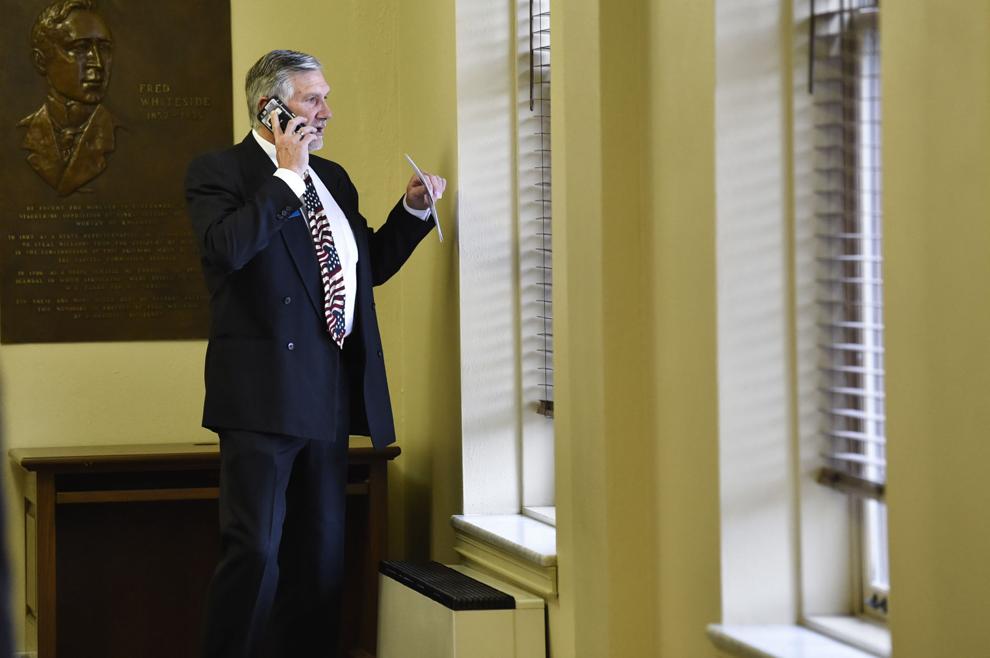 A group including Tschida and a group of local Republican activists calling themselves the "Missoula County Election Integrity Project" in January conducted a count of ballot envelopes from the general election, which they claimed showed a discrepancy with the vote totals reported by Missoula County. The group and its allegations were outlined at length in an initial draft of the legislators' letter obtained by the Montana State News Bureau, but were dropped from the final version sent to leadership.
While Tschida has argued that their count proves the need for a more thorough investigation, local election officials have stood by the county's election results, calling the group's methods imprecise and error-prone. Sharing the stage with Republican state Rep. Theresa Manzella at last week's event in Hamilton, Tschida advocated for a door-to-door canvass of the Missoula County electorate.
"What we're attempting to do with these meetings and with other meetings like it, whether it is a special select committee or other kinds of meetings, is to meet the demands of you folks," Tschida said. "Because you have been telling us, 'We're not happy with what went on. We know something went wrong.'"
Tschida declined to provide more detail on the proposals for the would-be special committee. During a brief phone call last week he confirmed the number of legislators that had signed onto the letter before saying he had to hang up. He could not be reached afterward.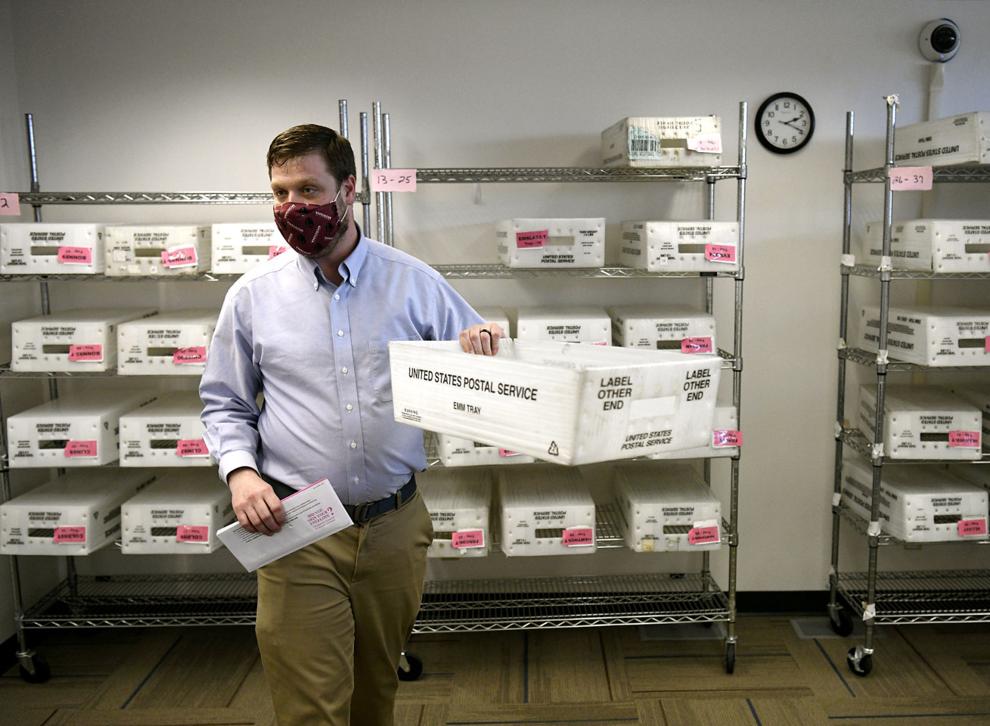 Secretary of State Christi Jacobsen has declined to weigh in publicly on the Missoula County allegations. Jacobsen, a Republican, has also declined to elaborate on a letter from her office distributed to the media in April, which appeared to reference the allegations, and laid out several vague goals for improving "integrity and transparency" in the elections. Her office has not responded to repeated interview requests, including during the last two weeks.
But her office's elections director, Dana Corson, in August emailed the Flathead County Commissioners regarding the county's proposal to replace its aging vote-counting machines. In it, he rebuffed the central premise of allegations that Montana election-tabulating machines were connected to the internet and subsequently hacked during the state's 2020 general election.
"Before being certified in Montana, all currently approved voting systems had already received federal accreditation and testing by the Election Assistance Commission," Corson wrote. "To be clear, in Montana, a system will not be approved, certified, or maintain prior authorization/certification if it is unprotected from fraudulent tampering in any form. Montana has not certified modeming, cellular, or networking capabilities for any voting system in this state."
He also noted that the process that local election offices are required to follow precludes the connection of those devices to the internet.
Other states' top election officials haven't been as silent as Jacobsen on the issue, though. Last week, Idaho Secretary of State Lawerence Denney's office denounced claims, supposedly authored by Lindell, that vote totals had been electronically manipulated in all 44 of the state's counties. Hand recounts of ballots in two counties reaffirmed the official election results, Denney's office explained in a press release.
During a legislative session in which her office pushed hard for the implementation of bills that created more restrictive voter ID requirements and ended Election Day voter registration, Jacobsen offered testimony framing the state's election system as secure but in need of further safeguards.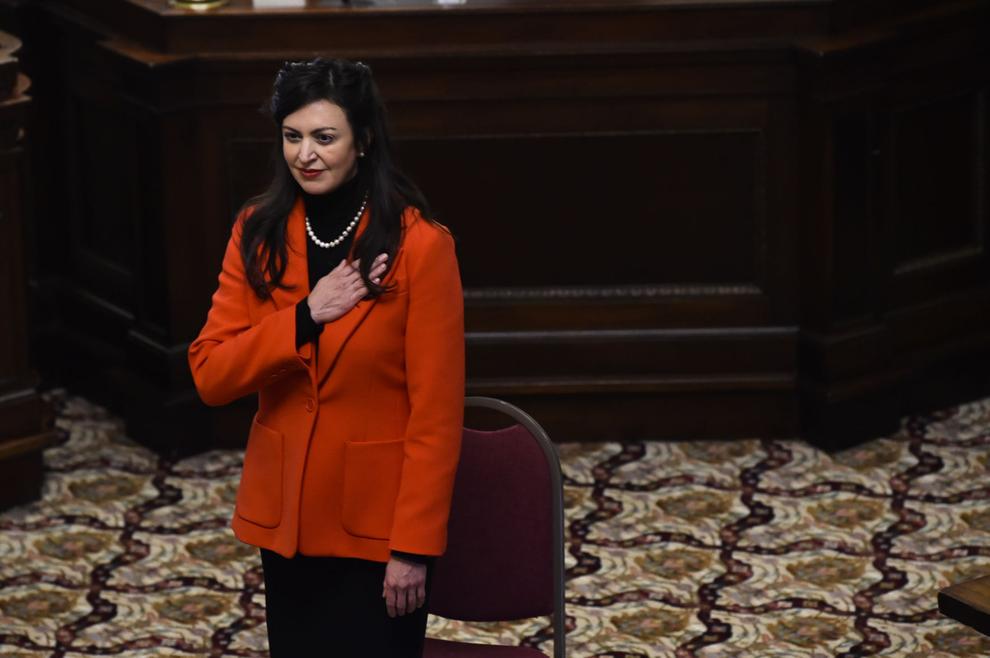 Rep. Bob Phalen of Lindsay is one of the six GOP lawmakers who traveled to South Dakota for Lindell's symposium in August. Phalen said he returned convinced that the theories demonstrated rampant fraud throughout the nation's election systems.
"I think we need to be auditing every state in the union," Phalen said. He added, "It means going county-to-county and looking at the voter rolls, and those need to be updated after every election and they aren't being done, and so that's where a lot of the fraud is coming from, besides the machines."
Regina Plettenberg, Ravalli County's top election official and the legislative chair of the Montana Association of Clerks and Recorders, pointed out that county election offices are required each election cycle to check those rolls against death certificates and obituaries to ensure dead voters don't stay registered to vote.
And if two ballots were cast for the same voter — such as someone who didn't update their address — the local election officials would be alerted about the second ballot and would contact the voter to figure out what the issue is.
"You would have thought that if all these ballots have been voted with fraudulent people, especially with the turnout we had in the last election, people would have come in and said, 'Hey, you said I cast my ballot, and I didn't,'" Plettenberg said. "I just didn't hear from any voters this last election here in Ravalli."
Speaking last week, Phalen added that he had recently returned from an election-focused event in the tiny town of Circle, where the local House member, Republican Rep. Jerry Schillinger, was also in attendance. Schillinger also attended Lindell's symposium.
"We had over 80 people (attend), and there was not an exception, all 80-plus people wanted an audit of the state," Phalen said.
An eye toward the primaries
Sen. Doug Kary, a Billings Republican who was one of a dozen GOP lawmakers that didn't sign the letter, suggested another motivation for some of his more moderate colleagues backing the special committee: 2022 primary challenges. Kary is termed out after serving the maximum number of consecutive years in the Legislature.
"Are they looking for purists?" Kary asked during an interview last week. "If you don't sign on here, we're going to primary you? I don't know. I suppose if I was running for reelection I would think about it, but I wouldn't think about it very long."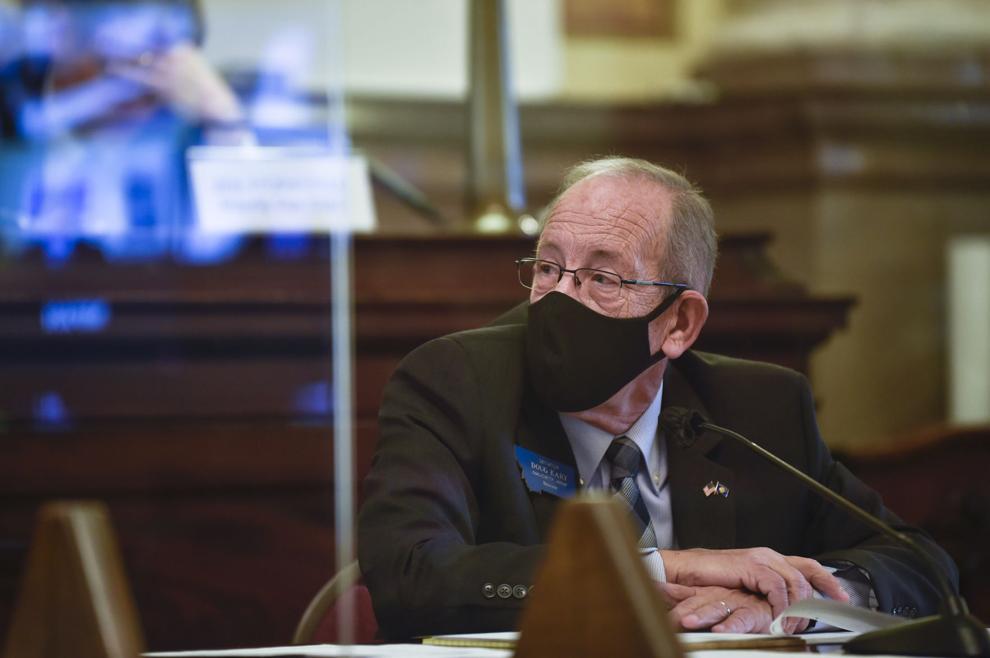 Some of the more moderate Republicans who signed on argued that while they believe there was nothing wrong with the election, they hope a special committee can help put the fraud theories to bed.
Trump loomed large over both of the "election integrity" events in Missoula and Hamilton, with nearly every speaker praising the former president, who has refused to concede the 2020 election to President Joe Biden. At the Ravalli County Fairgrounds, a "Supertrump" banner accompanied reelection signs for several local GOP politicians. But almost equally prominent were calls to depose elected Republicans who they say have failed to sufficiently back policy prescriptions from the far right.
Manzella, a Republican from Hamilton who has been central to the push for the special select committee, was explicit about that goal during a speech at Lindell's symposium.
"In Montana, we have a little problem with something called 'RINOs,'" Manzella told the audience. "... I don't care what you call them, but you have to know that they're a problem in our state and we need to continue educating our electorate and having them know their candidates and vet their candidates, so that we can continue to put patriots, Christian constitutional conservatives, in place, so that we can win this."
Of the 12 Republican lawmakers whose names didn't appear on the letter, two of them are the House and Senate leaders to whom the letter was addressed, and a third is resigning to take a job in Gov. Greg Gianforte's administration. Five others are either termed out or aren't up for reelection until 2024.
"It's emerged as an issue that is a bit of a litmus test within the Republican Party," Banville, the UM professor, said. "Think of Corey Stapleton and his position when he was Secretary of State, that the election was run fairly, that Trump lost, and he has disappeared from the Republican conversation since then."
After certifying Montana's 2020 general election results in November, Stapleton broke with many of his GOP colleagues in the state, including U.S. Sen Steve Daines, when he sent out a tweet telling Trump to "Tip your hat, bite your lip, and congratulate" Biden on his win. At the time Jacobsen was an employee in Stapleton's office, before succeeding him in January.
I have supported you, Mr. President, we (Montana) have supported you—and @realDonaldTrump accomplished some incredible things during your time in office!
But that time is now over.
Tip your hat, bite your lip, and congratulate @JoeBiden.
Blessings on you and your family.❤️

— Corey Stapleton (@Stapleton_MT) November 7, 2020
While acknowledging that serious election security discussions are worthwhile, he noted that multiple audits of Montana's elections have affirmed the 2020 election results and uncovered no evidence of fraud. And for Montana's Republican Party, 2020's historic turnout coincided with a wildly successful year for Republicans, who expanded majorities in the Legislature and won every statewide race.
"I think instead, right now, it's a way for Republicans sort of proving their standing within the party," Banville said.