Hopkins' House Bill 652 was heard in the House Appropriations committee Wednesday, which voted to advance Hopkins' bill and tabled Bullock's plan. All but five Republicans on the committee voted for the bill.
The surviving bill would bond $25 million to renovate and add classrooms to Romney Hall at MSU, which has long been the Montana University System's top infrastructure priority.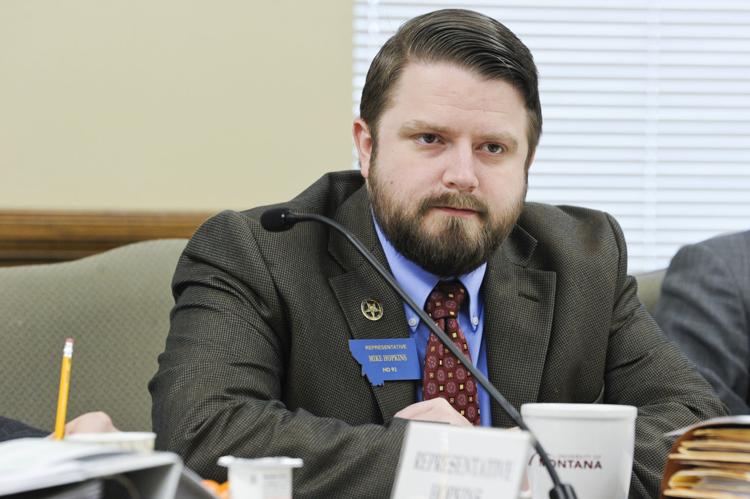 Bullock's plan would have put $32 million toward Romney Hall. Under the GOP bill, the university system would raise funds for the rest of the $7 million.
Romney Hall has four usable classrooms with 140 seats. Under the renovation plan, it would grow to 19 classrooms with 1,000 seats that would serve 1 million student classroom visits each school year.
"It would be one of the most heavily used buildings on the entire campus," said Tracy Ellig, who is the vice president of communications at MSU and also spoke on behalf of the Montana University System on Wednesday.
Rep. Tom Woods, a Democrat from Bozeman, said he's been teaching at MSU since 2001 and seen the university jam more students into the same amount of space year after year.
In addition to teaching in a converted storage room, Woods said he's had to reserve conference room space for classes.
"This is a state institution and it deserves to have state funding," Woods said. "Are we going to do it or not?"
The project has been in front of the Legislature since 2013 but stalled as lawmakers deadlocked in battles over how much, if any, debt the state should take on. The Legislature, which has also clashed about paying for local versus state projects, has not passed a comprehensive infrastructure bill since 2011, except one year when Bullock vetoed legislation because it drew down state cash reserves too much. 
A companion to Hopkins' bill, called the Infrastructure Development and Economic Accountability — or IDEA — Act, is meant to help lawmakers move past those disputes each session. That is House Bill 553, which sets up limits for how much debt the state can take on and how much debt payments could be, puts aside a stream of money for infrastructure projects and clarifies repair work must be done before building new projects.
That bill cleared the House on a 100-0 vote and has a hearing in the Senate Finance and Claims committee Thursday.
In addition to Romney Hall funding, there are several other key differences between Bullock's bill and the Republican response heard Wednesday. That includes the absence of $32 million for a new Montana Heritage Center proposed by Bullock but missing from Hopkins' plan.
Sen. Terry Gauthier, a Republican from Helena, has a bill to pick up that project. It's co-sponsored by Democratic Sen. Jill Cohenour, from East Helena, who was carrying similar legislation. The early draft of the Montana Museums Act of 2020 would pay for building the new state historical museum in Helena with an increase to the accommodations tax. It would also set up a historical preservation program for projects around the state.
The GOP infrastructure bill also alters the Delivering Local Assistance grant program, which was part of Bullock's proposal. The governor's plan allocated $44 million that could be distributed as grants to small communities that have seen their infrastructure stressed from oil, gas and coal development.
Hopkins' bill reduces that program to $14 million, with half of the money going to local governments and half going to school districts for immediate infrastructure needs. The amount of money allotted for each project and for each county would be capped, which Hopkins says would make sure funds are more evenly distributed.
Another change in the Republican bill is the inclusion of a $5 million armory in Butte-Silver Bow County.
Darryl James, the executive director of the Montana Infrastructure, said while he's glad to see the Legislature look at changing the way it debates bonding, he's worried local infrastructure projects are left out of the discussion.
James said the greatest needs are at the local level and he's frustrated the Legislature still puts local governments in the position of coming to Helena and asking for funding. He cited the Legislature being unwilling to let some coal tax money go to counties for infrastructure projects, as well as a lack of support for local option or special gateway taxes, in addition to opposition for eliminating the inflationary cap on local property taxes.
Hopkins' bill uses bonding to pay for $9.6 million in local water, wastewater and other types of projects proposed by local governments and ranked by the Legislature. It also has $2.9 million for bridge projects and $4.9 million for renewable resource grants for water, wastewater and other projects around the state.
And, it has $1.2 million for reclamation and development grants. Many of those projects are included in Bullock's plan and are part of other infrastructure bills but fall below the line of cash available for the projects from funds like the Treasure State Endowment Program.