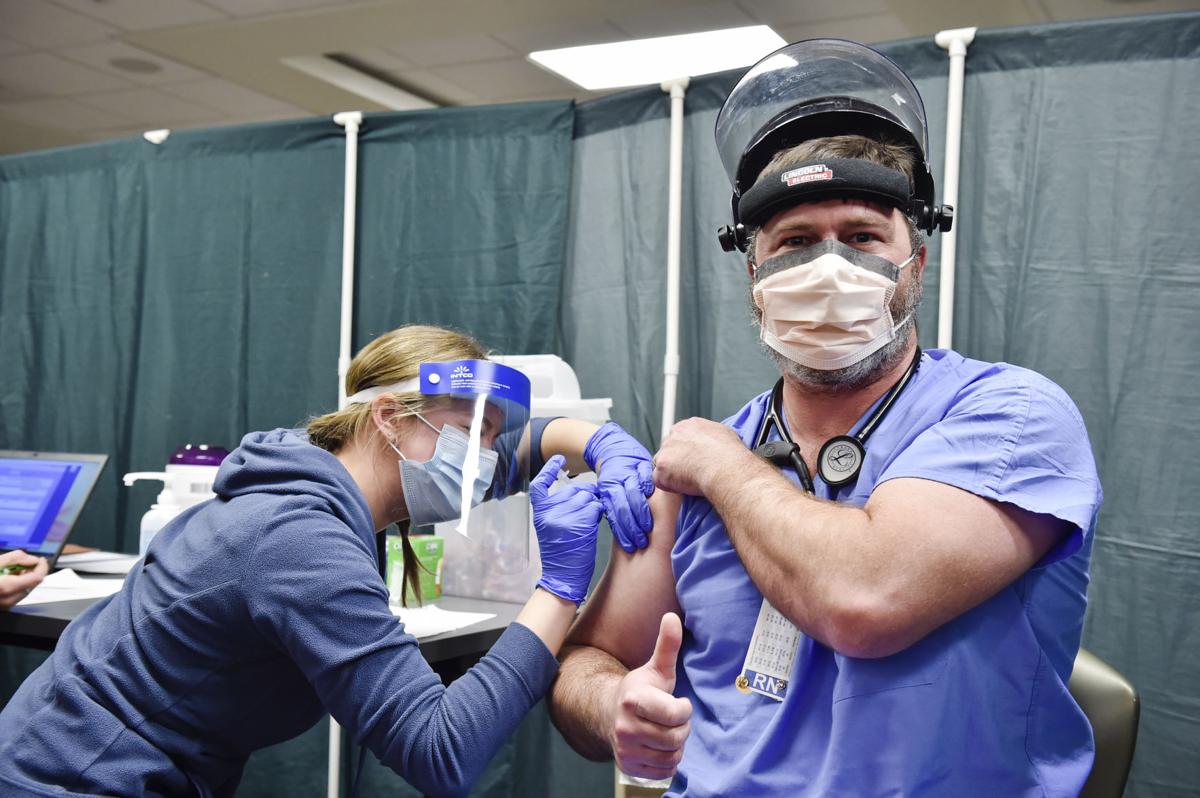 Montana will see a drop of 20% in its allocation of novel coronavirus vaccine doses through the end of the year, Gov. Steve Bullock's office said Friday.
Montana is now expected to get 48,000 doses of vaccine through the end of the year, a drop from the 60,000 previously expected.
"It's disappointing news that our anticipated allocations of the vaccine have been reduced, but our priorities remain the same to protect those most vulnerable to severe disease or death from the virus and those who have been serving on the frontlines," Gov. Steve Bullock said in a press release. "We are best utilizing the resources available to further reduce the strain on our hospitals and to save lives."
Jim Murphy, the head of the state's communicable disease division, said the revision came after the Centers for Disease Control and Prevention looked at their numbers and decided to take a more conservative approach. He added there's there's a lot of demand and the CDC is trying not to over-allocate. It's also possible the state ends up with more doses but adjusted downward for planning purposes.
The first 9,750 vaccine doses reached Montana this week and more than 3,000 have been administered to health care workers. The state said the remaining doses will be given in the next few days. The Pfizer vaccine is administered in two doses, the second shot 21 days after the first.
Jon Ebelt, a spokesman with the state health department, said that federal partners have "assured" the state the second dose of shots is taken care of.
Lauren Brendel, the director of marketing and communications at Bozeman Health, said during a press conference Friday their hospital system received its initial allocation of 975 doses and anticipated finishing administering them all by the end of the day.
"We're optimistic we'll get that next shipment of 975 doses next week so that we can continue vaccinating our employees throughout the health system,," Brendel said.
Matt Kelley, the public health officer for Gallatin County, said hospitals are careful about allocations to make sure those who get their initial shot are able to get the necessary follow-up dose within 21 days, which is the timeline for the Pfizer vaccine.
"If there are reductions, it'll mostly impact us in our ability to vaccinate a new group rather than ability to follow up on the second dose," Kelley said.
The state Department of Public Health and Human Services has directed a shipment expected next week of 6,825 doses of the Pfizer vaccine to long-term care facilities in the state, including nearly 300 nursing homes and assisted living facilities. The department was initially anticipating 10,725 doses in that shipment.
Vaccines at long-term care facilities will be handled by private pharmacies like CVS, Walgreens, and Big Sky Managed Care Pharmacy, who will get doses from the state and give shots on-site at the facilities.
Kelley said in Bozeman, his staff was able to verify all assisted living centers and nursing homes in Gallatin County are on the state's list to receive the vaccine, though it's not clear how many doses will initially be available.
"That's good news if we can get vaccine into all of our long-term care facilities," Kelley said in a press conference Friday. "That goes a long way."
Montana is also expected to get 18,300 doses of the Moderna vaccine next week, a number the governor's office said is the same as previously planned for but also "likely be reduced in coming weeks."
Unlike the Pfizer shot, Moderna's vaccine does not need to be stored in ultra-cold freezers, which makes it more suitable for rural settings. Montana's initial Pfizer doses went to the state's 10 largest facilities that have freezer capacity. The Moderna vaccine will go to critical access hospitals and community health centers around the state and also be prioritized for frontline health care workers. Which facilities will get the Moderna vaccine will be finalized next week.
In the press conference Friday, Kelley said that some health care workers in Gallatin County have declined the vaccine, though their reason vary and include things like pre-existing health issues or pregnancy, or that they want others to get the vaccine first.
Statewide, Ebelt said that responses about health care workers willing to get the vaccine "varied greatly from jurisdiction to jurisdiction."
"But, what this initial work did was gave us early indication of interest for planning purposes. However, since then, we've already had indications that more people are interested than originally indicated," Ebelt wrote in an email. "We are pleased with how things are going thus far."
Murphy said demand has been high.
"The good news is we've got a lot of interest in the vaccine. More than enough interest to take every dose that we can get," Murphy said.
– Billings Gazette reporter Mari Hall contributed to this story.
Government and politics reporter Holly Michels' most memorable stories from 2020
Government and politics reporter Holly Michels shares some of her most memorable reporting of 2020.
This year started out with reporting on a woman sharing her story about sexual abuse in the hopes it will help fix a system that failed her. Coverage quickly shifted to the pandemic, including a trip to Browning to see a food delivery system for children home from school.
The rest of the year was politics-heavy, as Montana saw one of the most consequential elections its had in years, with Republicans wining seats up and down the ballot.