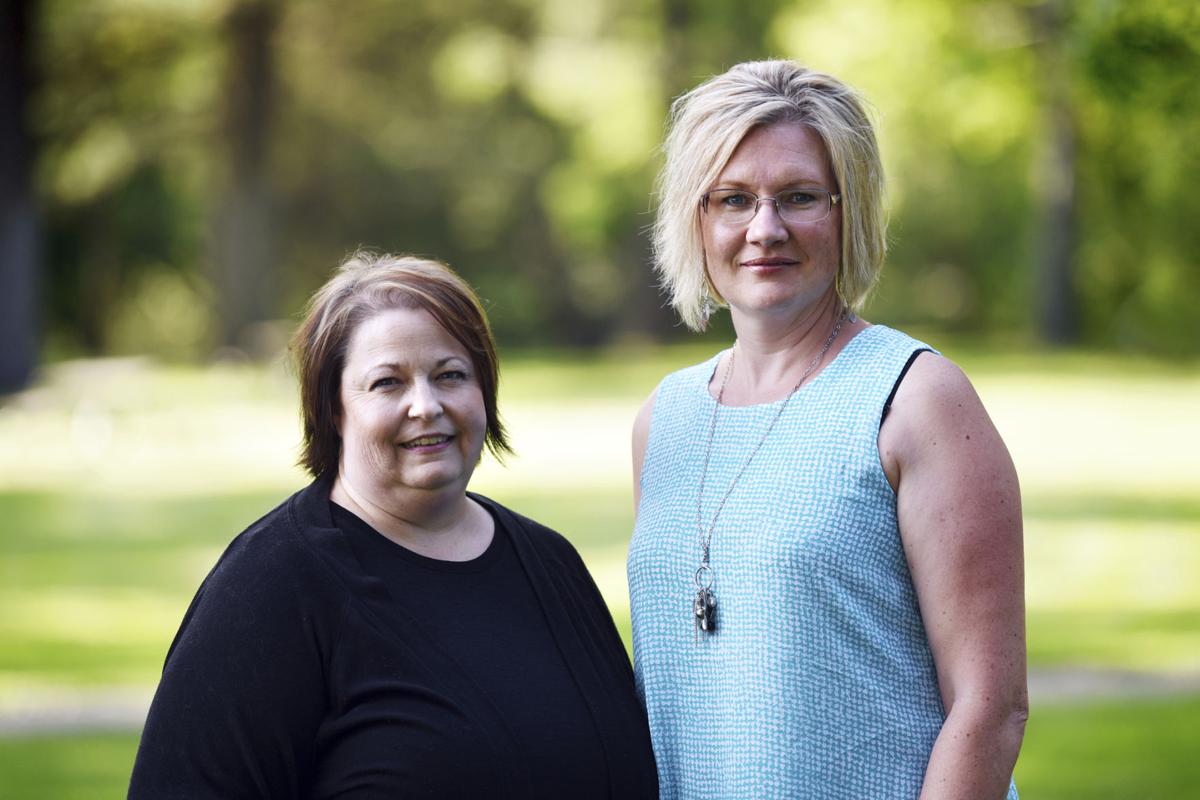 "We didn't have any idea where we would end up or that we would be taking it this far, but what a journey it has been," Espinoza said. "This is five years in the making. This is a monumental day in this case that could make history for thousands of families around the country."
Most private schools in Montana are religiously affiliated. But the state Department of Revenue wrote rules that prevented any of the money from going to religiously affiliated schools, citing a provision in the state Constitution that prohibits "any direct or indirect appropriations or payments" from the government to religious institutions or religiously affiliated schools.
Espinoza and two other mothers sued, and their case worked its way through a lower court before the Montana Supreme Court on appeal ended the tax credit program for all schools, religiously affiliated or otherwise. The mothers, represented by the Virginia-based Institute for Justice, appealed to the U.S. Supreme Court, which heard an hour of arguments on both sides of the case Wednesday.
Espinoza said she thought the hearing "sounded very positive."
"By the sound of their questions to us, it sounds like we could have a positive outcome at the end of this whole thing," Espinoza said. A decision is expected before the court ends its term in late June.
Eric Feaver, president of Montana Federation of Public Employees, which represents educators in the state, said Wednesday that he's "always assumed the worst in this thing" in terms of how the Supreme Court will decide.
"We have a turning point here and I'm not particularly fond of where we might be turning," Feaver said. Reports from news outlets that covered the hearing said the high court seemed poised to decide in favor of striking down the Montana Constitution's so-called "no aid" provision, though there may be a question of if the mothers have standing because the scholarship program no longer exists.
Justices on Wednesday also discussed so-called "baby Blaine Amendments," which are named for James G. Blaine. In 1875 he introduced an amendment to the federal Constitution that would have enacted "no-aid" provisions like Montana's, but it failed to pass. However, states adopted their own similar changes, something historians say came out of strong anti-Catholic sentiment during waves of immigration at that time.
The Institute for Justice says 37 states still have "no-aid" provisions on the books.
The Associated Press reported Justice Brett Kavanaugh, whose two daughters attend Catholic schools, referred to the "grotesque religious bigotry" against Catholics that he said motivated the original adoption of the Montana provision and others like it in the 1800s.
Feaver called the argument about Montana's Constitution being tied to anti-Catholic beliefs "pure deception," and pointed out the state rewrote its Constitution in 1972.
"They effectively assert we're a bunch of anti-Catholic bigots and the premise of our entire prohibition of funding religious education is because of the Blaine Amendment. It's so offensive," Feaver said. "The best anecdote to that is to read what the surviving members of the Constitutional Convention say."
Two of the surviving delegates from the state Constitutional Convention in 1972 were at the court Wednesday, said Raph Graybill, Gov. Steve Bullock's chief legal counsel and an attorney on the case. That included Gene Harbaugh, who authored the minority report on the no-aid clause, and Mae Nan Ellingson.
The surviving delegates were one of many parties to brief the U.S. Supreme Court on the case, including U.S. Rep. Greg Gianforte and U.S. Sen. Steve Daines, both Republicans. Daines attended the opening arguments Wednesday.
In the brief from the surviving delegates, they say the delegation in 1972 "repudiated any such history" of support for Blaine amendments.
They also said delegates wanted "strict protection of the state's funds for its public schools" and allowed religiously affiliated schools to still use federal resources.
"The Montana Constitution had very good reasons for protecting public education and protecting religious institutions from state influence," Graybill said. " ... This case is about keeping those protections for public education. It is also about promoting religious freedom."
Jeff Laszloffy, president of the Montana Family Foundation, was also in the chambers Wednesday. MFF drafted the first version of the tax credits bill in 2008.
"This was the culmination of a 12-year effort on our part, not just the Montana Family Foundation but others too," Laszloffy said.
Laszloffy countered the argument that getting state funding would make religiously affiliated schools beholden to state rules, saying that it wouldn't be mandatory for religious schools to accept those dollars.
"The issue there was not whether or not there were strings attached, it was whether anyone was compelled to participate in that program and the answer is no," Laszloffy said.
Laszloffy also said that even though the state Constitution was re-written in 1972 and that some argued Blaine Amendments were not relevant now, that type of discrimination "plays out in real life … this discrimination is practiced in real life with real people."
Lazsloffy felt confident after court Wednesday.
"We're extremely optimistic. The justices were asking the right questions and we felt like the justices were asking questions that would bolster our side," Laszloffy said.
Graybill said how the court writes its opinion will determine its reach. A broad opinion could affect the 36 other states, while a narrow one could put the fate of Montana's scholarship program back in state courts.
As the case has played out, Espinoza's children, Naomi, 14, and Sarah, 11, have attended Stillwater Christian School with the help of financial aid.
 "I think that (Wednesday) was surreal for a lot of us. I think my kids have started to really understand the magnitude of it now, where maybe they didn't quite grasp it initially," Espinoza said. "Knowing it was all history in the making was pretty incredible. It's a moment we won't ever forget."
Get Government & Politics updates in your inbox!
Stay up-to-date on the latest in local and national government and political topics with our newsletter.