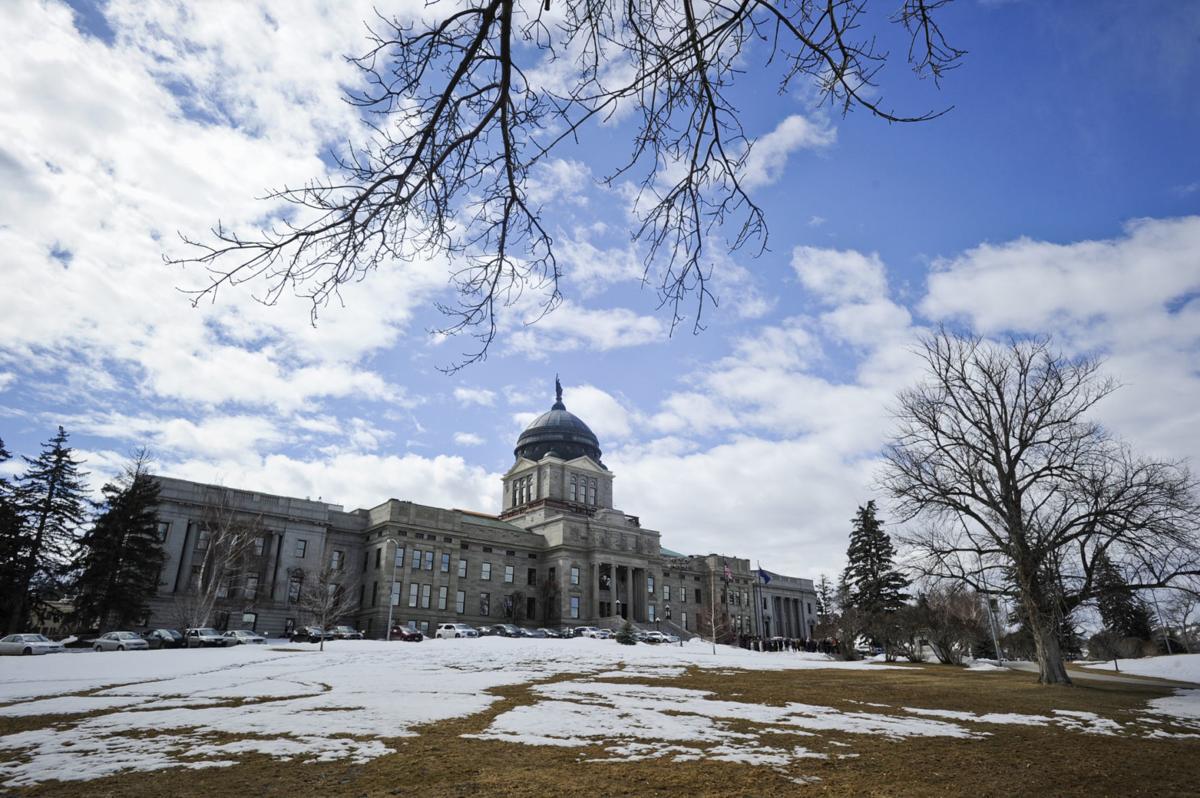 During the legislative session that ended in April, Montana lawmakers voted down the first red flag law ever proposed in the state. After mass shootings in early August killed 31 in El Paso, Texas, and Dayton, Ohio, those who supported the bill said they'll try again in 2021, while lawmakers opposed to the idea said their views haven't changed.
Red flag laws allow law enforcement to obtain an order of protection to remove firearms from the possession of people who are deemed by a court to be an extreme risk to themselves or others.
After the shooting in Dayton that left nine dead — and subsequently facing a barrage of people who shouted at him to "do something" — Ohio's Republican Gov. Mike DeWine called for new gun legislation, including red flag laws. At the federal level, Republican Sen. Lindsey Graham, of South Carolina, head of the Senate Judiciary Committee, has advocated for the idea, also called an extreme risk protection order. President Donald Trump has also floated the proposal.
The debate over red flag laws in Montana is also different in a rural state with the highest suicide rate in the nation, something supporters of the bill that failed said it could help to address.
The legislation would have allowed a partner, family member or law enforcement officer to get an extreme risk order of protection, issued by a district court, for a person who is deemed a serious risk to themselves or others. A hearing would have been held in 14 days, and if the order were upheld, the person would have any firearms they owned removed for a year. During that period, they'd have a chance to petition the court to overturn the order.
"It really is designed to allow family members and law enforcement officers to prevent, as Lindsey Graham said, a blow up," bill sponsor Robert Farris-Olsen, D-Helena, told the House Judiciary committee in March.
"This really isn't a firearms-control bill. It's not just seeking to control or limit access to purchasing guns. It just is used in those situations where you know something is about to go wrong, and it allows law enforcement to intervene. This law isn't about taking away people's guns or infringing on your Second Amendment rights."
The bill was brought through work with the Montana chapter of Moms Demand Action, a grassroots group formed to address gun violence and a part of Everytown for Gun Safety.
Beckie Squires, with Moms Demand Action, said she wasn't surprised at how quickly the bill was defeated. The effort to get language drafted came early, but finding a sponsor was difficult — it wasn't first heard until the 90-day session was two-thirds of the way over.
"I had hope that it would at least get out of committee, but with the Republicans being in the majority, I just don't see how. We were really disappointed," Squires said last week. "It's pretty hard in a Republican-majority House and Senate to get anything related to guns."
Suicide
There were no opponents who spoke against the bill in March. Supporters included other members of Moms Demand Action and the Montana Department of Public Health and Human Services, which focused on an aspect of red flag laws that hasn't had much discussion in the current national conversation — the role that type of legislation can play in reducing suicide.
In testimony in March, Zoe Barnard, the administrator of the Addictive and Mental Disorders Division of the state health department, pointed to studies showing red flag laws worked to reduce suicides in Indiana and Connecticut.
A study from 2018 in Psychiatric Services found that in two states that passed red flag laws, suicide rates went down. Indiana saw a 7.5% drop in suicide rates in the 10 years after the passage of its law. In Connecticut, there was an initial 1.6% reduction immediately following adoption, which then jumped to 13.7% after the 2007 Virginia Tech shootings, when enforcement of the law increased.
Kelsen Young, executive director of the Montana Coalition Against Domestic and Sexual Violence, also spoke in support of the bill in March.
"This is really about suicide and its overlap with family members and friends," Young said at the hearing.
Assault
But Young said there's often challenges to getting partner or family member assault charges because they come along with the possibility of removing firearms.
"It's been a significant frustration for advocates," Young said. "Any of us who work with survivors of domestic or sexual violence wish there was a more concise effort to protect people, especially when someone has already committed a crime."
The coalition supported this session's red flag bill because it was a new bite at the apple.
"It was the first time something like this had been proposed in Montana," Young said. "It's really been spreading all over the country in terms of various states implementing red flag laws over the last couple years. I think it has the most success when it comes to mental health and suicide, and the jury's still out on whether or not it really makes an impact on mass shootings or intimate partner violence."
Still opposed 
Though Republicans have supported calls for red flag laws in other parts of the country because it frames the issue in mental health terms, those who spoke in opposition to the Montana bill in the March hearing are still against the idea.
State Rep. Barry Usher, R-Billings, said Friday he'd just returned from a meeting of the National Conference of State Legislatures, where red flag laws were a main topic of discussion. 
Usher said one of his concerns was about where any seized firearms would be kept.
"I know people that have two or three safes full of different hunting rifles and pistols," Usher said Friday. "Instead of riding a bicycle as a hobby or going weightlifting, they go out back and they go shoot. And then they also use them for hunting, so somebody might have 25-30 guns in three safes in Montana. Out here in Montana, we love our guns."
Usher and other Republicans also raised questions about due process. Under the bill proposed here, a judge could issue the extreme protection order if a court finds credible evidence a person is dangerous and law enforcement would remove firearms, followed by a hearing within 14 days. If kept in place, the order would last a year, with one opportunity in that window for the person to ask it to be lifted.
"My biggest concern about these red flag laws are the lack of what I'm going to call appropriate and proper due process," Rep. Theresa Manzella, R-Darby, said Friday. "It seems that we want to take shortcuts so often these days, which results in assaults on our citizens' rights. Where is the person's right to a jury of their peers? They're wanting to remove a person's Second Amendment right without proper due process, and I guess that's my biggest concern associated with all of the so-called red-flag laws."
During the March hearing, Manzella also said she worried about people abusing the law to hurt others.
"In my mind, me being a conspiracy theorist that I am, I'm thinking about our high-level elections could be affected by something like this," Manzella said. "If you were able to find a family member or someone close enough to a candidate to do something like this, very close to an election period, that could be extremely detrimental to the candidate. I see that as a big problem."
Rep. Derek Skees, R-Kalispell, said he had concerns over who determines whether someone poses a risk of harm.
"Is it every veteran because they might have PTSD?" Skees asked. "My opinion hasn't changed, and in fact it's gotten even more entrenched."
Cascade County Sheriff Jesse Slaughter said the state sheriff's association monitored the legislation during the session and opposed it, but didn't testify against it because they knew it was unlikely to clear committee.
Slaughter on Friday echoed the concerns raised by Republican lawmakers and said he felt red flag laws would put sheriffs in "problematic" situations.
"When we take an oath to defend and protect the Constitution, it becomes very problematic because there are people who argue about red flag laws that they circumvent parts of due process."
Slaughter said he understood concerns about Montana's high suicide rate, but he didn't think red flag laws would help.
"Alcohol and cars kill way more and way more children every year, and we're not bringing back prohibition or saying people shouldn't be driving," Slaughter said. "I've also had people close to me who have committed suicide. Every single one of those people who did it, if they didn't have a firearm, they were going to find something else."
Studies have shown that firearms are the most lethal methods of self-harm, with a fatality rate of 85%. Other studies show less than 5% of people who try to kill themselves with a method other than a firearm will die, and of that population, a large majority who survive will not end up dying by suicide.
'Not giving up'
Squires, with Moms Demand Action, thinks a red flag law would make a difference in a state that hasn't been able to shake its high suicide rate for decades, despite money, legislation and other efforts to combat the problem.
"We really want to see them reconsider the red flag legislation. It's one of the most effective tools when it comes to intervening in firearms suicides. It's not something we're going to let drop," Squires said.
Squires became involved with Moms Demand Action after her 9-year-old great-nephew was shot and killed with an unsecured handgun in Belgrade in 2016.
"I really felt powerless and like I needed to do something to help prevent anything like this happening again," Squires said.
Though Montana has not seen the same appetite for firearms regulations that other states have, Squires said there are already discussions to bring the red flag legislation again in the next legislative session in 2021.
"We're not going to let it drop. We're going to keep going," Squires said. "I'm not giving up. We're not giving up, and we do feel like we're chipping away at it."
Gary Marbut, who heads the Montana Sports Shooting Association, said Friday his group will be ready to work against the bill in the next session. And there's other legislation he wants to bring to remove existing regulations.
"There are a number of bills on our wish list that Gov. (Steve) Bullock (a term-limited Democrat) has vetoed. I think those will be a high priority for us," Marbut said, citing permitless-carry and campus-carry legislation specifically.
Marbut said he's been able to get 69 pro-gun bills passed over the years, a number he says is more than any other similar group in the county.
"We're highly successful at that, and I don't consider MSSA to be finished with the job," Marbut said. 
Get Government & Politics updates in your inbox!
Stay up-to-date on the latest in local and national government and political topics with our newsletter.