Candidates in Montana's U.S. Senate and House primaries were spending the final days of their campaigns rallying their bases to boost what's shaping up to be a higher voter turnout for Tuesday's elections compared to others in the recent past.
Republicans are vying for the chance to try to unseat Democratic U.S. Sen. Jon Tester. Democrats are seeking the nomination to take on GOP Rep. Greg Gianforte this fall.
Turnout is on track to be higher than the last two non-presidential primary elections in 2014 and 2010, when just a third of all registered Montana voters cast ballots. As of Sunday, 172,852 people had cast absentee ballots, according to the Secretary of State's Office.
Election officials estimate that between 65 percent and 70 percent of voters will cast absentee ballots, meaning turnout is on pace to be at least a few percentage points higher than those past off-year elections.
Candidates have been cold-calling voters and canvassing neighborhoods over the final week in a push to drive every last willing voter to the polls on Tuesday. Some Senate candidates, like state Sen. Al Olszewski of Kalispell, focused on voters close to their home base, while businessman Troy Downing of Big Sky was on a final road trip.
"Montanans and Americans are tired of politicians. That's why Donald Trump is president," Downing said. "They want people who have experience in the real world, problem solving in the real world."
The Senate campaign has turned negative in recent weeks, indicating the race may be a close one. State Auditor Matt Rosendale declared himself the front-runner early, but in a sign that lead may not be as comfortable as it once was, a pro-Rosendale group has spent $1.2 million attacking two other candidates, retired judge Russ Fagg and Downing.
Fagg, who's campaigned on his deep Montana roots and connections, went negative first with an ad questioning whether Rosendale would be easy on criminals who are in the country illegally. Downing has kept his focus on attacking Tester, while Olszewski has largely stayed out of the fray.
You have free articles remaining.
Besides the Republican primary winner, Tester may also face Green Party and Libertarian challengers in November's general election. The Green Party, which could take votes that would otherwise go toward Democratic voters, is holding its own Senate primary election between Steve Kelly and Tim Adams.
The Montana Democratic Party has filed a lawsuit in an attempt to disqualify the Green Party from the ballot, but a ruling in the case won't happen until after the primary election.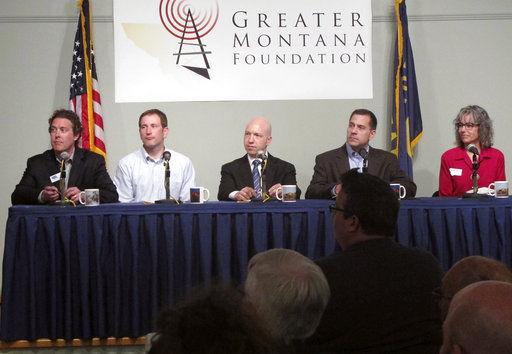 The Democrats' House race between Grant Kier, Billings attorney John Heenan, former state lawmaker Kathleen Williams and Bozeman attorneys Jared Pettinato and John Meyer, has gotten less attention than the Senate race. As a result, there are a lot more undecided voters, according to campaign officials.
Kier was focusing his time on Missoula, "where our hometown advantage is," campaign manager Jake Brown said. Kier called for all of the Democratic candidates to appear together after the election to rally behind the nominee, whoever the winner turns out to be.
Heenan and Williams were traveling across the state to appear at events and to knock on doors in the final week before returning to their home bases. Heenan planned to go fishing with his family on Sunday, spokesman Tim Warner said.
The Democratic nominee will attempt to win a seat that has been held by Republicans since 1997. Gianforte won the seat last year in a special election to fill Ryan Zinke's term after Trump selected Zinke to be U.S. Interior Department secretary.