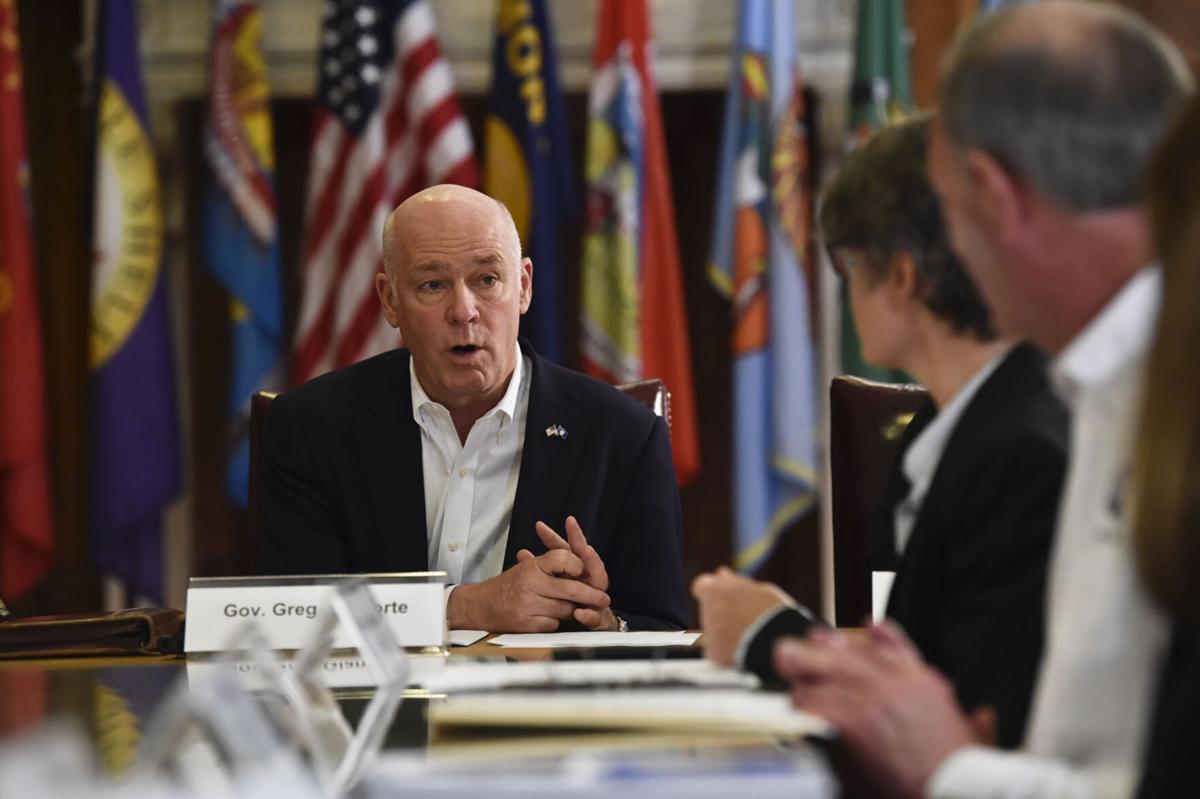 Fire officials across Montana say they are prepared for what is forecasted to be an above-average wildfire season, but concerns about firefighter burnout loom if the season drags on into the fall.
Gov. Greg Gianforte received the 2021 fire season briefing Wednesday. The annual update brings local, state and federal agencies together to talk about their preparedness and predictions as Montana and the West enter the summer months.
"All Montanans need to work together to prevent wildfires," he said. "While we can't control the weather, we can control our actions."
Both Gianforte and Montana Department of Natural Resources and Conservation Director Amanda Kaster also promoted mitigation measures such as fuels reduction or fire breaks to safely insert firefighters as important to the state's strategy to protect life and property.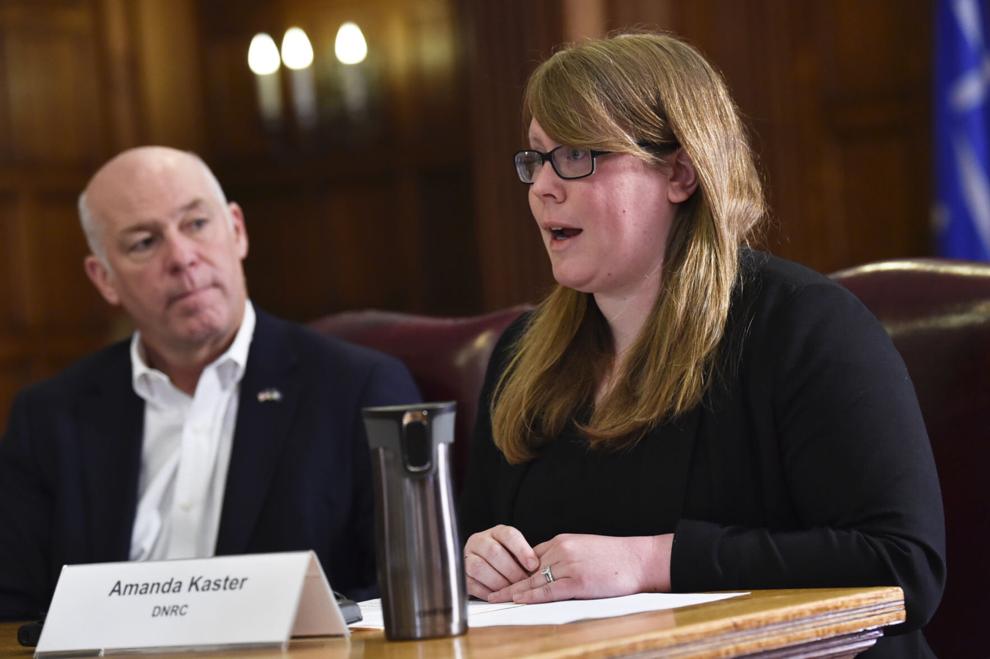 Montana firefighters have responded to more than 600 wildfires since January with all but 30 human caused.
Drought is expected to play a major role in Montana's fire season both in the short and the long term, said Coleen Haskell, meteorologist with the Northern Rockies Coordinating Center. Current low fuel and soil moistures offer some short-term benefits by limiting the growth of grasses and other fuels during green up, which is expected to keep the fire season close to average this month, she said.
"So this is about as good as it's going to get with our growing season," Haskell said. "Now those fuels are tapping into the deeper soils and they're exchanging moisture with the air, and as those cure out over the next several weeks, that's when we're going to be looking at that transition to above-average fire season."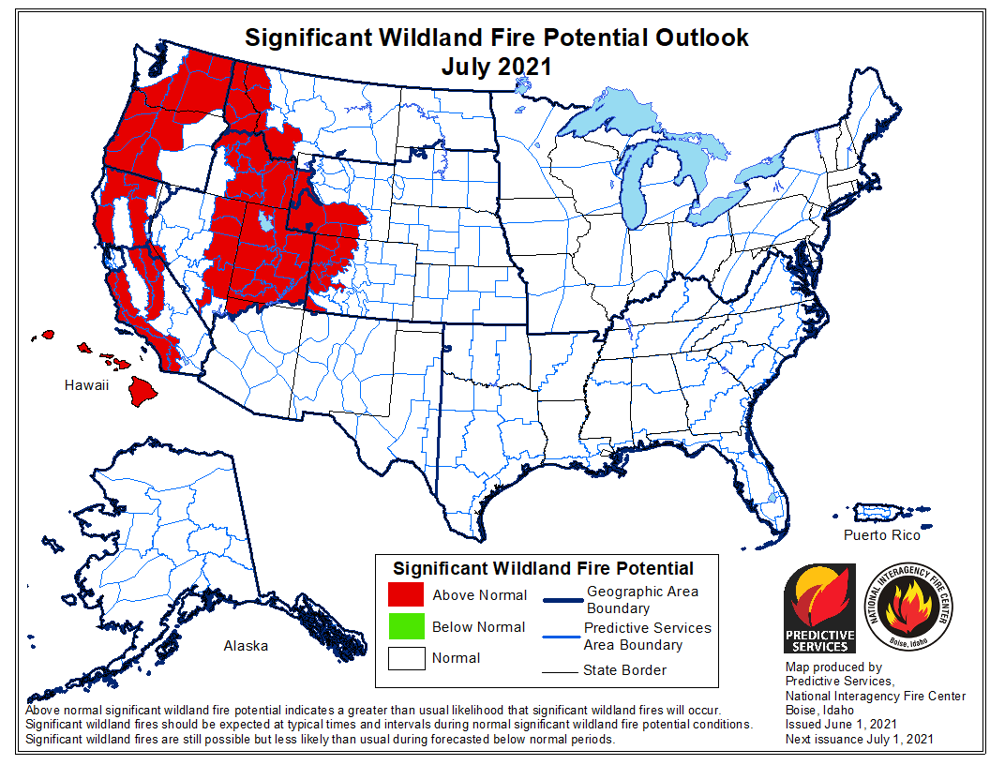 "Carry-over" fuels from last year and predicted persistent dry weather is forecast to push the western part of the state into above-average wildfire potential by July. Without a long-duration cooling and moisture pattern, precipitation is typically spotty and also comes with chances for lightning, Haskell said.
Looking to August, forecasts call for increasing wind east of the Continental Divide and drought conditions encompassing the entirety of the state. By September, Haskell sees a stronger possibility of returning to closer to average temperatures and precipitation.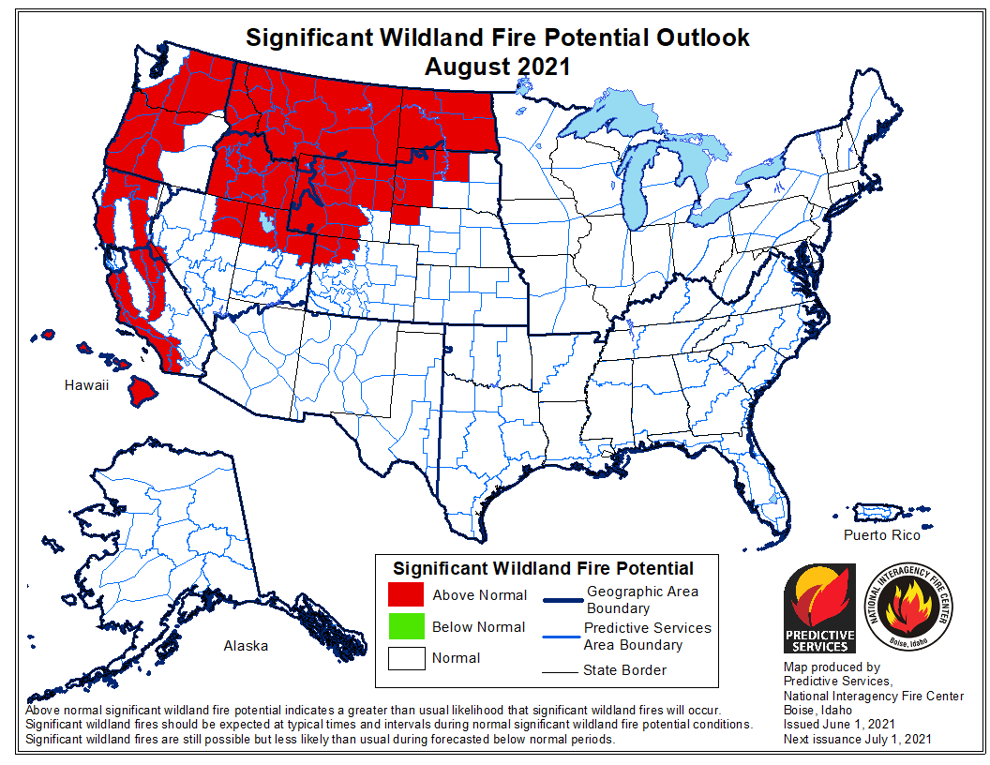 Still, Montana is faring better than neighboring states such as North Dakota or the Southwest, which faces a historic drought not seen in 125 years.
"The big takeaway for me is that we will be sharing resources with our neighboring states, with our neighboring geographic areas, but also with that widespread of a drought and with the expectation of their above average fire seasons," Haskell said.
With the backdrop of high wildfire potential in the coming months, local, state and federal officials detailed both their independent resources and shared capacity to fight fires. Different entities, whether local volunteers, DNRC or federal agencies such as the Forest Service or Bureau of Land Management, have fire protection responsibilities for their respective areas. Mutual aid among departments and agencies is common.
"That's key with wildland fire in particular," said John Monzie with the DNRC. "No one entity can do it by themselves. … The point is, we're ready with our resources but we're also ready and have things in place to get resources from other areas."
Rich Cowger with the Montana State Fire Chiefs' Association echoed the importance of collaboration, noting the most rural departments are designed for initial attack but limited when it comes to longer-duration fires. A long season can take its toll, he said.
"The more (fire season) extends, the more burnout," with firefighters, he said. "… With all that said, your local government is here, ready to roll, and here for the duration."
John Mehlhoff with BLM echoed some concerns about weariness among firefighters during an arduous season.
"The end of the season is more worrying to me than going in," he said, adding that firefighter safety remains the highest priority.
Gianforte expressed frustration with some federal firefighting policies. The governor asked Jay Lusher with the National Park Service to commit to policies similar to that of DNRC, which call for full suppression tactics to put fires out during initial attack.
The service, and others such as the Forest Service, often go full-suppression on fires but have used "managed wildfire" as a tactic, particularly in remote areas, as a natural part of the ecosystem. Lusher said the service often tries to put fires out quickly but noted that in some cases, such as the backcountry of Yellowstone, fires are allowed to burn as part of the natural system.
Gianforte in an interview after the briefing said he was primarily concerned about fires starting in a national park and then burning outside its boundaries and endangering neighboring communities.
Other entities involved in Wednesday's briefing included Montana Disaster Emergency Services, the Montana Department of Environmental Quality, the Montana Department of Military Affairs, the U.S. Fish and Wildlife Service, Bureau of Indian Affairs and the National Guard.