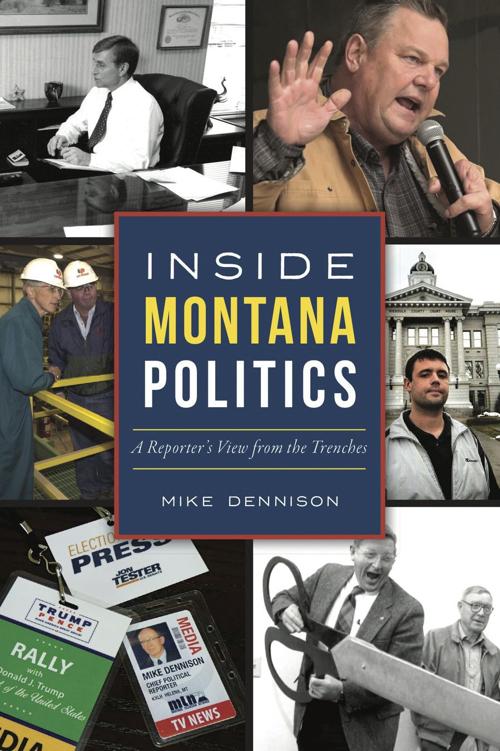 From contentious elections to major legislation, veteran political reporter Mike Dennison has been on the forefront of some of Montana's biggest stories over the last three decades.
His new book "Inside Montana Politics: A Reporter's View from the Trenches" offers an insider's view of many of the people and policies that shaped the state over the last 30 years, and what it was like to cover them. Dennison follows the rise of several governors and senators, their successes and failures with candid recollections of the tolls of high office. And while the book is grounded in the political coverage he is known for, Dennison takes readers into other seminal Montana stories, including the fall of Montana Power, a brutal prison riot that left five dead and a decade-long quest to exonerate an innocent man.
"Being a reporter, it's a hell of an interesting job," he said. "You get to talk to all these different types of people that you never would've met otherwise, and you talk to them intimately about what really matters to them especially when you're doing politics. What's not to like?"
Dennison's interest in politics dates back to his early days as a reporter. He took his first job in the 1980s on the cops and courts beat for the Great Falls Tribune. There he had the chance to also cover the sheriff's race, and after a few years cutting his reporter chops with wire services, reporter Chuck Johnson's 1992 departure from the Tribune's state bureau opened the job in Helena Dennison knew he wanted.
You have free articles remaining.
"That was a fantastic job because, at that point the Tribune, it was the best paper in the state. It was considered a statewide paper and you had remarkable freedom to design your own coverage and decide which direction you decided to take it," he said.
Dennison's career would later see him join Johnson at Lee Newspapers until Lee temporarily shuttered its state bureau in 2015. Later that year he became chief political reporter for the Montana News Network – a position he holds to this day.
Recognizing that a book had yet to be written on the important figures of that time period, Dennison began putting chapters together nearly a decade ago.
"Inside Montana Politics" covers former governors Marc Racicot and Brian Schweitzer, the late Judy Martz and senators Max Baucus, Jon Tester and the late Conrad Burns. It was important, Dennison says, to bring his unique experiences covering them to provide readers a fresh and honest perspective. While the book focuses on prominent figures and events, it follows trends in Montana politics in the last three decades as well, from the Democratic Party's semi-dominance in the late '80s and early '90s to the Republicans gaining a foothold to become the dominant party in the state today.
Reporters often receive the most attention for stories chronicling political figures at their worst, but it remains vital to remember that elected officials are still people and usually made decisions with positive intentions, he said.
"They're putting themselves out there in the arena, they're putting themselves out on a limb where it's going to get sawed off, and they still have husbands and wives and kids that love them and they love them as well," he said. "I think as a reporter you have to keep that in mind, you have to have a little humanity in your reporting."
Reporter Tom Kuglin can be reached at 447-4076 @IR_TomKuglin
"Being a reporter, it's a hell of an interesting job. You get to talk to all these different types of people that you never would've met otherwise, and you talk to them intimately about what really matters to them especially when you're doing politics. What's not to like?"

-- Mike Dennison, reporter