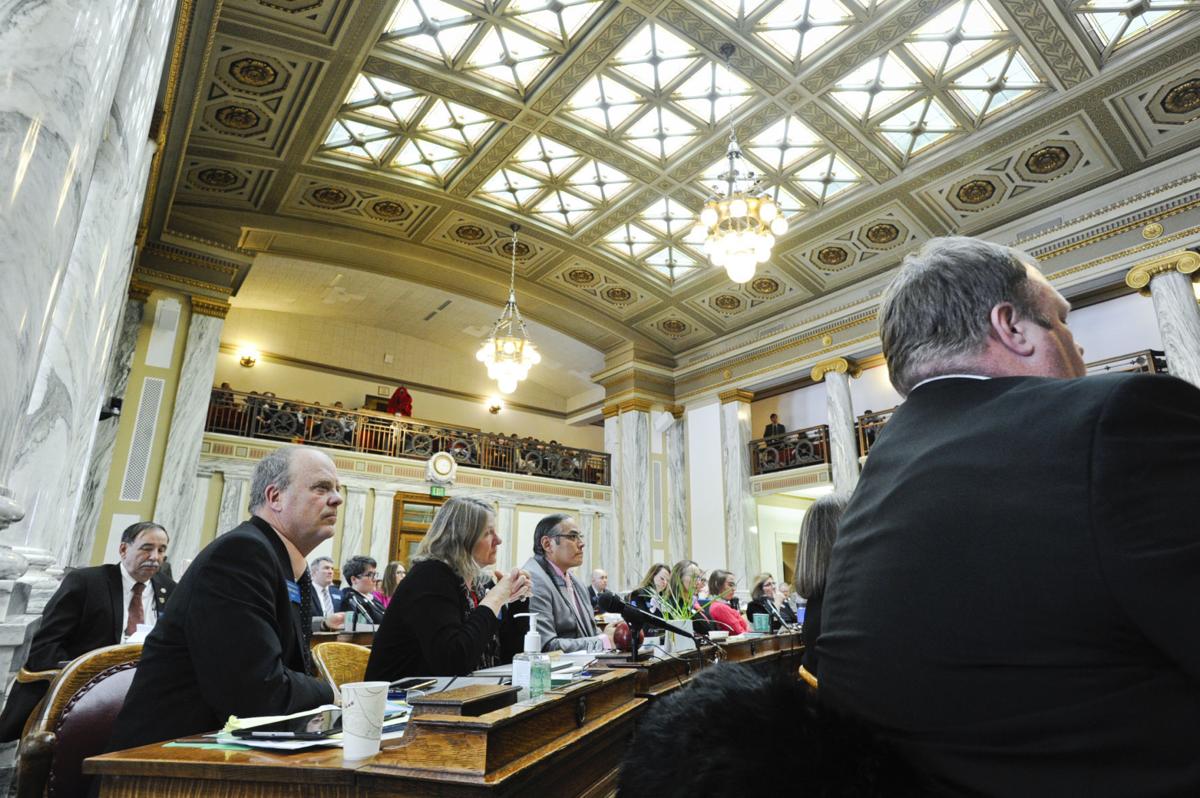 Members of the state Legislature will gather in Helena this January for what will be in part a sort of mini-test for what an annual legislative session would be like.
The weeklong Legislative Week will run Jan. 13-17 and is timed in conjunction with several interim legislative committee meetings to maximize the number of legislators already planning to be Helena and use those committees' budgets to pay for some of the costs associated with putting up lawmakers in capital city.
Members of the Legislative Council and Legislative Finance Committee were tasked with the job of studying annual sessions. In May the groups met together and came up with the idea of Legislative Week. A schedule proposed for the week also includes training and break-out sessions on topics related to a bill to examine the sustainability of the state's revenue structure, as well as other topics like infrastructure, public safety and pensions. 
Staff earlier this year estimated the salary costs for lawmakers to attend Legislative Week would be about $6,472 for the additional day. Susan Fox, executive director of the Legislative Services Division, said this week the Legislative Council is considering paying two days' salary for lawmakers. However, dinner costs are coming in potentially below the $6,820 estimate, Fox said.
Other costs associated with the week include mileage for lawmakers who would not already be in Helena, totaling an estimated $11,200, and lodging, which was estimated to cost $7,705.
The Legislative Council has $45,000 set aside for "emerging issues," and that pot of money could be used to pay for the week. The Legislative Fiscal Division said it has $30,000 in carry-forward funds that could also be used.
Fox said it's not clear at this point if there will be time for public comment or participation during the Legislative Week.
"This has not yet been decided, but we had not really planned for it because of the nature of the training and the size of Room 317 (where the sessions will be held)," Fox said. "We are planning for an overflow room, so it is not precluded at this time." She added that stakeholders have been involved with the Legislative Fiscal Division to prepare information lawmakers will get at the training and breakout sessions.
There will be a conference call Nov. 15 with a subcommittee of the Legislative Council to discuss Legislative Week, including the costs, logistics and public involvement.
State Sen. Fred Thomas, R-Stevensville, the majority leader in the Senate last session, said Tuesday that he's proposed the idea of annual sessions several times. The bill that passed this year was carried by Sen. Ryan Osmundson, R-Buffalo.
Thomas said he thinks annual sessions would help lawmakers stay more in touch with the state budget, revenues and ongoing and emergent issues.
"One of the offsets of term limits, which the public currently supports, is that the time for people to accumulate knowledge and experience in being a legislator is diminished," Thomas said this week.
"Part of the idea here is to say instead of a legislator going to Helena for four months and then the next 20 months they're kind of not legislators, we want to look at examining a process where we stay more engaged."
Another potential outcome of annual sessions, Thomas said, would be to break down the division between lawmakers who work on the budget and those who work on policy issues. That's also a goal of the January Legislative Week, to get what lawmakers and legislative staffers are calling "cross-pollination" between the two groups.
"You're always going to have some people who are just naturally great budget people and others are great on policy … but if this moves forward it will break down some of those silos so that in the budget session, 80%-90% of the Legislature is really in-depth working on the budget, which will have great value for the state citizens. And then next year when you deal with primarily issues, everybody's involved in those again at a greater level than before," Thomas said.
During this interim, if there is support for annual legislative sessions, the Legislative Council could draft new rules to shift to a 45-day annual term, Thomas said. Those draft rules could be adopted by the Council in the fall and formally adopted by the full Legislature when it convenes in January 2021. It's something Thomas thinks is in the realm of possibility.
"It's very possible to do it because they staff can easily adapt to this. The Legislature needs to be thinking about this and preparing for this and so does the public of Montana," Thomas said.
The start of this year's session saw a 27% increase in bill draft requests over the previous session, something that stretched the capacity of bill drafters and hearing time for some standing legislative committees. Thomas thinks annual sessions could alleviate some of that pain.
"We have this mad scramble to get all these bills drafted between November and January and it's brutal on our staff and citizens of our state," Thomas said. "While I think the products have been good, I just think we can do a lot better and have legislators that become far more knowledgeable and have experience in all subject matter by changing this a little bit."
Given Montana's small population, Thomas said he doesn't see the shift to a full-time Legislature. Only four states — Montana, North and South Dakota and Wyoming — have part-time Legislatures with low pay and a small staff, according to the National Conference of State Legislatures. Back in the 1960s, only 19 state Legislatures met every year, but before the 1970s were over, 41 states met every year. Now all but four states — Montana, Nevada, North Dakota and Texas — meet every other year.
Get Government & Politics updates in your inbox!
Stay up-to-date on the latest in local and national government and political topics with our newsletter.