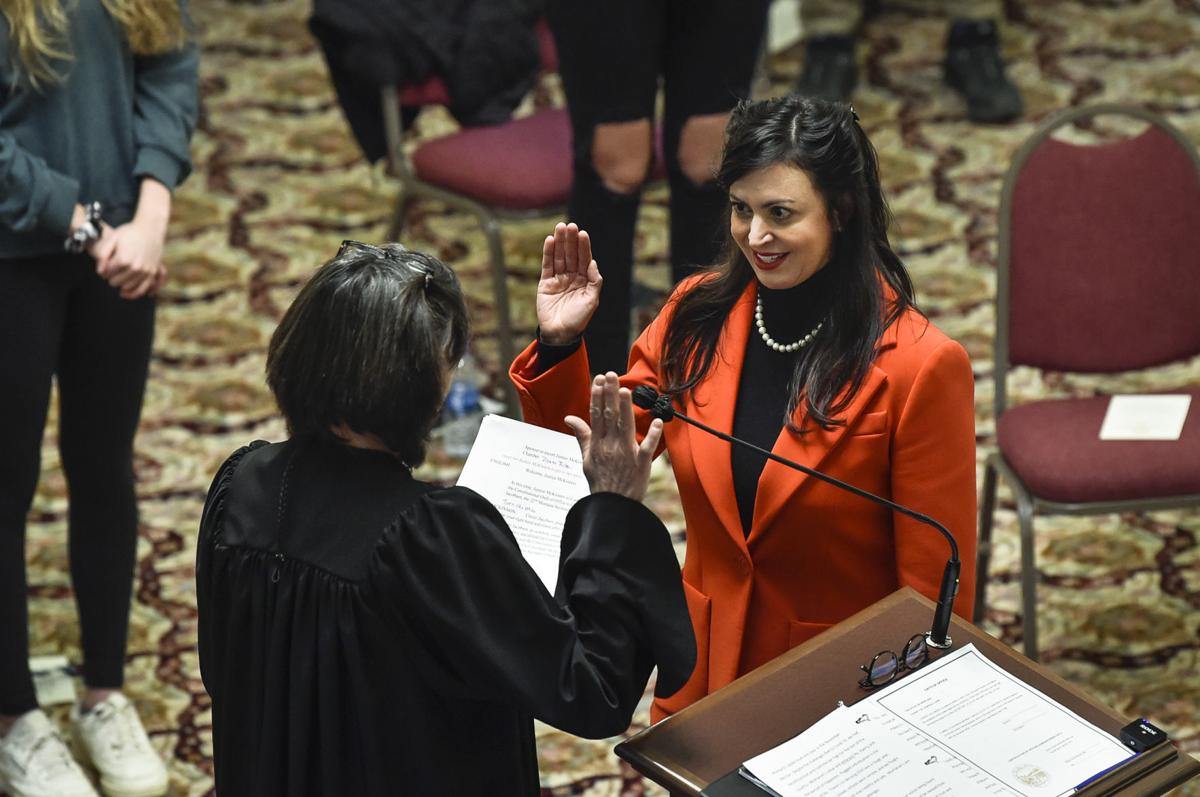 A proposal to add new restrictions to the types of identification voters need when casting their ballots in Montana got its first hearing before a Senate panel Wednesday.
Senate Bill 169 is being carried by Sen. Mike Cuffe, R-Eureka, and is part of a package of voting-related legislation being pushed by newly elected Secretary of State Christi Jacobsen.
"Passing a voter identification law for Montana will protect the integrity of elections," Jacobsen told the Senate State Administration Committee, speaking as one of several proponents of the bill. "With election integrity at the center of our democracy, we must require identification for people to vote."
Under Montana election law, photo identification that includes the voter's name is already required to cast a ballot in person. But Cuffe's bill would require a second form of ID if a voter shows up with certain forms of photo identification that are currently accepted, such as student IDs or membership cards, like those used at Costco.
Other forms of identification, such as state driver's licenses, state photo IDs, military IDs and tribal photo IDs would remain acceptable at the polls. Committee member Sen. Bryce Bennett, D-Missoula, suggested the change in law would disproportionately affect certain types of voters.
"This is a new burden that you're putting on people that don't fit into those specific categories," he said. "Why are some photo IDs more acceptable than others?"
Cuffe responded that the bill attempts to provide a range of options for people who don't fit into those categories, like allowing a student to pair their school ID with a paycheck or utility bill that includes their address.
The bill similarly affects ID requirements for voter registration, but that provision would also accept the last four digits of the applicant's social security number in lieu of a photo ID.
Opponents to the bill said the new requirements would effectively disenfranchise otherwise eligible voters, including college students and disabled or elderly people who don't drive, and therefore don't already have driver's licenses.
Native Americans would also be disproportionately affected, argued Keaton Sunchild, with Montana Native Vote.
"A lot of them can't afford the cost of getting an ID card, and a lot of them have to travel a great distance" to reach polling places or government offices, he said.
In an interview after the hearing, Cuffe stressed that Montana has a good system, yet also alluded to allegations of voter fraud he said his constituents had raised with him.
"This is a good start. and nobody's saying, I'm not saying we're in a terrible situation," Cuffe said. "But I'm saying a lot of people are concerned about the integrity."
Despite Republicans' concerns about election fraud in Montana, there is scant evidence of any isolated instances of such incidents, let alone widespread fraud. A federal judge cited that fact last September, when he shot down a challenge brought by former President Donald Trump's reelection campaign against the state's decision to allow all-mail ballots in the 2020 general election.
"When pressed during the hearing in this matter, the plaintiffs were compelled to concede that they cannot point to a single instance of voter fraud in Montana in any election during the last 20 years," U.S. District Judge Dana Christensen wrote at the time, adding, "Importantly, Montana's use of mail ballots during the recent primary election did not give rise to a single report of voter fraud."
Prior to the hearing on Cuffe's bill, the committee endorsed another bill requested by the Secretary of State's office. House Bill 170 would require election administrators to update the lists of inactive voters every year. Current law only requires such updates every other year. The panel passed it on a party-line vote, 5-3.
And on Tuesday, Republicans revived a bill that would end same-day voter registration in Montana, which they framed as a measure to ease the burden on elections officials forced to register new voters on the same day they conduct elections. Democrats on the House State Administration Committee called House Bill 176 another instance of voter suppression, arguing it would effectively curtail voting on Indian reservations.