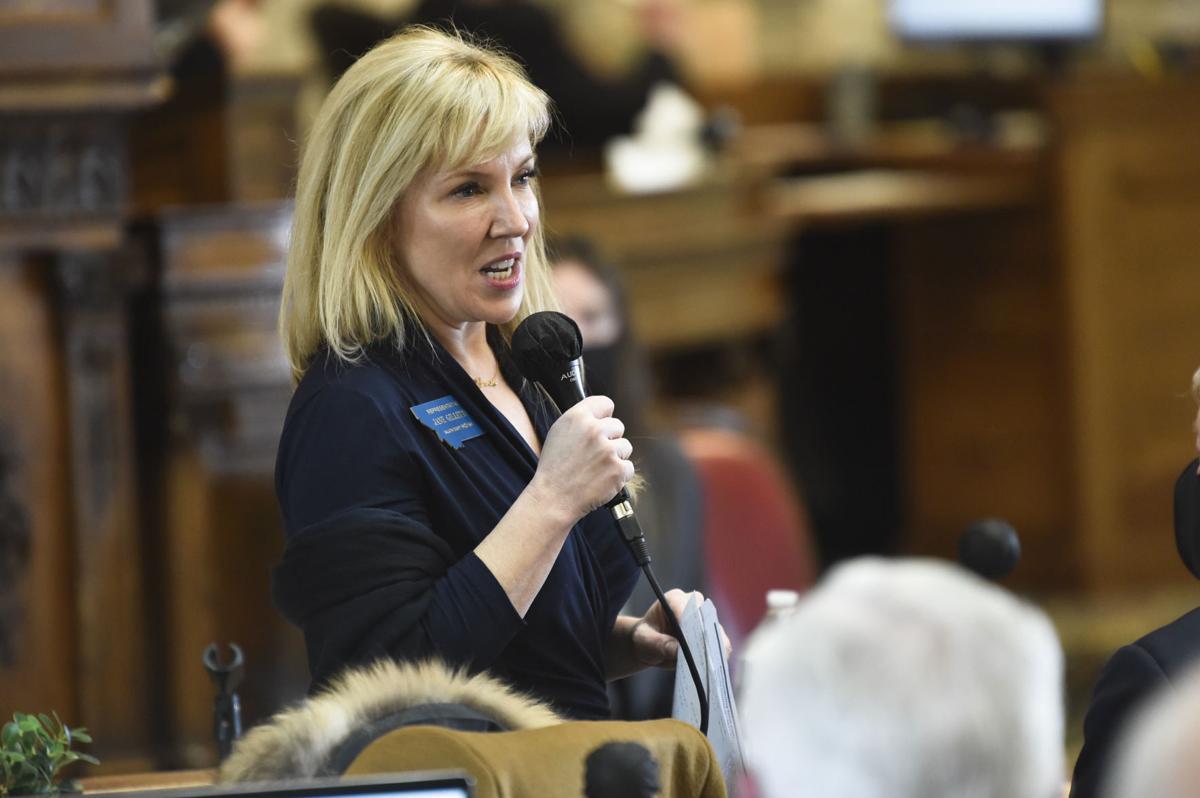 A freshman legislator from Bozeman on Wednesday said she is withdrawing a bill that unleashed a flood of outrage this week for its language that opponents argued would strengthen parental rights for rapists.
Rep. Jane Gillette, R-Bozeman, was scheduled to present House Bill 209 to the House Judiciary Committee on Friday, but said she won't bring the legislation to any committee this session after the fury that erupted this week over the bill's language.
Gillette said Wednesday the intent of the legislation was lost in translation and did not include enough input from victim advocates. Gillette also told the Montana State News Bureau she carried the bill on behalf of a group of family law attorneys, a group which includes her husband, Bozeman family law attorney Christopher Gillette. 
The attorneys who have been crafting the bill language say the intent of the legislation was to amend existing law to require the judge to consider "the child's best interest" during a parental termination proceeding in which a mother has claimed the child was conceived through rape, as long as the child had established a relationship with the father.
A victim advocacy coalition, however, says the proposed legislation would open the door for victims to be forced into co-parenting with someone who had been convicted either by trial or through a fact-finding hearing of the alleged rape. In 2017, the Montana Coalition Against Domestic and Sexual Violence promoted the bill that passed into law the statute that HB 209 sought to amend.
"House Bill 209 is something that we continue to object to," said Kelsen Young, executive director of the Montana Coalition Against Domestic and Sexual Violence. "We oppose what they are attempting to do to undermine the existing statute... We feel very strongly that the statute needs to stay as is or at the very least survivors can be consulted in the drafting."
Atop the legislation, within the bill's title, the line that concerned opponents was: "providing that alleged sexual intercourse without consent resulting in the birth of a child is not independently grounds for terminating the parent-child legal relationship where the person of the act has subsequently formed a parental relationship with the child."
Two attorneys with the Montana State Bar who were directly involved in drafting the bill language acknowledged Thursday they had not fully consulted victims' advocates groups about the proposal. Amy Lord, chairperson of the family law section of the Montana State Bar, said the legislation was run by all 168 members of the family law section of the state bar before it was taken to the Legislature by Gillette to address such concerns, but that the vetting process fell short. Some members are also directly involved in victim rights advocacy.
"We do try to reach out to anybody that may have thoughts and concerns about whatever legislation," P. Mars Scott, the chairperson for the legislative subcommittee of the family law section of the Montana State Bar, said in a conference call with Lord and the Montana State News Bureau. "It's obvious we missed a group here along the way but, as Amy pointed out, we have 168 members."
Lord and Scott said they were aware of four court cases in which this situation specific to the legislation had arisen.
Those included on emails regarding the drafting process included Lord, Scott and Christopher Gillette. Rep. Jane Gillette consulted Rep. Lola Sheldon-Galloway, R-Great Falls, on Dec. 22 and Sen. Steve Fitzpatrick, another Great Falls Republican and also a lawyer, on Jan. 8, according to emails written between Gillette and the bill drafter.
"Looks good to me," Gillette wrote to a bill drafter drafter in a Dec. 22 email. "I think the lawyers are happy too."
On Wednesday, Gillette said she understood how the bill's language could be seen as its critics perceived.
"I can see it now," Gillette said in an interview on the House floor. "Although when (the attorney group) explained it to me it came across very different to me but I understand how the language if you're not familiar with that topic, it can be pretty activating and I have a lot of respect and compassion for victims. I'm sensitive to this topic so I'll certainly start with that."
Asked for her response to the blowback on the bill, Gillette said, "A lot of levels; reflection, on being compassionate and just really a learning lesson maybe for me as a new legislator, before I carry legislation that isn't, you know, my own that I organically came up with, to just make sure that all the partners, you know that it's been vetted through all the appropriate stakeholders that need to be (involved).
"And of course a reflection on compassion, that we should all be sensitive to women who have survived trauma, that have lived through and come out successfully on the other side of some very difficult situations and how we can be better in supporting women as they go through that," she added.
Organizers had already begun mobilizing to fight the bill by Wednesday. Carol's List, a progressive group that works to elect Democratic women to office in Montana, sent out an email that day calling HB 209 "vile" and "a new low" while urging its members to contact the committee and press lawmakers to vote against it.
The bill was requested roughly two weeks after Gillette won in the November election and the language was in the works through Jan. 15. According to emails between Gillette and the bill drafter, she had insisted the bill's title included "sexual intercourse without consent" rather than "sexual abuse." She mentions that family law attorneys were helping her with the draft.
On Wednesday evening, John Mudd, executive director for the Montana State Bar, posted to his personal Facebook page the context with which the family law section had intended to address in the bill. In a phone interview Thursday, Mudd said he hoped to "turn down the rhetoric" with his social media post after Gillette and her family had received threats. Gillette confirmed Thursday she had received threats over the bill.
"It's important that we are able to have strong opinions about policy decisions and to do that in a way that honors the process and respects our public servants and personally that's something that is very important to me and that's why I took the step of posting something on my individual page," Mudd said.
Gillette said she was something of a bystander on a Zoom call Tuesday night in which family law attorneys and lawyers who represent victims were trying to find common ground on what the legislation should ultimately look like. Whatever shape that proposal takes, it won't be heard this session, Gillette said.
On Thursday, the Montana Coalition Against Domestic and Sexual Violence posted a statement to the organization's Facebook page stating victims had long been ignored in the conversation around this particular legislation.
"The proponents of this bill who worked with the sponsor on drafting the language clearly still have the intent to undermine the existing law that protects survivors from having to parent with their rapist. As survivors of sexual violence, we are tired of being ignored and unheard. Of course, opinions can differ on important issues like this one. But it's important that the current narrative being circulated on this bill include the survivor perspective."