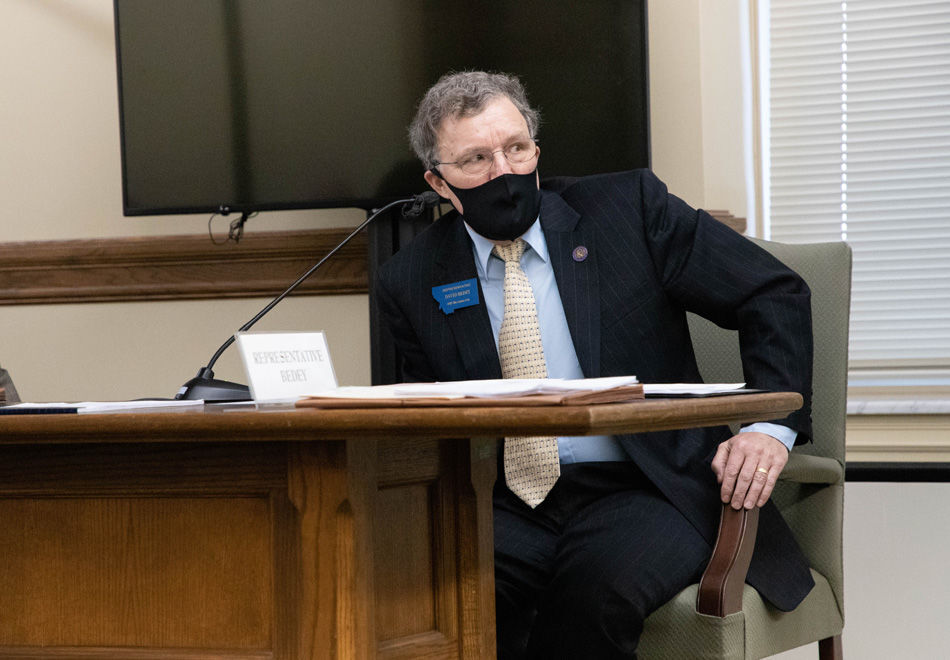 A Montana state lawmaker who has been in the Capitol during the first four days of the Legislative session has tested positive for COVID-19.
State Rep. David Bedey, a Republican from Hamilton, tested positive and is quarantining away from the Capitol, according to a statement late Thursday from Sen. Jason Ellsworth, the presumptive chair of the COVID-19 response panel that is set to hold its first meeting Friday.
The Legislature convened Monday. The session is being held under a hybrid model with remote participation because of the pandemic, though nearly all of the 98 Republicans out of the 150 lawmakers have been in the building all week. Some Democrats are attending in person, while others are participating over online platforms.
Bedey is asymptotic and "came into contact with the virus via a non-legislative, non-Capitol contact that occurred prior to the start of the session," according to a press release from Kyle Schmauch, a spokesperson for the Senate Republican caucus. Bedey is the only know lawmaker who has been at the Capitol since the start of the session to test positive for the virus.
"We're already reaching out and notifying those who have recently been in close contact with Representative Bedey and are telling them to quarantine," said Ellsworth, R-Hamilton. "I'm releasing Rep. Bedey's name because he wanted to be as transparent and informative as possible."
Bedey had been in the Capitol since the session convened Jan. 4. Bedey has been seen by reporters in public spaces wearing a mask. On the first day of the session, he was among the roughly 25% of House Republicans wearing a mask as they were sworn in. About 70% of Senate Republicans were masked during their swearing in. All Democrats in the building have been observed regularly wearing masks.
"I applaud Rep. Bedey for doing the right things from the very beginning. He's been wearing a mask to help protect the safety of others at the Capitol. After testing positive, he immediately contacted leadership to let us know and he also called the Lewis and Clark County Health Department. Rep. Bedey is a model that I encourage others to follow," Ellsworth said in an emailed statement.
Bedey was last in the Capitol at 5 p.m. Wednesday. He was tested at 9 a.m. Thursday in Lewis and Clark County and received the positive notification later in the day.
"I continue to believe that the most effective way to serve in the legislature is in person. But I also have a duty to my colleagues to do what I can to promote their safety. I will do my best to do the people's business remotely and look forward to returning to the Capitol," Bedey said in an emailed statement.
Earlier in the week at a press conference with Republican leadership, Senate President Mark Blasdel, R-Kalispell, said lawmakers had not yet hired a contact tracer for the session. Before the new year, the Lewis and Clark County Health Department said it did not have the capacity to handle cases associated with the session.
The COVID-19 panel, which was established under rules passed Monday, is set to hold its first meeting Friday. The panel, which is made up of Legislative leadership and is 75% Republican, has broad authority over measures like distancing and capacity in the Capitol.
While Montana is under a statewide mask mandate and Lewis and Clark County has capacity limits on gatherings, lawmakers do not fall under those rules while in the chambers they control and while conducing legislative business. 
House Minority Leader Kim Abbott, who had strongly advocated for delaying the session, holding it entirely remotely or requiring measures like mask use, released a statement late Thursday.
"I appreciate Rep. Bedey's willingness to inform the public of his exposure and promptly self-isolate, and I hope that he remains asymptomatic and in good health," Abbott said.
"It is deeply frustrating that this has happened before we as a Legislature have established procedures to deal with this unfortunate, yet predictable, situation. Democrats have for months pushed for commonsense COVID protocols — including contact tracing and isolation measures. When the COVID panel meets tomorrow, I will be demanding that my colleagues finally take seriously the responsibility we have to keep the Capitol safe, and protect communities and local economies across the state."
Democrats have argued the panel is a reactive approach, while Republicans say it gives them flexibility to respond to a fluid situation.
Before the session started, the Legislative Services Division executive director said legislative staff would work remotely for the first two weeks of the session because of concerns over exposure to the virus.
This session Bedey is carrying bills related to the pandemic, including a bill to require elected official approval of local health board and officer actions and to allow governing bodies to vote to amend directives, mandates or orders by health boards or officers issued in an emergency.
He also has a bill to limit the duration of a governor's emergency or disaster declaration and expand legislative involvement during a disaster or emergency.