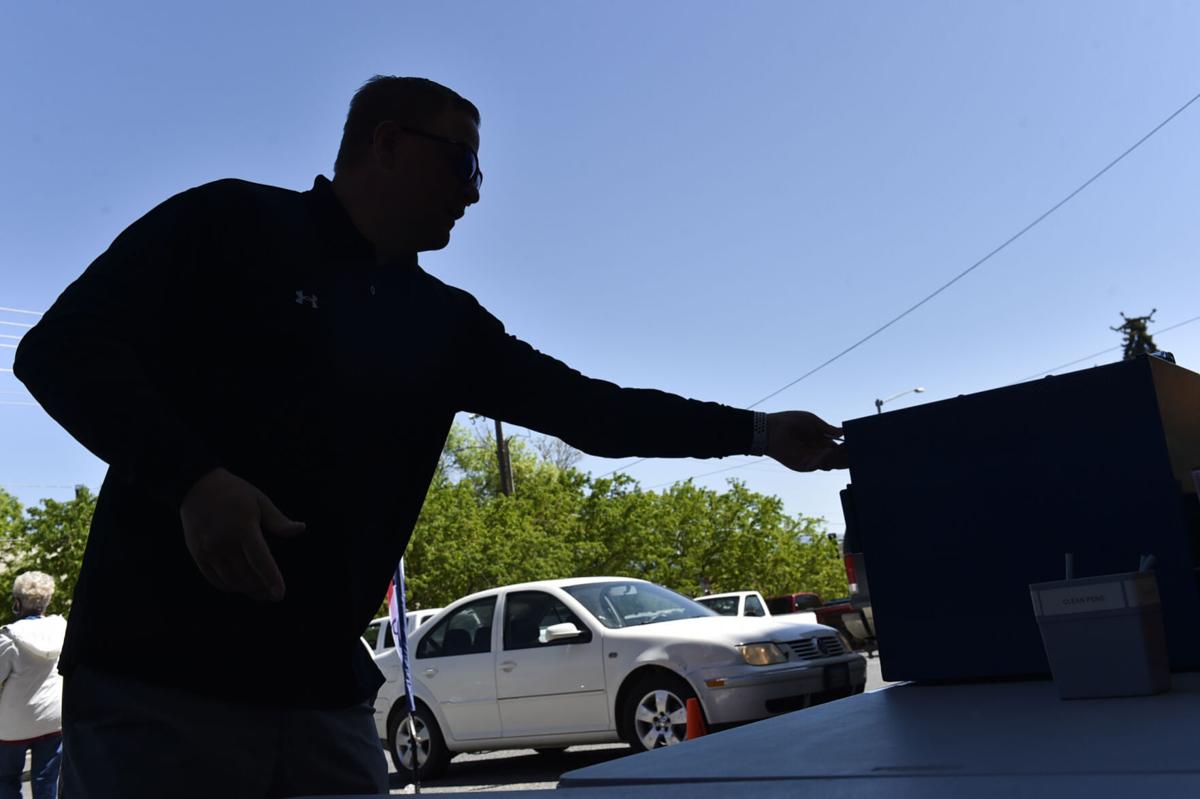 With fewer than 100 days until Montanans cast ballots, the clerks who run the state's elections are asking the governor to allow counties the option to conduct the vote by mail.
In a letter to Gov. Steve Bullock dated July 24, the Montana Association of Clerk & Recorders/Election Administrators and the Montana Association of Counties (MACo) said that given the novel coronavirus' spread in Montana and the rapidly approaching Nov. 3 general election, they want to make a decision by Aug. 10.
Their letter included a formal request for the mail-ballot option, with an allowance for in-person voting and other adaptions. 
"Given we are unsure of how long the pandemic will last, Montana's Clerk & Recorders/Election Administrators want to (and absolutely should be) prepared for the worst, especially given that elections require numerous election judges and enormous groups of people," reads the letter.
Under a directive from Bullock, all 56 counties chose to hold the June 2 primary by mail. Generally Montanans can request an absentee ballot to vote by mail, which has become increasingly popular in recent years, with absentee turnout about 73% in the last election. In June, everyone registered and active as a voter received a ballot by mail with a pre-stamped envelope to return it.
Shantil Siaperas, the communications director for MACo, wrote in the letter to Bullock that holding the primary by mail was a success because of clear instructions to voters. It resulted in a higher turnout than normal and timely election-night reporting, she added.
Voter turnout was nearly 55% in the primary, about 10 percentage points higher than in the last presidential primary. Ballots were also returned fairly early, which clerks attributed to paid postage. Under a law passed in the 2019 Legislature, larger counties can also start preparing and counting ballots before polls close, which aided in quick returns.
A spokeswoman for Bullock said Tuesday the governor is weighing options.
"As he did in issuing the primary directive, Gov. Bullock will consult with county election administrators, public health experts, emergency management professionals, the Secretary of State and political leaders from both parties to determine the safest way to proceed," the statement reads. "These discussions will be occurring in the coming weeks to ensure that county election administrators have adequate time to prepare. As far as a timeline, counties have requested an announcement by Aug. 10."
The governor will also take into consideration the risk of large gatherings, new COVID-19 cases or hot spots for the virus and community spread, as well as measures such as wearing masks, social distancing and sanitizing, the spokeswoman said.
Earlier this month Bullock issued a directive that masks are mandatory for most people in counties with four or more active COVID-19 cases. On Tuesday Montana tallied nearly 3,500 cumulative cases of the virus, with more than 1,300 active. There have been 51 deaths.
The letter says that elections workers have watched as other states dealt with a lack of judges, in-person crowding, voter confusion and "worst of all, we saw spread of the coronavirus linked to the elections."
The letter raised ethical concerns about the health risks to election judges and others at polling places. Counties have been surveying election judges and "so far, hundreds of election judges are not willing or able to work at the polls," Siaperas wrote. Counties also said they'd expect judges who sign up to work to cancel or drop out at the last minute if the pandemic continued or worsened.
Counties were also reluctant to accept the responsibility for the health of judges. Election judges are generally older; about 73% are 61 years old or older, according to the letter.
"Judges would be working in positions with the greatest community exposure, and many are not willing to participate this year for just that reason," the letter says.
The letter also cited "COVID-19 fatigue," saying a few election judges said it was not their job to enforce social distancing and worried about being harassed or harmed.
The letter also raised concerns about the possibility of losing polling place venues at the last minute. It also questioned the ethics of using school gyms, saying schools likely would not want the risk of additional people in their buildings.
In recent years, Republicans in the state Legislature have raised concerns over the security of voting by mail and the collection of absentee ballots by third parties. However, before the June primary several prominent members of the GOP either called for the election to be held by mail or encouraged people to vote through the mail.
The letter dismisses the idea that mail ballots are less secure, saying that "mail ballot elections have security features that polling place elections do not, and anti-fraud measures are written into Montana law."
The letter points out ballots are only mailed to registered voters, and that signatures on the back of the envelope for returned ballots must be reviewed by elections offices. There's no similar signature comparison for in-person voting at a polling place.
"When it is said that mail/absentee ballots are more susceptible to acts of fraud than polling place ballots, this is demonstrably false in Montana," the letter reads.