The highly anticipated marijuana implementation bill from Missoula Republican Rep. Mike Hopkins had plenty of critics Wednesday in its first public hearing in the House Business and Labor Committee.
The primary concerns raised Wednesday came from medical marijuana providers who will get the first 18 months to stake out the new market before the state revenue department begins issuing new business licenses. The number of opponents to the bill, mostly those providers, far outweighed the proponents who favored Hopkins' bill, which is more restrictive than the initiative voters passed last year to legalize cannabis.
Providers had particular objections to a provision that flips local government's ability to opt out of marijuana business operations in its jurisdiction. Under the medical system, local governments could vote to not allow marijuana operations, but Hopkins' bill would require an opt-in instead for recreational. Providers who have invested heavily in facilities and equipment, sometimes expanding into multiple counties, said they could see the rug pulled out from beneath them.
"It's kind of hard to pick one particular piece of this bill that is the most devastating," said Adam Arnold with Collective Elevation, one of the largest of providers in the state. "Any local committee member can have a prejudice against cannabis and they can just shut down infrastructure that we have established. … This is really anti-business in general."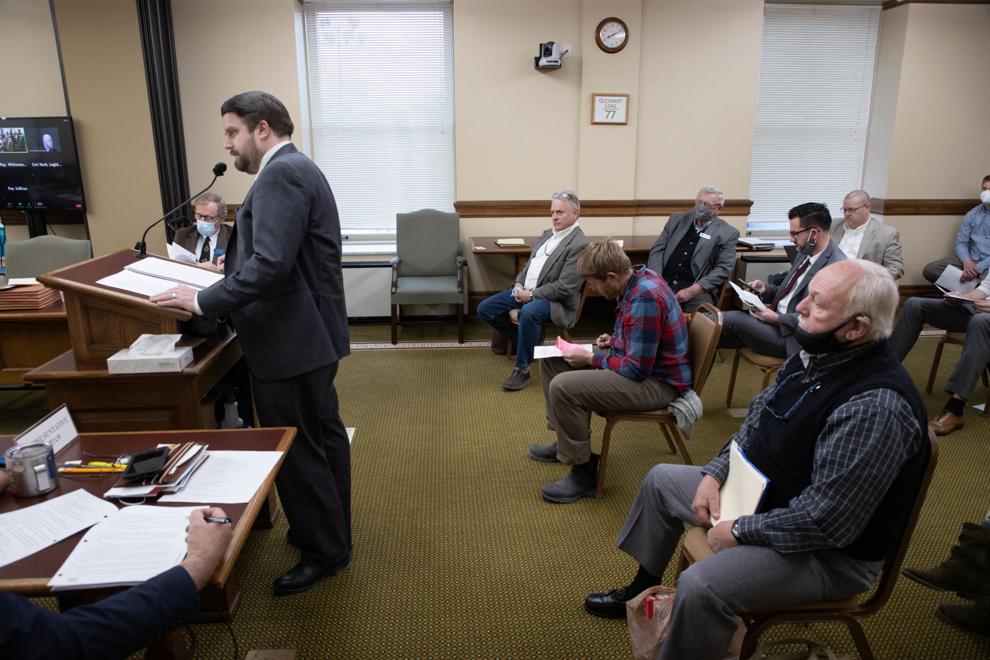 In the proposed "opt-in" process, a county commission gets the first call. If the county commissioners deny marijuana businesses, any city in the county has no choice. But if the county approves marijuana businesses, city officials can choose to opt out. In either case, voters can then file a petition to overturn the local government decision to approve or reject marijuana businesses.
Hopkins told the committee the opt-in provision would create local buy-in. He said though the 57% of voters who approved the legalization is a large margin, there were still a large percentage of voters who opposed it. Part of the "challenge" going forward, Hopkins said, is convincing the other 43% of Montanans that recreational and medical marijuana adds value to local economies.
"I think the vast majority of Montanans are willing and able to have their minds changed on the issue and I think it's our job to show them that these folks are good folks … to show folks that these folks have earned their place in the Montana business industry," Hopkins said.
Local governments already have the option to ban such business from their jurisdiction, as Billings has. Hopkins said after the hearing he doesn't give much weight to the fear from medical providers that a local government where providers can operate will suddenly reverse course and boot the business out of its jurisdiction.
"I just need someone to explain to me why that's not currently the case and why that didn't happen the original time," Hopkins said.
Other providers with extensive grow operations argued against the ban on outdoor grow operations. Ian Foley, administrator of the agricultural sciences division at the Montana Department of Agriculture, said the department supports the outdoor grow ban so to avoid cross pollinating marijuana with hemp, which is a state-recognized agricultural product. 
Supporters of the proposal Wednesday included several opponents to legalization, such as Coleen Smith, a substance abuse youth prevention specialist with Youth Connections in Helena. Steve Zabawa, a Billings car dealer and longtime marijuana opponent who is currently suing the state in court on claims that the ballot initiative to legalize pot was unconstitutional, was another proponent. Like nearly everyone who testified on the bill, Zabawa had a few suggested amendments, such as pushing retail sales back to 2023 to let his lawsuit play out, buckling down the THC limit from 35% to 15% and eliminating edibles as a retail option.
The bill would allow retail sales in January 2022.
"Let's be smart about it, let's start small," Zabawa told the committee. "You can always change it two years later to a higher potency."
Zabawa also said he plans to launch a campaign to repeal legalization in the 2022 election.
Hopkins told the committee his bill intends a more restrictive approach, rather than a largely hands-off system that was initially granted to the medical industry before lawmakers tightened down the industry to a near-repeal in 2011. The medical industry was eventually resurrected by ballot initiative again in 2016 and has since seen additional regulation by lawmakers in each Legislative session. 
"There will be a time when anybody can come in here and apply for licensure," Hopkins told the committee. "If we do not prepare for that I guarantee we will regret it."
This, too, stirred some concern among providers who testified against the proposal. In the medical program's current structure, providers must enter the market in one of the lower tiers, classified by square-footage of growing space, before they can incrementally grow into larger tiers as a measure to prevent huge companies from entering the market. Hopkins' bill allows businesses to come into the market at any tier.
Hopkins told the committee — and for those who were in the room, the providers — that the recreational marijuana program may bring uncomfortable changes for medical providers who choose to enter the recreational market. He also told committee members he was open to any conversation about amendments to the bill following questions about THC limits and ownership requirements.
"I think on some level people engaged in the medical system are just going to have to deal with the fact that we are standing up a non-medical system and that some rules of the road are going to be different in this non-medical system," Hopkins said. "We are talking about adult use."
Committee chair Mark Noland, R-Bigfork, said Wednesday the bill may get a vote Tuesday.