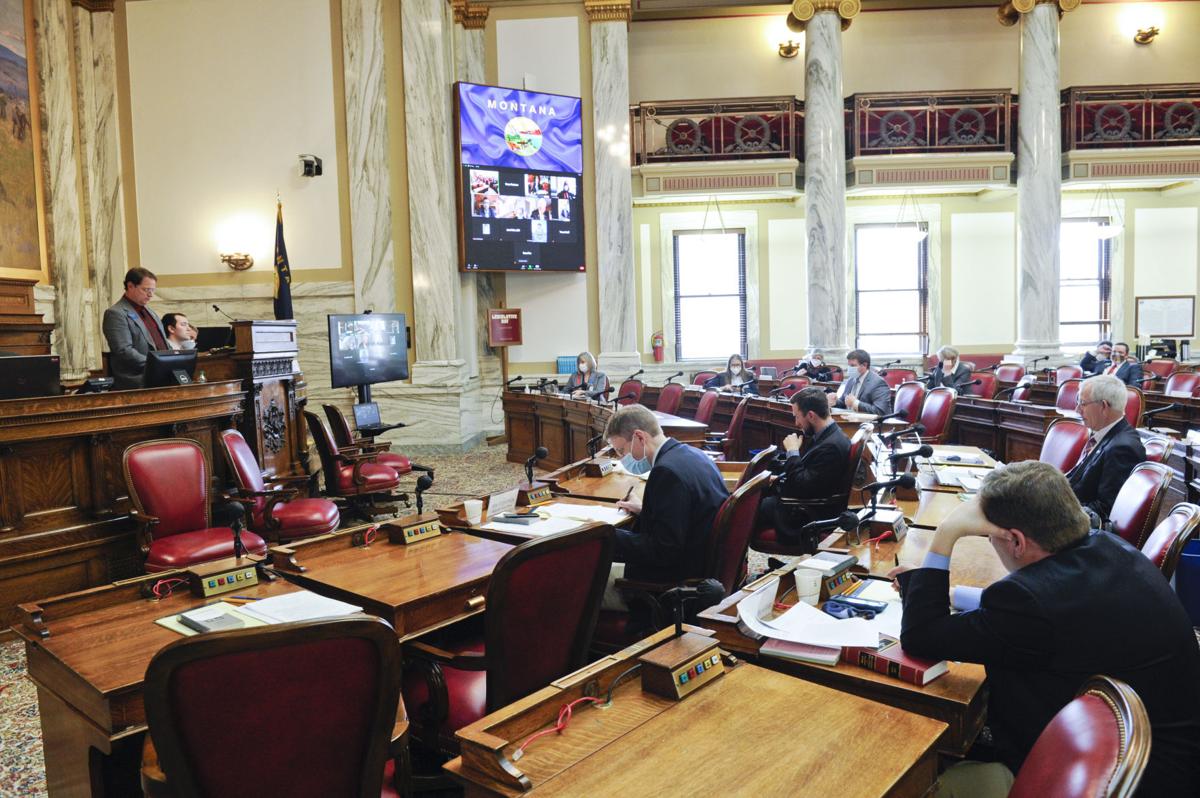 Republican members of the Montana Legislature voted Wednesday to hold the upcoming session in person and with no precautions like mask use, distancing or testing protocols, though there is the option to participate remotely.
The vote came after pleas from many in the Helena community to follow public health guidance discouraging large, in-person gatherings. Many asked for what they called minimum precautions like wearing face coverings, which nearly all Republicans have refused to do.
The vote came from the Joint House and Senate Rules Committee and fell on party lines, with 21 Republicans for the proposal and 13 Democrats against it.
"I would imagine that we are going to have members who get sick," Ellsworth said. "It's possible there are members that die, but that possibility is there irregardless even if we're here or not."
Ellsworth said his proposal will let people participate remotely if they want to and acknowledged that public health officials don't support meeting in person. But he said some legislators feel they will be more effective in person.
"You can't stop a sickness," Ellsworth said. " ... But we have an obligation to the citizens of this state."
Sen. Pat Flowers, a Democrat from Belgrade, said having any lawmakers meeting in person is dangerous.
"There are no safeguards with this. It's inexcusable. It's an irresponsible act," Flowers said.
Sen. Jill Cohenour, a Democrat from East Helena who is minority leader in the Senate, pointed out that while Ellsworth argued his proposal allows for precautions, Republicans also voted down measures to require mask use and distancing measures in the building. 
Lawmakers will also create a COVID-19 response panel that includes leadership from the House and Senate. The panel, which is 75% Republican, will have broad authority over making emergency changes that could limit public access to the Capitol building. Some Republicans on Wednesday said the panel would address concerns about mask use and distancing, but didn't clarify how.
Republicans' decision was in opposition to all but one of the public comments legislators heard Wednesday asking them to delay the session until a vaccine is in wide circulation, to meet entirely remotely, or at least require the use of face masks and distancing. Republicans voted down proposals from Democrats on all of those options.
Republicans, who hold the majority in both the House and Senate, and Democrats had called for the rules for meeting during a pandemic to not be politicized, but the debate has fallen along party lines.
On Wednesday, legislators also heard from teachers, health care workers and residents from across the state pleading for them to not gather in person.
Katy Wright, an elementary school teacher in Helena, told lawmakers her students have complied with public health measures and that they should too.
"My students have no issue wearing a mask and my students understand the science around masking," Wright said.
She added that her husband is a physician who wears a mask all day. "I would like to comment to lawmakers that there's really no reason why you can't wear a mask either or adapt to online. You are examples for our young children. Our children watch what you do."
The full Legislature must approve the rules after convening.