The Republicans who hold the majority in the state Legislature on Monday put forward rules that would create a pathway for a hybrid session, but would explicitly not require mask use or distancing measures. The Democrats sharply objected to the proposals which they said were reactive, not proactive, to managing the novel coronavirus in the upcoming Legislature.
Though many had been looking to Monday and Tuesday's meetings to get a clear picture of how the session will function, Sen. Cary Smith, a Republican from Billings who chaired the joint committee meeting Monday, said lawmakers wouldn't vote on proposals until Dec. 16.
The session starts Jan. 4.
Monday's meeting was a combination of the House and Senate Rules committees, which will meet separately Tuesday. Generally, the two committees develop rules that make changes to procedures, decorum and other details.
But this year the group of lawmakers will determine how 150 legislators, plus the hundreds of members of staff, the public, media, lobbyists and others that normally congregate in the Capitol will go about their work.
Many of those requests came after caucuses last month, when nearly 100 Republicans met in the Capitol unmasked and generally not following distancing precautions. Democrats have relied on a mix of remote participation and mask use while in the building. The same held true Monday, with most Republicans not masked. Democrats in the building wore face coverings and several participated remotely.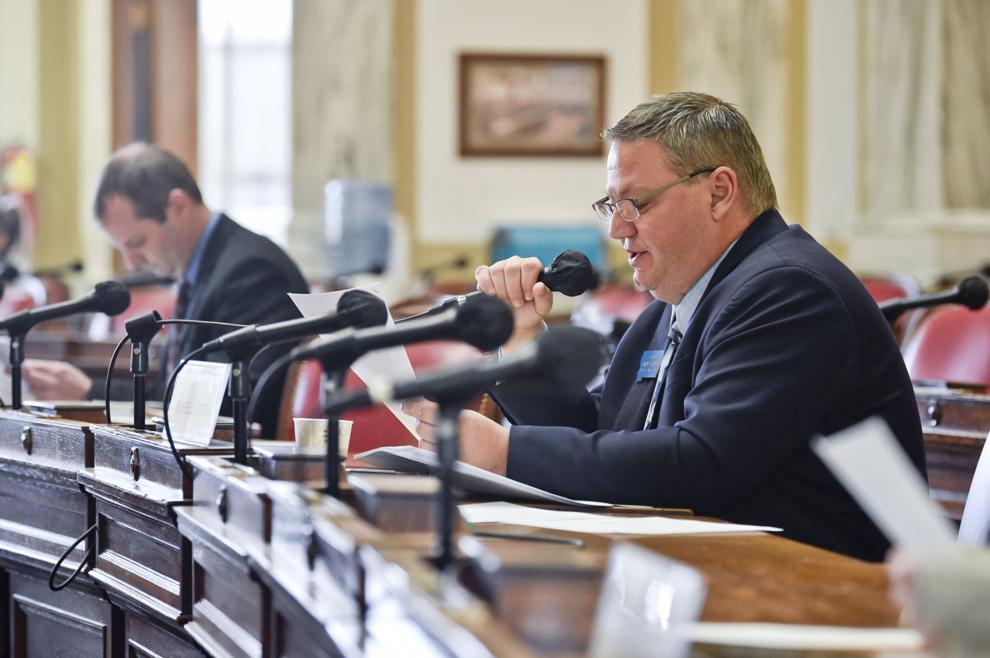 Under Ellsworth's proposal, the panel would have broad authority over aspects of the legislature's business that are affected by the pandemic. The panel or a legislator's caucus leader would have say over if a lawmaker could participate remotely. It would also be able to set caps on occupancy in the building based on several factors including risk of infection. It did not require the use of face coverings.
Democratic Sen. Jill Cohenour, the minority leader in the Senate from East Helena, said her party felt the proposal set the Legislature up to respond to outbreaks, not prevent them. She said measures like holding the session entirely remotely or delaying it made the most sense. Democrats have made proposals to change the rules to allow for either of those options.
Ellsworth countered that the panel would allow lawmakers to be flexible to respond as situations arise. Other Republicans said an in-person session was the best way to serve their constituents. 
"At the end of the day we're going to have to be very fluid," Ellsworth said. "We may see a situation where we're going to have to act quickly and make decisions. … Somebody could walk out of this building and go grab a hot dog on the street and they could get infected."
The panel would consist of six Republicans and two Democrats, something the minority party objected to.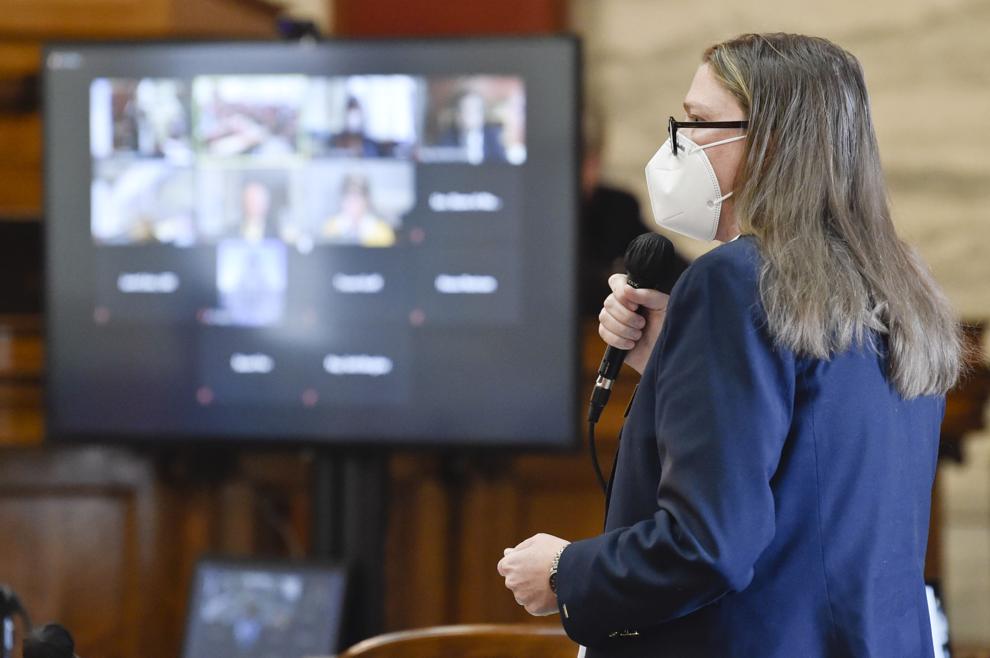 During the nearly three-and-a-half-hour meeting, which will continue Tuesday, legislators at times had intense clashes.
State Rep. Derek Skees, who chairs the House Rules committee and is a Republican from Kalispell, said if employees branded as essential have gone to work through the pandemic, lawmakers should too.
Skees also forwarded the idea of reaching herd immunity, which is the idea that a population is protected from a virus if, without a widespread vaccine, enough people become sick and recover. The World Health Organization says "letting COVID-19 spread through populations, of any age or health status, will lead to unnecessary infections, suffering and death."
"In my mind this cannot be an entirely virtual session," Skees said. "COVID is on the route to gaining 70% of our population, which is what happens to a virus when it gains herd immunity." He added that between that and a vaccine, the novel coronavirus would soon be a "problem of the past."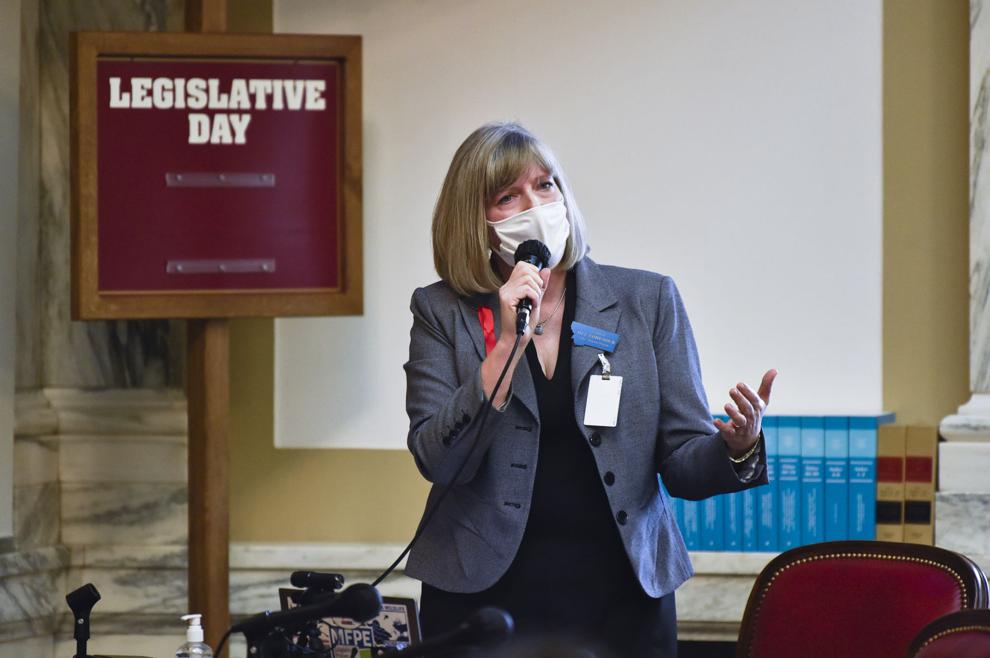 Cohenour said the idea of moving toward herd immunity was dangerous.
"Herd immunity is not a strategy because people will die to get us to herd immunity," Cohenour said.
State Rep. Sharon Stewart-Peregoy, a Democrat from Crow Agency, lives in Big Horn County, which has been hit hard by the virus. This week, the county counted its 50th COVID-19 related death.
"This is normal: people wearing a face mask, having one point of entry, having the temperatures checked," she said. " … Ultimately it's about the safety of our constituents. It's about the people we serve. I tell you right now I have no stomach to talk about this in the abstract. My community has been hit hard. Lewis and Clark County is a hot spot. ... If you have not seen or personally seen a family member who cannot talk to a loved one who is fighting for their life in the ICU, then please don't talk about this abstractly."
State Rep. Barry Usher, a Republican from Billings, rose after Stewart-Peregoy and called her comments "emotional" and "insulting." Yellowstone County is also among the counties most harmed by the pandemic.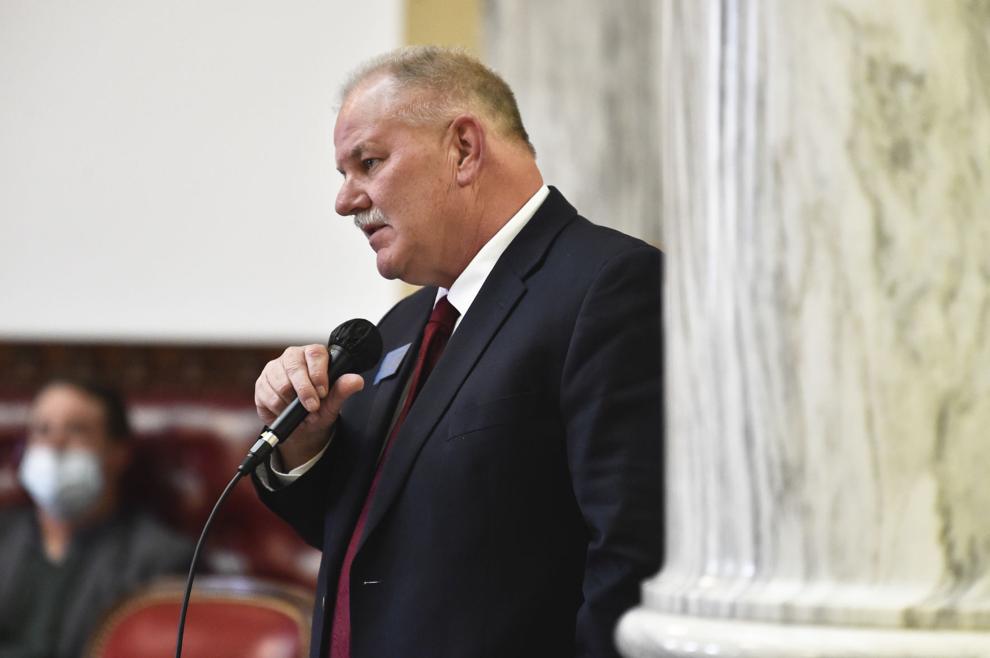 "We have kotowed to you all to give you the opportunity to be remote and be safe if you feel you need to be, and you're going to argue about these amendments? It's ridiculous. It's a waste of my afternoon. I could be trying to make my business survive through this. Instead I'm going to be up here listening to you guys cry," Usher said.
Usher also cited a falsehood about mask use, saying masks could cause harm to the wearer.
"Think about it. My body has its own mask system. I exhale what my body doesn't want. When you have a mask on, it holds it in. It holds it in, so you can re-bring that negative that your body just put out," Usher said.
The Associated Press earlier this year quoted Sarah Stanley, associate professor of infectious diseases and vaccinology at the University of California, Berkeley School of Public Health, as saying there's no evidence something like what Usher described is true. She also told the AP doctors wear masks for long stretches without ill effects and that mask use among medical workers and others was normal before the pandemic and widespread harm has not been observed.
Usher also said a recent report from Johns Hopkins showed 2019 and 2020 had "same death rate in the U.S., the only difference is what people were classified dying from."