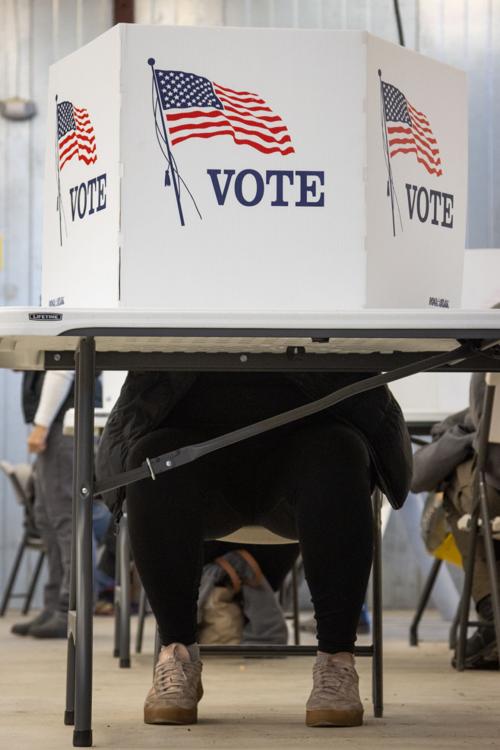 A trio of groups advocating for young Montanans are challenging several changes to Montana's election laws enacted by the Legislature, calling them "a cocktail of voter suppression measures that land heavily on the young."
Two are already the subject of existing lawsuits: Senate Bill 169, which tightened voter identification requirements, including requiring that student IDs be augmented with another form of identification for in-person voting; and House Bill 176, which ended Election Day registration in Montana.
House Bill 506 previously received attention for a series of last-minute changes to the bill by Republicans, who amended it to alter the process for drawing Montana's new congressional district. Thursday's lawsuit challenges a different aspect of that law, which prevents ballots from being mailed out to new voters in advance of their 18th birthdays.
The three plaintiffs — Montana Youth Action, Forward Montana Foundation and the Montana Public Interest Research Group — are suing Secretary of State Christi Jacobsen, Montana's top elections' officer. The complaint has been assigned to Judge Ashley Harada.
In their lawsuit, the groups argue that voter participation among young Montanans jumped substantially during the 2020 election, adding that the three plaintiffs have been actively involved in increasing turnout among voters between the ages of 18 and 29.
In support of the new voting laws, Jacobsen and Republican lawmakers frequently argued that the changes to law were needed to shore up the integrity of elections in Montana. Arguing against that rationale, the groups cited a 2020 case in which a Missoula judge found that a group supporting the reelection campaign of then-President Donald Trump had failed to provide any evidence of election fraud in recent history in Montana.
"The laws at issue here were passed for no reason other than the professed bogeyman of voter fraud, for which legislators did not and could not produce evidence," the lawsuit continues. "Indeed, bill sponsors could not identify any benefits of their bills that would justify the adverse impact they will have — together and separately — on the ability of Montana youth to remain active and engaged participants in democracy."
Regarding HB 176, the lawsuit notes that Election Day registration has previously won support from a majority of Montanans, who rejected a Republican-led ballot referendum that sought to eliminate it in 2014. The practice had been in place in Montana since 2005.
Jacobsen's office issued a statement Thursday in response to the lawsuit: "The voters of Montana spoke when they elected a Secretary of State that promised improved election integrity with voter ID and voter-registration deadlines, and we will work hard to defend those measures."
The plaintiffs are asking the court to find the new laws unconstitutional and bar the state from enforcing them, alleging that they infringe on voting rights and equal-protection under the state constitution. They also allege that HB 506 violates the prohibition on age discrimination under the Montana Constitution.
Two other lawsuits filed near the end of the recent legislative session are also challenging new election laws. The first lawsuit, filed by the state Democratic Party, is also challenging SB 169 and HB 176, along with House Bill 530, which prohibits people from collecting and submitting other people's voted ballots if they are receiving any financial compensation for doing so.
In the other case, four Native American tribes and two indigenous rights groups are challenging HB 176 and HB 530, arguing that the new laws create new barriers to voting that will disproportionately harm the ability of Native voters in the state to cast ballots.
The judges in those cases, both of which were also filed in Yellowstone District Court, are currently considering motions by the plaintiffs to consolidate them into a single case.