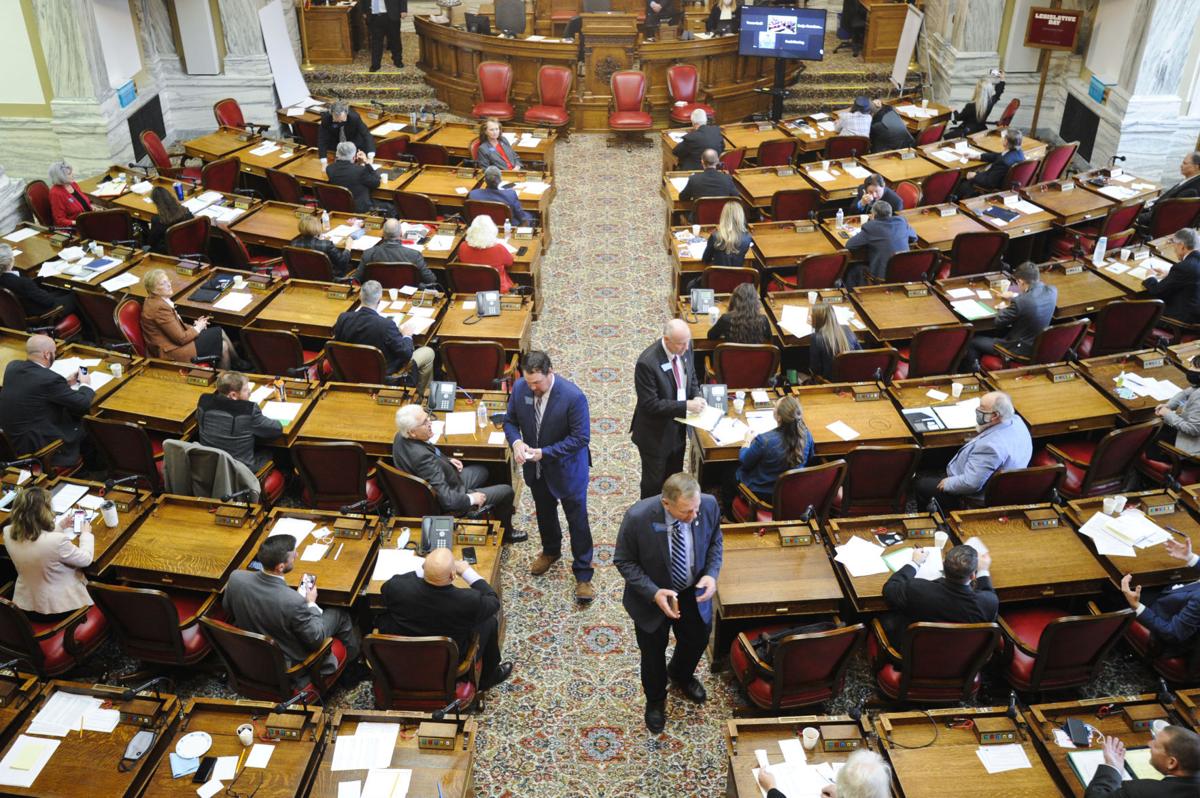 Lawmakers gathered in Helena on Wednesday to elect their leadership for the upcoming session in caucuses that, at least on the Republican side, offered little in the way of mask use in acknowledgement of the novel coronavirus and pandemic.
Fresh off expanding their legislative majorities in the election earlier this month, Republican lawmakers emphasized the potential for their party with a GOP governor for the first time in 16 years.
State Rep. Wylie Galt, R-Martinsdale, was elected speaker of the House. "The people of Montana have placed Republicans in the driver's seat of state government. It is time for us to change how Helena does business," Galt told his caucus.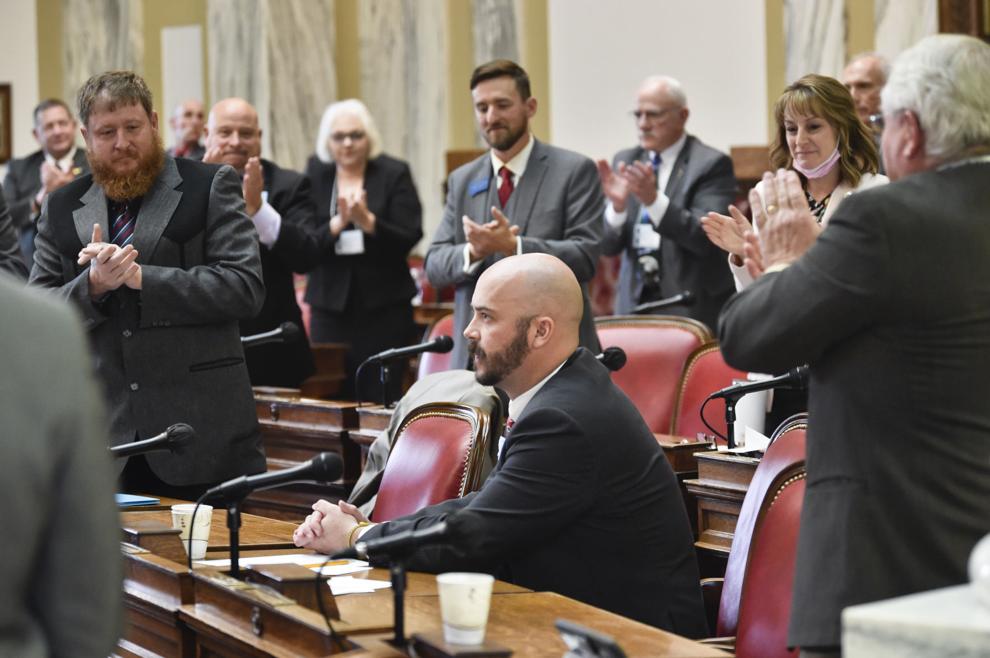 The 2021 session marks the beginning of a new era, Galt said, one where House Republicans finally "have a partner in line with our principles and goals in the governor's office."
"I was frustrated at 16 years of Democratic control of the governor's office. You probably were too," Galt told GOP lawmakers. "The governor's veto is a powerful tool, one that stopped Republican goals all too frequently and divided our caucus."
Incoming Republican Gov. Greg Gianforte won by 12 points over Democratic Lt. Gov. Mike Cooney on Nov. 3. When Gianforte takes office Jan. 4, he'll be the first Republican after four terms of Democrats, two from termed-out Gov. Steve Bullock that followed two previous terms from former Democratic Gov. Brian Schweitzer.
In his speech telling the caucus why they should elect him speaker, Galt echoed a Gianforte campaign pledge of holding the line on spending. He also said as speaker he would protect "the right of life" and the Second Amendment.
In the Senate, Republican Sen. Mark Blasdel, of Kalispell, was picked to be Senate president.
"The voters sent us here with an incredible mandate of how they want the state to move. And I'm prepared to help work with each and every one of you to get there," Blasdel said.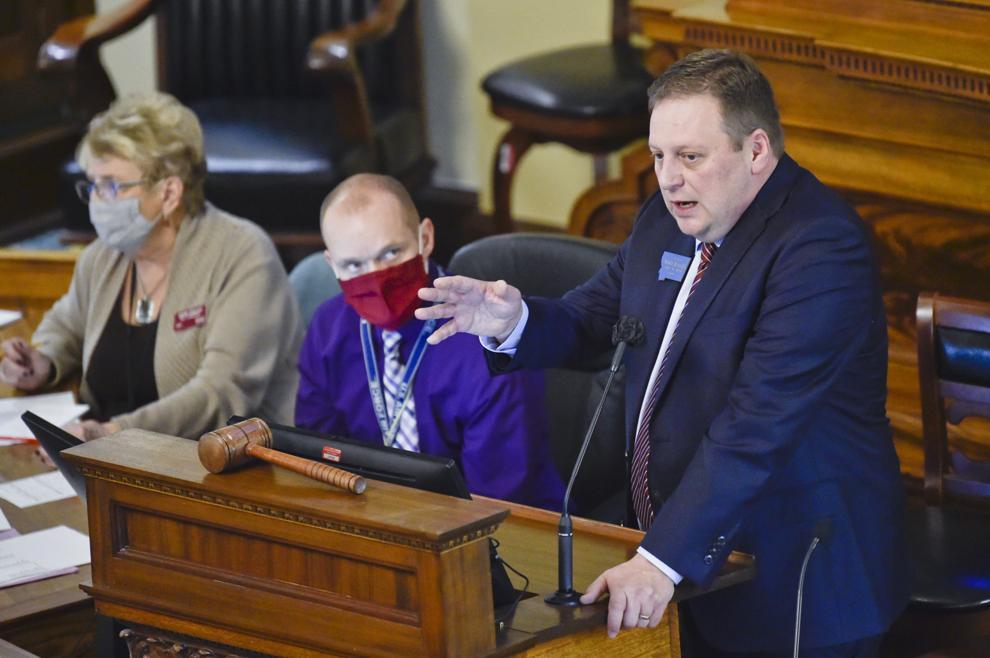 For many Republicans, the 67th Legislature will be their first time in office with a governor from the same party.
"This is the first opportunity many of us have to work with a Republican governor. The times for us talking about when we couldn't do something because of a Democrat governor, or a problem was happening — it's up to us," said Sen. Cary Smith, R-Billings, who ran unopposed for Senate majority leader. "We hold all the offices. We hold the leadership. We hold the majorities. And so it's up to us now, as the people of Montana have sent us here to get some good work done, to do that work."
Democrats elected Rep. Kim Abbott, of Helena, as minority leader in the House. In the Senate, Democrats picked Sen. Jill Cohenour, of East Helena, as minority leader.
"We as a group are going to have a difficult journey ahead, but we are a small and strategic group of warriors that are going to build together the success of this session," Cohenour said.
A group of Republicans who brand themselves as the Conservative Solutions Caucus have worked with minority Democrats over the last few sessions to pass things like an expanded Medicaid program and bonding for infrastructure projects, sometimes to the ire of other Republicans in the Legislature.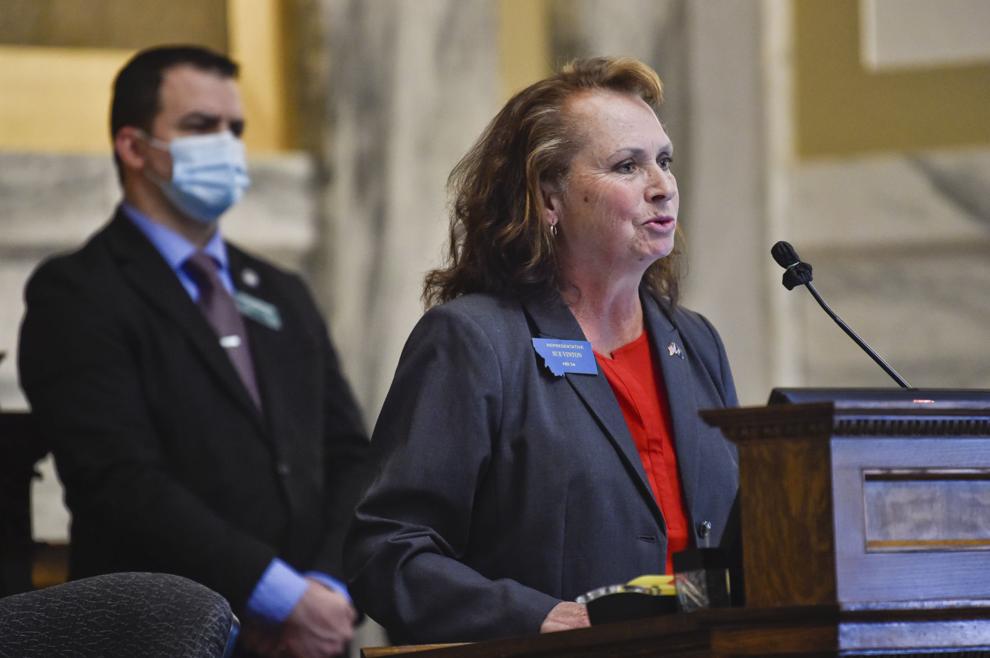 "We will not always agree amongst ourselves, but we will hear each other out with the respect that each of us deserves," Vinton said. "Name-calling, silly games and attacking each other on social media must stop."
After the caucuses in a call with reporters, Abbott called the lack of mask-wearing and distancing in the Republican caucuses dangerous.
"That was reckless behavior from my perspective," Abbott said. " ... We cannot participate in that kind of recklessness."
Abbott said Democrats would fight to make sure lawmakers, staff, lobbyists, the media and public who work at and access the Legislature could do so safely and equitably.
"I'm really hoping we'll find a way to operate safely in the next few days," Abbott said, adding she has "good working relationships" with Republican leaders and expected to be able to come to an agreement in the coming days.
After the caucus, Blasdel said signs in the building, like on the door to the Senate chambers saying masks and social distancing were required, were in place because of the guidance from the county health officer, but it was up to each caucus to determine how they acted Wednesday.
While the state is under a mask mandate, lawmakers have control over what happens in their chambers. Blasdel also said while legislators understood the letter from the health officer, it came just two days before caucuses when many had already traveled to Helena.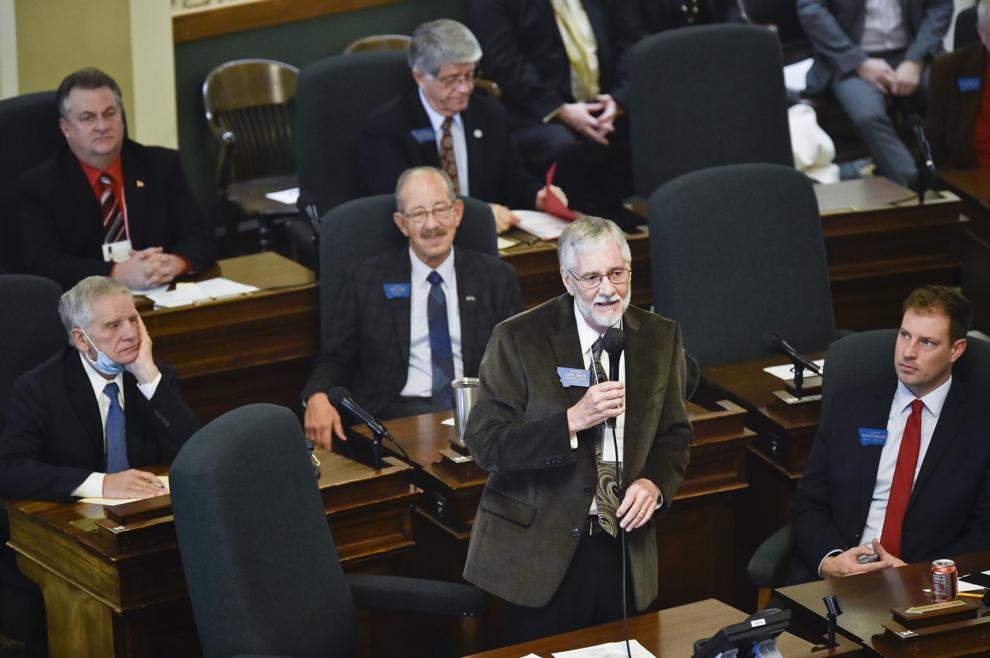 "We left it up to the individual caucuses in both parties to work it out how it would work best for their members," Blasdel said. "There was no heavy hand from leadership or Legislative Council dictating how it would operate. I think everybody was respectful of each other."
Blasdel said the newly elected leadership would sit down Thursday and begin discussing the format of the upcoming session. Members of the Rules Committee will meet in December to advance plans that can be adopted sometime after the Legislature comes into session Jan. 4 that will determine what sort of remote participation is possible. Legislative staff have been preparing for at least some form of hybrid session, with some lawmakers participating in person and others remotely.
"We'll wade through the process of how we keep the session running but also take in those that have concerns. Obviously I think there will be some changes, but I hope to keep some things as normal as possible. ... I do believe there's value to a number of legislators being here in person and the comradery and being able to discuss things face to face," Blasdel said.
Galt said his ideal scenario, which he added is unlikely, is the rapid deployment of a vaccine and a session that looks much like they have in years past. Though vaccines could be distributed to those most at-risk in the coming months, experts say it will take longer to broadly vaccinate the population. But he said legislators and staff are also working on the "worst-case scenario" to do a remote session if needed.
Galt said House Republicans aimed to follow distancing measures Wednesday, and some were spread out across the 100 desks in the House. He also said wearing masks was a "personal choice."
"Everybody knew the suggestion of masks, but constitutionally we can't stop anyone from coming in and doing their work," Galt said.
— Reporters Kevin Trevellyan at Yellowstone Public Radio; Chris Aaland, Eric Deitrich and Mara Silvers at Montana Free Press; and Shaylee Ragar at Montana Public Radio contributed to this report.