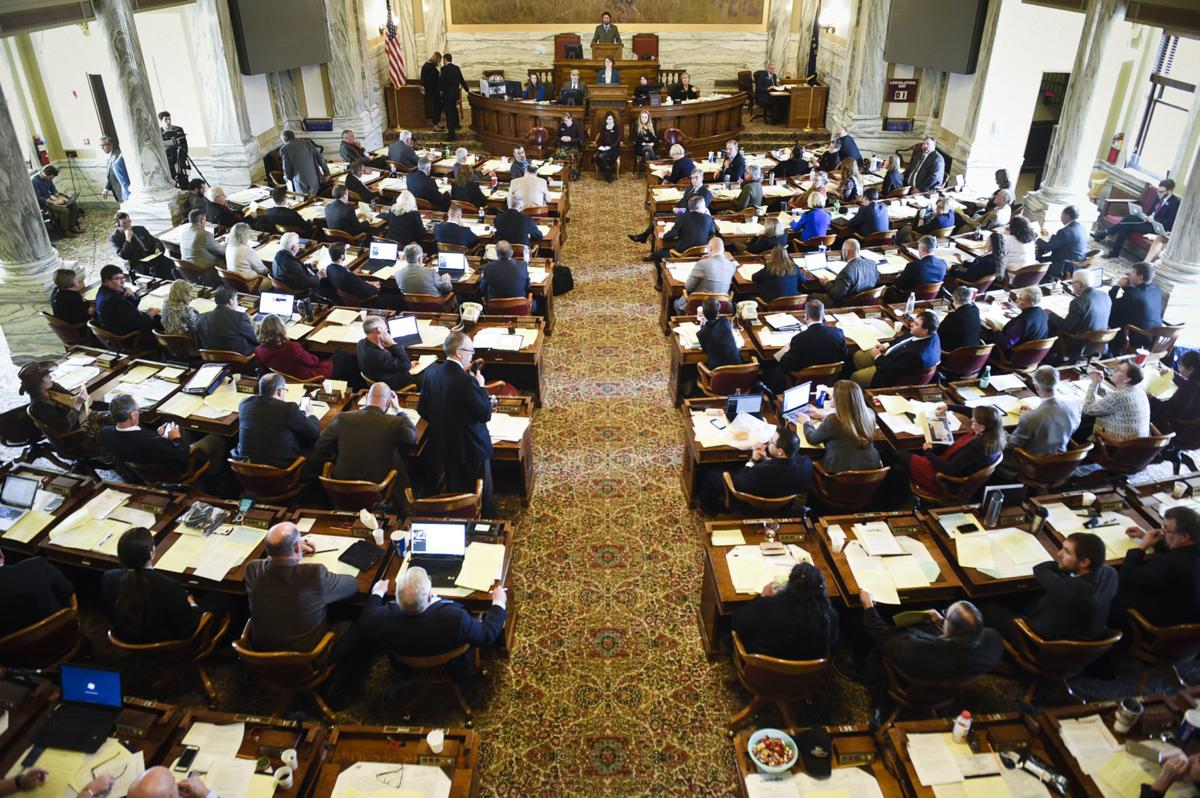 Helena's status as a largely Democratic stronghold is well-known, but next month's races for the Montana House of Representatives will display the capital city's political leanings to a particularly great degree.
The races for House districts 79, 81, 82, 83 and 84 — which take up all the land within Helena city limits — each consist of a lone Democrat. No Republicans even ran in the June primaries within these districts. 
In stark contrast, only two of the eight House elections in Bozeman next month include unopposed candidates. Of the 11 House races in Missoula, Democrat Andrea Olson of District 100 is the only unopposed candidate. All House candidates with addresses in Billings and Great Falls have at least one opponent.
Of course, Helena's races are not likely to have an unanticipated impact on the composition of the next Montana House. Democrats have not held a majority in the House since redistricting in 2014, and a Republican has not represented any of Helena's five House districts under the current legislative map.
Despite the difficulty of flipping a district, competition has declined quickly. The number of contested races within Helena's House districts fell from four in 2014 to two in 2016 to zero next month.
Jeremy Johnson, an associate professor of political science at Carroll College, said Democrat Hillary Clinton's wide margin of victory in Helena precincts in the 2016 presidential election forecast Republican chances in Helena next month as "not that great," and could have contributed to a lack of participation.
"People tend to want to run in races where they have a chance to win," Johnson said. "Sometimes someone will run and be a sacrificial lamb, and sometimes someone will not be. And I'm not sure why this election cycle there's not as many, but just generally speaking people generally don't just want to be (running) for the sake of running and then lose."
However, Johnson said he doesn't know why Helena, specifically, is seeing so many uncontested races compared to the rest of the state.
"Obviously cities like Billings are not as Democratic as Helena, so it may just be there's fewer people who wanted to take the plunge, and to likely lose," Johnson said. "But I don't really know the answer to why Helena versus other cities in Montana."
Johnson said Helena's high percentage of government employees is likely the largest contributor to the city's status as a Democratic haven, as well as the presence of other liberally inclined professionals and two colleges. He added that urban areas tend to be more Democratic, "across the nation, not just here."
The Helena Area Chamber of Commerce's 2017 economic trend report cited data from ourfactsyourfuture.org showing that public administration employed 19.3 percent of area workers, second only to education and health care at 21.6 percent.
'Helena's just a microcosm'
Joe Dooling, chairman of the Lewis and Clark County Republican Central Committee for nearly the past five years, said the lack of competition comes down to "very good data and very partisan redistricting."
"Both parties know exactly where, down to the precincts, what votes are what," Dooling said. "There's a give-and-take."
Montana's present legislative map has been kinder to House Democrats, if only momentarily. Republicans held 63 of the the House's 100 seats after the 2012 elections. In both 2014 and 2016, both post-redistricting, the GOP held a slimmer majority of 59 after Election Day.
Of all Lewis and Clark County House Districts without a Republican candidate, Dooling said the only one that could have had a close race is House District 84, comprising portions of East Helena and south Helena bordering Broadwater County. Dooling said a Republican candidate filed but ended up being pulled from the ballot for incomplete paperwork.
"That is the only one that we have seen that's been in play," Dooling said of District 84.
Lewis and Clark County is still well represented by Republicans outside of the Helena area, Dooling noted, echoing Johnson's mention of the political division between largely Democratic cities and largely Republican rural areas.
"Helena's just a microcosm of that," Dooling said.
Aside from the Helena-area House races, no Republican is in the running for county treasurer, county attorney — a race Dooling admits he did not do any recruitment for — or the seat held by Democratic Lewis and Clark County Commissioner Andy Hunthausen. Dooling said his work as chairman of the county Fair Board brought him to respect Hunthausen's ability to work with both parties.
Chairwoman Sandi Luckey of the Lewis and Clark County Democratic Central Committee said Helena's status as a legislative center and high percentage of government workers, among other things, are likely what set the capital city apart.
"We're a pretty smart population, and we want our government to work for us," Luckey said. "We have a fair percentage of our population that are a part of the operation of our government working for us. I think that we probably are a population that isn't able to be swayed by hype and antics. And I do think our legislators in this community are good legislators."
Luckey also pointed to the local involvement of Helena's legislators, saying they "don't work 90 days every two years."
"You go to community events all over Helena, doesn't matter the day of the week or the month of the year, you're going to see a couple of our legislators if not more," Luckey said. "People know when someone's working for them."
Benefits of campaigning
Julie Dooling, wife of Joe, won the Republican primary in House District 70, which comprises Broadwater and southeastern Lewis and Clark counties. Her opponent next month, Libertarian Chris Richards, said he is running as a paper candidate to bring awareness to his party's Broadwater County chapter.
However, Julie Dooling faced steep competition in the Republican primary, defeating three opponents and carrying a plurality in both District 70 counties. With this in mind, she believes such competition is valuable.
"I think it's really important, and it holds the incumbent more accountable as to how they're going to handle their job when they're in session," she said. "Nothing is permanent, nothing's forever, and if you don't do a good job, why would your constituents vote you back in to serve another session?"
Julie Dooling is a veteran of the financial industry, which she hopes will translate into protection for Broadwater's very rural economy.
"I hope to protect the industries that are valuable in driving the economy there," Julie Dooling said. "My husband and I have a ranch, and we know how important keeping laws current and protecting the producer is."
Though competition has dropped off in Helena, it's not as if the area's previous contested races have all been blowouts. Of the six contested state House elections held in Helena's districts the past two cycles, a Democrat carried 60 percent of the vote only once.
The races in District 84 have been particularly close. In 2014, incumbent Democrat Rep. Mary Ann Dunwell defeated then-incumbent Steve Gibson by just 23 votes, or 0.61 percent of all votes cast. In 2016, Dunwell defeated Gibson by only 119 votes, just over 2 percent of all votes cast and 60 fewer than went to Libertarian challenger Paula Bonar.
In June, Dunwell ran unopposed in the District 84 Democratic primary for the third consecutive time. This cycle is her first facing no opponents on either side of the ticket.
"Certainly if an elected official is not doing her job, the whole process is set up that there will be an opponent" eventually, even if that opponent ends up facing intraparty opposition in a primary, Dunwell said.
Raising and spending 
Though Dunwell believes competition at all levels is healthy for democracy, she acknowledges that it has its downsides. Close races, like those she faced in 2014 and 2016, demand significant time and money from a candidate.
"Some people just can't devote that time," Dunwell said. "So we disenfranchise those potentially very good candidates."
Democratic Rep. Kim Abbott, running unopposed for a second term in House District 83, said she appreciates the absence of a constant need to raise and spend campaign funds this cycle.
"I had an opponent last time, I enjoyed running and sharing ideas with (opponent Bob Leach) and talking to voters," Abbott said. "The main thing that you want is an engaged community, and I think we have that in Helena, and I think we've seen good forums and the sharing of ideas this cycle despite the fact that there are a number of people that are unopposed on the ballot."
Abbott defeated the Republican Leach with 55 percent of the District 83 vote in 2016. Leach is seeking the Senate District 42 seat next month against that district's incumbent, Democrat Sen. Jill Cohenour.
Dunwell said there have been advantages to running unopposed, even aside from lower spending and an ensured seat in the House.
Having raised money early in the election cycle when it appeared she would face a Republican opponent in District 84, Dunwell has since been able to contribute to a variety of Democratic campaigns. Her latest campaign finance report shows contributions to Democrats running for both houses of the state Legislature, the Montana Public Service Commission and even the race for Lewis and Clark County sheriff totaling over $2,000.
Dunwell has also helped campaign for J. Bryher Herak, a Democrat running in Jefferson County's House District 75; Cohenour; and federal candidates Kathleen Williams and Sen. Jon Tester.
"Lots of people worked for me my first two campaigns when I had an opponent," Dunwell said, "so now we're paying it forward a little bit."