Olszewski, 56, is a orthopedic surgeon in Kalispell who has been in the Legislature since 2014, first as a representative and now as a senator. He was also a candidate for lieutenant governor in 2012.
U.S. Rep. Greg Gianforte, who lost the governor's race in 2016, is expected to run for the seat. Republicans Peter Ziehli, of Kalispell, and Gary Perry, of Manhattan, have also filed paperwork to run. 
Fox can't run again for attorney general because of term limits, though Stapleton is making the jump to the governor's race instead of seeking a second term as secretary of state.
Gov. Steve Bullock, a Democrat, is termed out from running again. No Democrats have announced yet for the seat.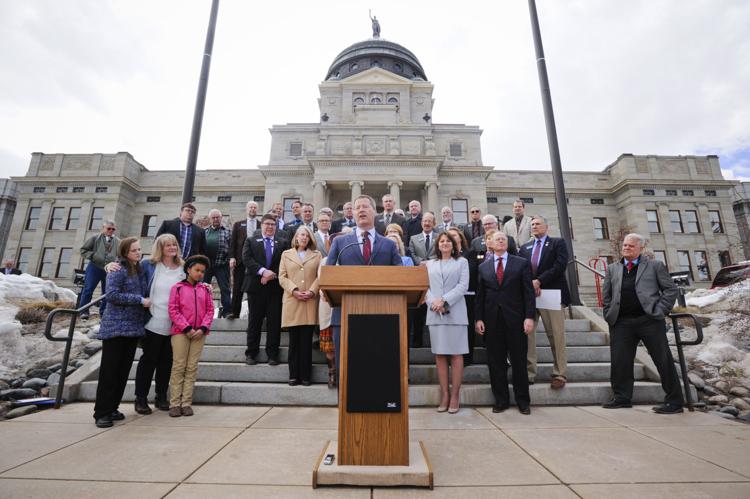 A conservative Republican, Olszewski this session is carrying legislation to make changes to the health insurance landscape, as well a bill related to abortion. In an announcement from the state Capitol steps Wednesday, he emphasized his focus on health care.
"Health care is profitable for some, free for others and it's very burdensome for most. And that's got to stop and we're going to fix that. As your governor, we will work on that," Olszewski said.
You have free articles remaining.
In the 2018 primary, Olszewski called for less federal involvement in health care and a reduction in regulations not related to patient care, saying states need more control in regulating what kinds of plans are offered, and to allow choice and competition across state lines. He also supports examining the use of a reinsurance pool for high-risk individuals.
In 2015 in the state House, Olszewski voted against Medicaid expansion, a program that now covers about 96,000 Montanans. While a compromise to continue the program is expected to pass the Legislature this session, the next governor will likely play a role in its future. That's because the funding for the program will move into the regular budget and must be approved every two years. The bill also includes a sunset in 2025 if the U.S. Supreme Court strikes down work requirements, which are included in the bill.
Olszewski on Wednesday also called for a "reset" of the relationship between the Legislature and the governor's office.
"The legislative branch is merely tolerated for 90 days and ignored for two years, until the next session, and that's got to stop," Olszewski said.
Touching on a big issue in the 2016 governor's race, Olszewski said he also plans to campaign on access to public lands.
"We're going to fight and defend our public lands, but we're also going to open up the access to our public lands," Olzsewski said. " … If you want a backpack with 50 pounds of freeze-dried foods, we have a place for you. If you want to go snowmobiling, we're going to have a place for you. And if you need to use a 4-by-4 to get that lake that your grandparents took you fishing, well, we're going to tear down those gates."
"I'm a physician. I'm a very strong pro-life candidate, and I believe in the sanctity of life, which goes all the way from conception to natural death. My belief is we should greatly restrict it or eliminate it, but I also do understand there is going to be a situation where maybe there's a person who should never leave prison, who should never get it out," said Olszewski, who is Catholic.
Olszewski also was in the U.S. Air Force, where he was a flight and trauma surgeon. Olszewski and his wife, Nancee, have six children. He was born in Great Falls and attended C.M. Russell High and then Carroll College before getting a doctorate from the University of Washington Medical School.