A state District Court judge on Tuesday put the brakes on several new abortion restrictions in Montana, including laws to tighten requirements for medically necessary abortions covered by Medicaid, require ultrasounds and ban the most commonly used procedure to terminate pregnancies in the second trimester.
In an oral ruling following a four-hour hearing in Lewis and Clark County District Court, Judge Mike Menahan granted preliminary injunctions against four bills recently signed into law by Republican Gov. Greg Gianforte. All four were passed by GOP lawmakers during the legislative session that ended earlier this month, and subsequently challenged in a pair of lawsuits filed by plaintiffs including Planned Parenthood of Montana, the Center for Reproductive Rights, Blue Mountain Clinic, All Families Healthcare and the American Civil Liberties Union Montana.
Defendants in the two lawsuits included the Department of Public Health and Human Services, department director Charlie Brereton and Attorney General Austin Knudsen.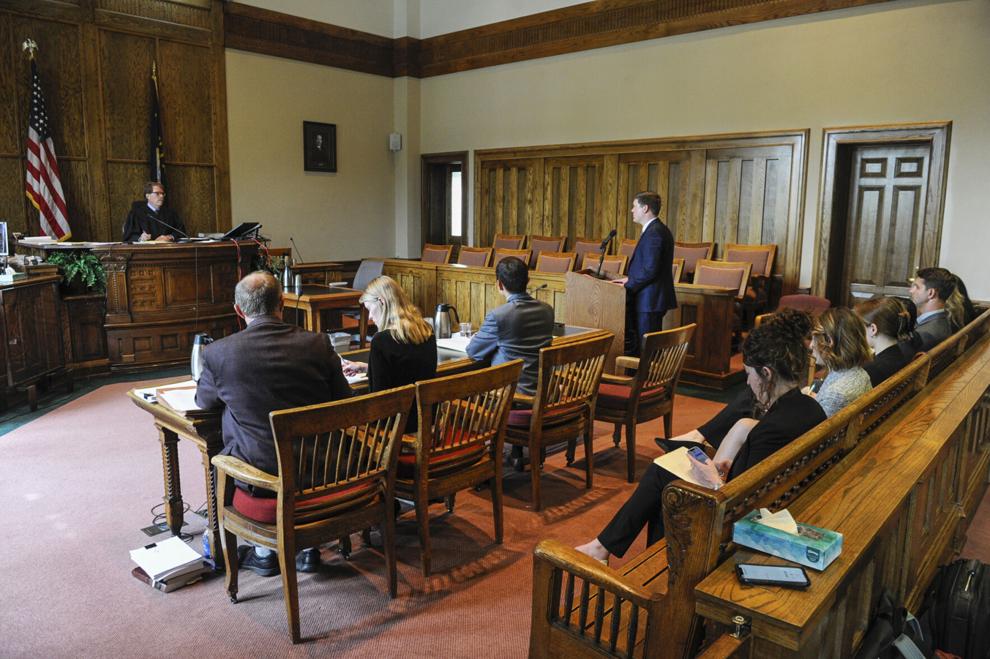 "I think the purpose of an injunction is to essentially maintain the status quo," Menahan said. "That, above all considerations, is the most important one for me."
Menahan previously granted temporary restraining orders on two of those new laws earlier this month. House Bill 721 sought to ban dilation and evacuation, the only procedure used in Montana to terminate pregnancies after 15 weeks' gestational age. It effectively banned abortions in Montana after that stage of pregnancy, despite an existing state Supreme Court ruling that protects a right to an abortion up to viability.
And House Bill 575, which was temporarily blocked three weeks ago, sought to require ultrasounds before all abortions and set the default for viability at 24 weeks' gestational age, regardless of the condition of the fetus. On Tuesday, plaintiffs made the case that the ultrasound requirement effectively outlawed telehealth medication abortions, by requiring an in-person visit prior to being prescribed the medication.
"That adds an extra step to the procedure and it obviates the whole benefit of doing direct-to-patient abortion care," said Dr. Steven Ralston, a professor of OBGYN at the University of Maryland who testified remotely as an expert witness for the plaintiffs.
The defense cited witness testimony to make the case that ultrasounds are the accepted medical standard for determining the gestational age of a fetus, and identifying potential complications like an ectopic pregnancy. That refers to a dangerous condition in which the fertilized egg implants outside the uterus.
Deputy Attorney General Thane Johnson also pointed to the testimony of one of the plaintiffs' witnesses, All Families Healthcare owner Helen Weems, who noted that she conducts ultrasounds prior to performing abortions at her clinic in Whitefish.
Dr. George Mulcair-Jones, an expert witness who testified for the state, practiced in Butte for 30 years and specialized in miscarriages and stillbirths. He called ultrasound the "gold standard" for safely performing those types of procedures, which he stressed are medically similar to abortion.
"I think it protects the woman, it allows the best kind of care and to be frank, it protects the abortion provider, if the person does decide to have a termination, to know the gestational age, to know they're doing an abortion at the appropriate place with the appropriate method," Mulcair-Jones said.
The preliminary injunction puts those laws, along with House Bills 862 and 544, on hold until there is a final ruling on their merits.
HB 862 would block Medicaid from covering abortions except in cases of rape, incest or if the life of the mother is at risk. The plaintiffs argued that doing so amounts to a partial abortion ban for lower-income Montanans. Dr. Samuel Dickman, the chief medical officer for Planned Parenthood of Montana, testified that 45% of the provider's patients rely on Medicaid for abortions, and would have difficulty paying the costs out-of-pocket.
He also noted that requiring patients to prove their pregnancy was the product of rape or incest would result in many of them opting against seeking an abortion.
"It would put patients and providers in an incredibly difficult position," Dickman said. "We know that victims of sexual assault often take months or — even more often — years in order to feel comfortable disclosing to a close friend or family member."
He added, "For those who chose to share it, that would be a retraumatizing experience for those survivors."
The state stressed that access wouldn't change under the law; patients would simply need to foot the bill themselves.
"If they pay for them, you can provide them," Johnson noted during his cross-examination of Dickman.
Also on hold is House Bill 544, legislation largely identical to an administrative rule from the state health department that required preauthorization for abortions covered by Medicaid and changed the definition of what counts as a medically necessary abortion. It also limited who can perform the procedure to only physicians.
In other states with similar laws in effect, Dickman said, "providers are being forced to wait while patients' conditions worsen to provide abortion care, and that puts providers in an ethically compromised position."
Attorneys for the plaintiffs argued that a determination of medical necessity should rest with health care providers, and not the state. Weems testified that she takes into account a patient's medical history as well as physical, emotional and social well-being. Factors like an abusive partner, depression or previous substance abuse influence that determination, she said.
The state argued that the new law's provisions only require that those providers include documentation to back up their assessments that the procedure should be covered by Medicaid. In her closing, Assistant Attorney General Alwyn Lansing argued the law in part reduces the risk of the state Department of Public Health and Human Services running afoul of federal requirements for Medicaid dollars used to cover abortions.
"It would certainly hurt the public were DPHHS to be enjoined from enforcing the rule that protects the very Medicaid funds the plaintiffs' patients benefit from," Lansing said.
In a joint statement released after the hearing, the plaintiffs praised Menahan's decision to enjoin the laws.
"While this fight is not yet over, we are relieved that Montanans can still access vital, medically necessary, and potentially life-saving reproductive health care services without being unjustly turned away due to their income and insurance status," the statement read in part. "Pregnant people who rely on Medicaid deserve the same access as every other Montanan to the full spectrum of reproductive health services, including abortion."
Emily Flower, a spokesperson for Attorney General Knudsen, released a statement referring to Menahan's 2011 voting record as a Democratic lawmaker before he was elected to the district court.
"It's not surprising that a judge who had a 100% voting record with Planned Parenthood while a Democrat in the Legislature would block the most basic health protections for pregnant women and unborn babies," Flower wrote. "That said, this is a preliminary matter at this point. The complete factual and legal argument will reinforce the constitutionality of these laws."