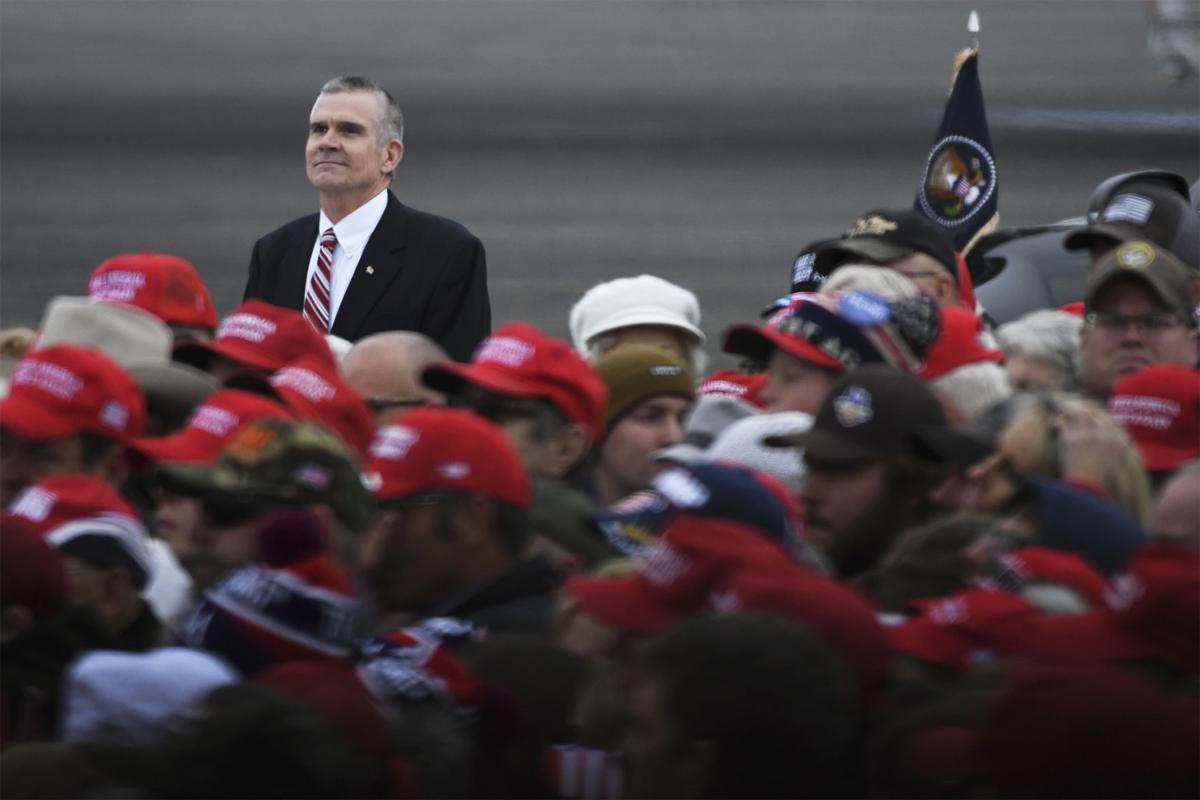 BOZEMAN — Hundreds of thousands of registered Montana voters with a pen, a ballot and a vote.
That's what it will all come down to Tuesday in the state's U.S. Senate race.
President Donald Trump's unprecedented fourth and final rally Saturday at the Bozeman Yellowstone International Airport in Belgrade marked the start of the sprint toward the end of a midterm election unlike any other in Montana, where not only the president but a deluge of his surrogates have flooded a state that traditionally casts a wary eye on outsiders who fly in and tell them what to do.
Trump's visits are in support of Republican state Auditor Matt Rosendale, who is trying to unseat Montana's senior U.S. Sen. Jon Tester, a Democratic incumbent. Trump has also made clear he's come to Montana so many times because of the failed nomination of Rear Admiral Ronny Jackson to run the U.S. Department of Veterans Affairs. Tester made public allegations of improper behavior by Jackson, who withdrew his name from nomination, something Trump is still fuming over.
Tester is a third-generation dirt farmer from the small town of Big Sandy, and Rosendale has tried to paint him as out of touch with his Montana roots after two terms in Washington, D.C. Rosendale is a developer who bought a ranch in Glendive 16 years ago, and Tester calls him a carpetbagger who doesn't understand the struggles of the state's rural residents.
Rosendale has given much of his campaign event time in the two weeks running up to the election to Trump-adjacent names that have come to the state to stump for him — Vice President Mike Pence, Donald Trump Jr., his girlfriend and ex-Fox News personality Kimberly Guilfoyle, and Sens. Rand Paul, Lindsey Graham and Mike Lee.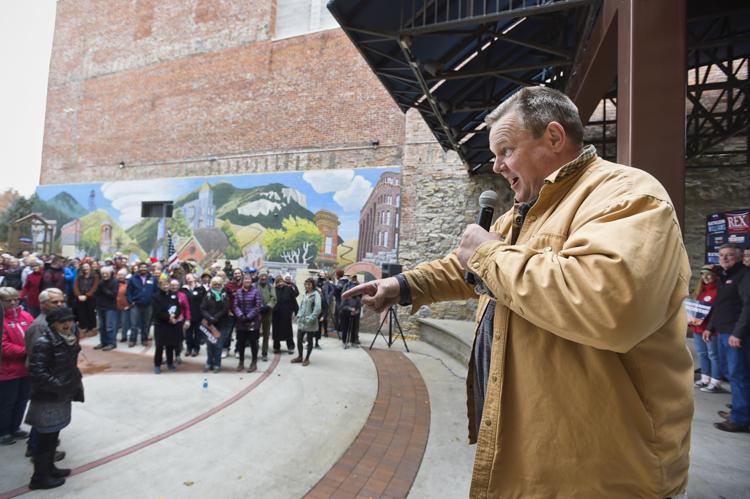 Meanwhile, at dozens of Democratic get-out-the-vote rallies across the state, it's clear the star of that show is Tester. Earlier in the election he got a boost from actor and part-time Livingston-area resident Jeff Bridges. The rock band Pearl Jam also held a concert in Missoula to encourage people to vote. But that's the extent of surrogates coming into the state to support him.
Tester has long said about big-name backers that he doesn't need 'em and doesn't want 'em.
"We're talking to Montanans one-on-one. This is a race about myself and my opponent, Matt Rosendale. I think more than anything he brings folks in to try and deflect," Tester said. "This is a retail state. I can bring in all sorts of folks but this race is about us two. Montanans need to hear from me."
Craig Stewart, a professor at Montana State University in Bozeman, was doing his best Thursday to ignore what he called the "circus" about to descend on his town. He and his wife, Martie, were burned out on the election in general and especially all the attention paid to Montana by the president. 
"How many hundreds of millions of taxpayer dollars was spent to get these clowns here?" Craig Stewart asked.
"I would love to know how much it costs to fly that presidential plane out here," Martie Stewart said.
Both of the Stewarts, who support Tester, had already voted. Martie Stewart even put her "I voted" sticker on the front door to ward off canvassers. It hasn't worked.
At the Montana State University campus dining hall, student Shane Docks had also voted but had to be told a list of the candidates to remember that he'd supported Rosendale. Justin Smith, who was studying with Docks, hadn't voted yet but also planned to support "the Republican guy" — that is, Rosendale.
Most of what Smith has learned about the candidates has come from radio. He said what's important to him this election is immigration, and referenced the Central American migrant caravan Trump has focused on so much in the last few weeks and again at the rally Saturday. He also said he's worried about protecting the Second Amendment.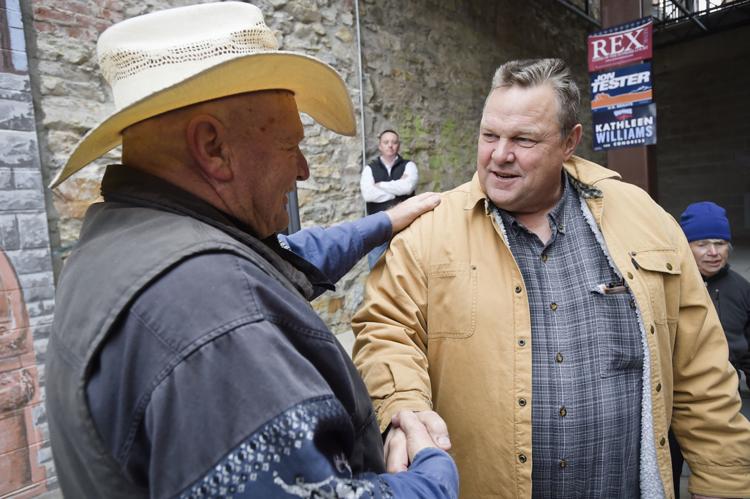 Two days before Trump came to the Bozeman area, and five days away from the election, Tester shared a stage with Cecile Richards, the former president of Planned Parenthood Federation of America and Planned Parenthood Action Fund. The two talked for about an hour to mostly women about mostly women's health care issues.
While Trump has rallied his base in the past by floating a cut to funding for the women's health care provider, Tester didn't shy away from the issue so close to election day.
"I don't care if you're a Republican, Independent, Democrat, Libertarian, it doesn't matter. Look, Planned Parenthood offers health care to people. In a rural state like Montana, that access is critical.
Rosendale criticized Tester's appearance with Richards during Saturday's rally with Trump. 
"I am proud to defend life and proud to have our president standing here with me," Rosendale said.
The state auditor has avoided talking about health care at his campaign events. Instead, when he tells crowds about his almost two years in the office that oversees health insurance companies in the Montana, Rosendale doesn't bring up affordability or access to health care.
Instead, he talks about slashing the agency's budget, reducing employees, cutting regulations and refusing a wage increase.
More of Rosendale's time in front of crowds is spent on his pitch to vote with the president at every turn and pointing out where Tester has not. 
Rosendale told the rally at the airport Saturday he's got the support of Trump, which he said will bode well for Montana.
"[Tester] pretends that he works with President Trump, but it's all talk. He doesn't work with the president at all," Rosendale said. "President Trump needs our help right now to win this race. I need your help right now to win this race."
Jeremy Johnson, a political scientist at Carroll College, said Rosendale's strategy of velcroing himself to Trump was questioned by observers and political strategists at first, but it's turned out to be the most successful route the candidate could have picked.
"It's the way Republicans are running nationwide, especially in red states" that voted for Trump in 2016. "Rosendale's message is essentially that he's going to provide a vote for Trump and that is not a complicated message," Johnson said.
Johnson said it's not typical for a candidate to go all-in on a president, especially in midterm elections that are more commonly a referendum on the president and his party. But, and it almost needs no pointing out at this point, Trump is not a normal president.
"Even though there's a lot of dissension, his core support has remained strong," Johnson said. "[Rosendale's] hope is to try to maximize the Trump base and that will be enough to carry him over the finish line."
Polling on the race shows it to be a statistical tie, with Tester leading but within the margin of error.
Kylie Kerkaert of Belgrade is part of that base. She was taking photos with friends early Saturday just below the riser where Trump was set to speak more than three hours later. 
"Trump! Trump is why were here today," she said. 
Kerkaert said she hadn't voted yet, but planned to Tuesday. She said she'll support Rosendale "because he's not a Democrat."
"He's not Jon Tester," Kerkaert said. "Jon Tester needs to get the hell out of the Senate."
Kerkaert's frustration with Tester stems from his vote in 2010 to pass the Affordable Care Act.
At Saturday's rally, Trump said Montanans would need to worry about their safety if Tester was re-elected because of immigration policies. 
"Even you in Montana, you're not going to be able to walk around. You'll be locking those doors. You'll be locking those windows,"  Trump said.
Former Ambassador to China and ex-U.S. Montana U.S. Sen. Max Baucus said Friday he sees the race boiling down to a contest "between hope and fear."
"This is a race really between Jon Tester, who has localized the race. He's talking about Montana personally, about health care, public lands, and on the other hand, Donald Trump, who has nationalized the race and is talking about immigration and other issues which cause people fear and trepidation," Baucus said.
At Tester's events, the senator hardly ever mentions the president and instead focuses on the differences between himself and Rosendale.
In an interview last week, Tester said he isn't fazed by the attacks from Trump and surrogates, even after Donald Trump Jr. last week called him a "piece of garbage" at a Helena rally.
"Will I be critical of them when I need to be critical? Yeah. But that's the way they want to go, that's the way they go," Tester said. "That's not how I'm wired. I'm a Montanan, [Trump Jr.] is a New York City guy. He's going to do what he's going to do, I'm going to do what I'm going to do."
And what Tester has done is is what he's done in his past two Senate runs — holding as many get-out-the-vote efforts as time and distance between Montana's cities and towns allow before the vote.
Charlie McCarthy, a Tester supporter in Helena, said in the end he doesn't think all that attention will matter.
"I think they're barking up the wrong tree, frankly," McCarthy said. "I think they're going to find out no matter how much money they spend and how many people they try to influence in Montana, we all respect Montana values. … Send them from Washington all they want, we're going to vote Montana."
Get Government & Politics updates in your inbox!
Stay up-to-date on the latest in local and national government and political topics with our newsletter.