In the dead of last winter, hundreds of Montanans gathered at the state Capitol. The group covered the dormant lawn and filled in the space from the statue of Thomas Meagher to a wooden podium for a speaker who wasn't scheduled to be there.
Riding the wave of the Women's March that drew thousands to the same site in Helena exactly a month earlier, with some attendees recycling their pink knit hats and possibly some protest signs, the group was trying to bring a town hall meeting to Montana U.S. Sen. Steve Daines.
Daines was scheduled to address the state Legislature that day but canceled at the last minute and rescheduled for the following day. But the protest went on — a town hall for a U.S. senator who hadn't scheduled one and wasn't there anyway.
Though Daines often points to the other ways he says he meets with Montanans and solicits their feedback, the event highlighted just how much of a flash point town halls have become in the way Montana's congressional delegation engages with their constituents.
As the issue has bubbled in letters to the editor in papers around the state and the opinion chamber that is Montana politics on Twitter, it's raised the question about the importance and value of how Montana's trio in congress stays in touch with the people they represent.
"The town halls are not currently, because of the political peril involved, functioning as they were originally were as a way to hear from people," said Jeremy Johnson, an associate professor of political science at Carroll College in Helena. "That's made the town hall less effective as a means to really get interesting information from constituents."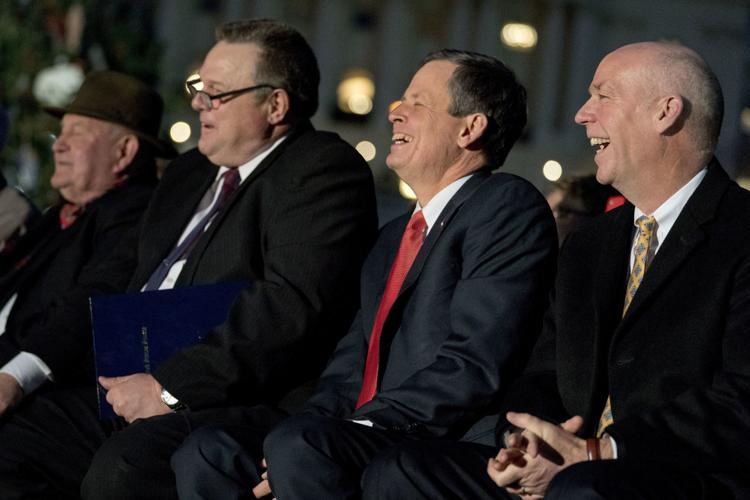 Two of the three men who represent Montana in Congress have moved to holding telephone-only town halls while pointing to other ways they say they engage voters. Montana's lone Democrat in the delegation, U.S. Sen. Jon Tester, still holds in-person town halls in addition to other methods of outreach.
All three, Daines, Tester and U.S. Rep. Greg Gianforte, who was elected last May, say connecting with voters isn't always easy in a state like Montana. But each defends his approach as the best way to cover 147,000 square miles and connect with a little over 1 million people.
Sen. Steve Daines
Daines, who has been one of Montana's two U.S. senators since 2015, plays up his travel, saying he visits each of Montana's 56 counties during every congressional session. On his website, there's a page touting "Steve's Montana Travels."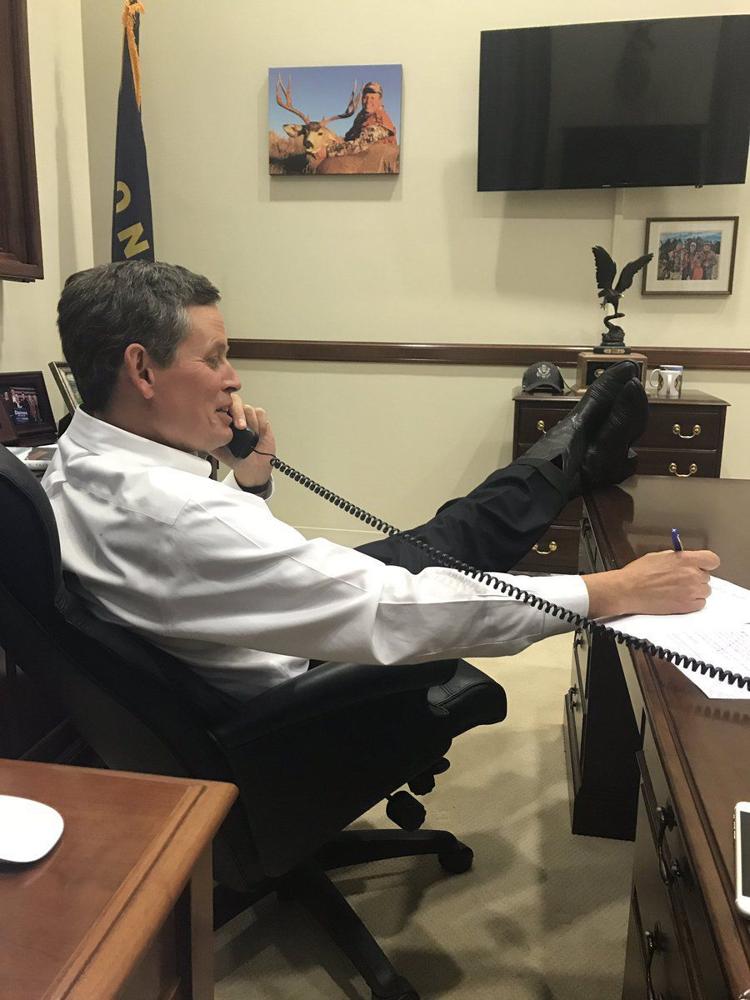 "The senator stays in contact with constituents through a variety of ways. Between tele-town halls, his meeting with constituents in both D.C. and Montana, his various summits and many more staying connected with those back at home is a big priority," said spokeswoman Julia Doyle.
Doyle also pointed out Daines' trip to eastern Montana earlier this month, visiting Billings, Sidney, Circle, Glendive, Ekalaka, Baker, Wibaux, Terry and Miles City. The trip included stops at workplaces as well as coffee in small-town cafes, but the events, critics point out, though they are open to the public are not publicized the same as town halls.
"Those are meetings with constituent groups of individuals, an specialized thing and not an open call," Johnson said.
On the 37 Montana travel events listed on Daines' website for 2017, many are similar events with a tailored audience, such as a discussion with grain growers in Great Falls at the Grain Growers Office. Others, though less common, are more open to the public and publicized in advance, such as the senator's participation in the Missing and Murdered Indigenous Women Walk in Lame Deer.
Doyle also focused on Daines' rotating summits, with topics cycling between energy, technology and agriculture. More than 700 attended the Montana Tech Summit in Missoula, Doyle said, though the event itself did have a charge to register.
On his tele-town halls, Daines emphasizes the reach of a phone call in a geographically large state. According to numbers from his staff, 27,409 people participated in his last tele-town hall on Jan. 16. That was his 20th such call. The number of who attended are people who answered the call and participated, his staff said.
The tele-town halls are also broadcast on Facebook live. Doyle said one in January was watched by 6,600 people, 80 percent of whom live in Montana. Doyle added that questions are selected based on geography. 
"This is done to ensure voices throughout Montana are heard," she said.
Rep. Greg Gianforte
Gianforte has also focused on travel and targeted events with a more curated audience, supplemented with tele-town halls and trips home every weekend.
Spokesman Travis Hall said that remaining in touch with Montanans is a "top prioroty for the congressman."
"He remains closely connected to Montanans in a variety of ways," Hall said.
When Gianforte first took office, Hall said, he set out to visit each of Montana's 56 counties in a listening tour. Events tended to be on-site with businesses, with local elected officials, or in other more controlled settings.
Gianforte also has held monthly tele-town halls since wrapping up the county tour, with each call reaching about 100,000 people, Hall said.
"Since Greg represents the largest population of any House district and the second-largest in terms of geography, tele-town halls are the most efficient and effective way to connect with Montanans in every corner of the state," Hall said.
Sen. Jon Tester
By contrast, the lone Democrat in the three-person delegation, U.S. Sen. Jon Tester, in 2017 hosted 41 listening sessions, town halls and round tables, 32 of which were in communities around Montana, according to data provided by the senator's staff. The rest were phone or online events. Tester was first elected to the Senate in 2007.
"As Montana's voice in the Senate, it is critically important that I get back as often as I can to hear directly from the folks on the ground. Don't let anyone try to tell you the best way to do this is over the phone," Tester said. "Telephone and online calls are easy, but nothing beats meeting with Montanans eyeball to eyeball. I get some of my best ideas during actual meetings with Montanans."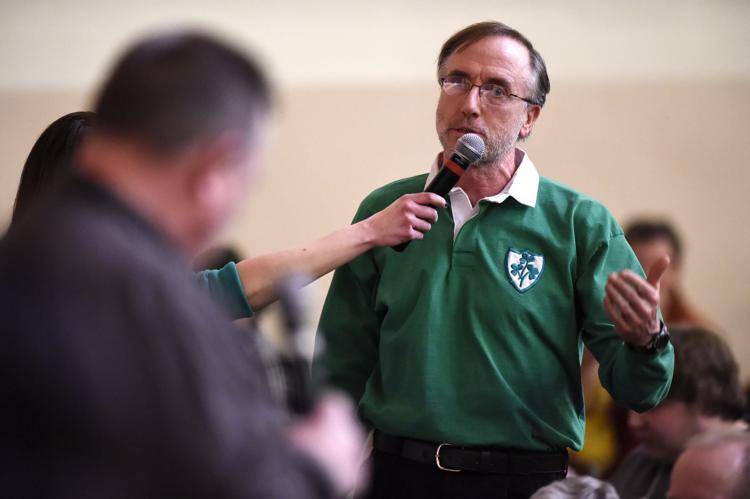 Tele or in person
Johnson, the political scientist at Carroll College, said that not holding town halls in person allows politicians to avoid dreaded viral video clips or photos with constituents who are upset about a stance held by the elected official.
"The reason politicians are doing tele-town halls is to try to avoid dramatic press clips of a constituent asking hard questions they don't really want to answer or a lot of protests that then go viral," Johnson said. That's why they do these things in a much more controlled environment."
The Republican effort to repeal the Affordable Care Act last year was an example of that.
On June 28, Daines held a tele-town hall on the Republican plan to repeal the Affordable Care Act.
One caller asked Daines how he could say patients should be at the center of their health care choices, but also that he would vote to take away funding from Planned Parenthood. Another asked what happens to people who were predicted to lose their health insurance if the bill passed. Another asked, "When are we going to see you live and in person at a town hall?"
A generic "John in Helena," pressing Daines on health care by phone, is less powerful as a caller without a last name or face, Johnson said.
Tester, meanwhile, held an in-person town hall in Great Falls on the legislation June 24. While he also faced some difficult questions, the crowd was far from hostile toward Tester's stance in opposition to the legislation.
While it may have been easier for a Democrat to have a town hall on the possible and unpopular repeal of the Affordable Care Act — a poll conducted that week by Politico/Morning Consultant found just 36 percent of voters supported the repeal of Obamacare without a replacement — members of the party were more often than not the target at hostile town halls in 2009 leading up the the original passage of the bill in 2010.
Johnson dates controversy surrounding town halls back to those early days of President Barack Obama's presidency and the rise of the Tea Party, whose members used the events as a political vehicle to incite outrage.
Examples included then-Michigan Rep. John Dingell, a Democrat, who saw a constituent bring his son in a wheelchair up to the front of a town hall meeting and shout, "I have a question for this young man," a moment that later went viral. Or when then-Sen. Arlen Specter, a Pennsylvania Democrat, was told in as many words he was going to hell for his support of the bill.
A Politico story from 2009 had the headline "Town halls gone wild" and ABC News produced a video called "Loud, Disruptive Health Care Town Halls."
Johnson said while there are some potential downsides to not holding a town hall in person, politicians have learned to weigh the risks.
"When you isolate yourself from constituents, there are some risks but there may be even more risks politically if they get flummoxed trying to answer questions," Johnson said. "That's probably the calculation they are making."
With a change in the vehicle of a town hall that had been used for decades, Johnson said members of Montana's delegation have focused messaging efforts elsewhere.
Changing minds
And what's also clear from answers at town halls, whether in person or on the phone, is that the events feel less about changing the delegation's mind and more about the lawmaker explaining the views they already hold that probably aren't going to change.
"I don't think town halls are a great vehicle to change people's minds," Johnson said. "There's usually more discontent and anger."
Tester also has his share of events similar to Daines' recent swing through eastern Montana, events that reach a more narrow group of constituents, though Tester is the only member of the delegation who posts his public schedules on his website.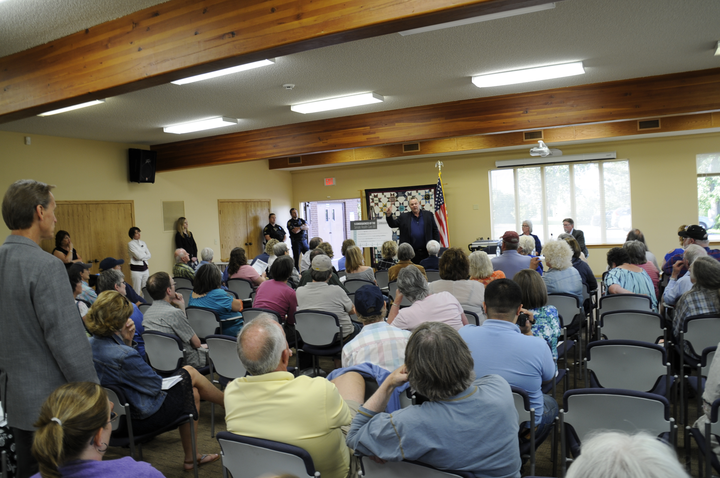 "Jon tries to meet with as many Montanans as he can across the different regions of the state," said spokesman Luke Jackson. "Geographic diversity and population are important but not the only factors. Jon tries to get to a geographically diverse set of towns and cities across Montana and talk with as many Montanans as possible."
Those types of events are arranged as businesses, community groups and constituents routinely reach out to Tester's office office to set up meetings.
As with Daines and Gianforte, Tester's staff said it's difficult to reach out to voters in a large state. Traditional and social media help, Jackson said, but it's difficult to make sure all residents in a town know when the senator is holding an event.
Staff on the ground is one of the more effective ways congressmen who work in Washington, D.C., can stay in touch with Montanans, said Johnson, the political scientist.
"You have to have staff that really emphasizes constituent services," Johnson said. "You have to have a good staff that funnels to an individual member of Congress what they hear from voters around they state. They capture the pulse of it. There's no perfect way and a multifaceted approach is necessary."
Field offices
Tester has eight field offices, in Billings, Bozeman, Butte, Glendive, Great Falls, Helena, Kalisepll and Missoula. Each office, except Glendive, has at least two staffers and is open from 8 a.m. to 5 p.m. on weekdays. The senator also has dedicated staff experienced in issues including agriculture, veterans and Indian affairs, and natural resources.
Daines also has offices in Great Falls, Bozeman, Kalispell, Hardin, Billings, Helena, Missoula and Sidney.
"We have 17 members of state staff, all of which host office hours and are consistently present at events throughout the state," Doyle said. "For example, a member of the staff in the senator's Bozeman office arrives at 7 a.m. for the purpose of talking with constituents every morning."
Of Gianforte's 17 staff members, nine work in Montana, Hall said. Gianforte has offices in Billings, Great Falls and Helena and announced last week an initiative to hold mobile office hours in at least nine counties by mid-March, kicking things off in Daniels, Roosevelt and Wheatland counties next week.
Hall said that House members have substantially smaller resouces for constituent outreach than senators.
In 2017, Hall said, Gianforte had a budget of $871,624 to run his office. The total allowance for a Senate office in fiscal year 2018 is $3.2 million, Hall said.
Additionally, a House office is allowed 18 full-time employees and four others employees like interns and part-time staff. There's no limit to the number of employees in a Senate office, Hall said.