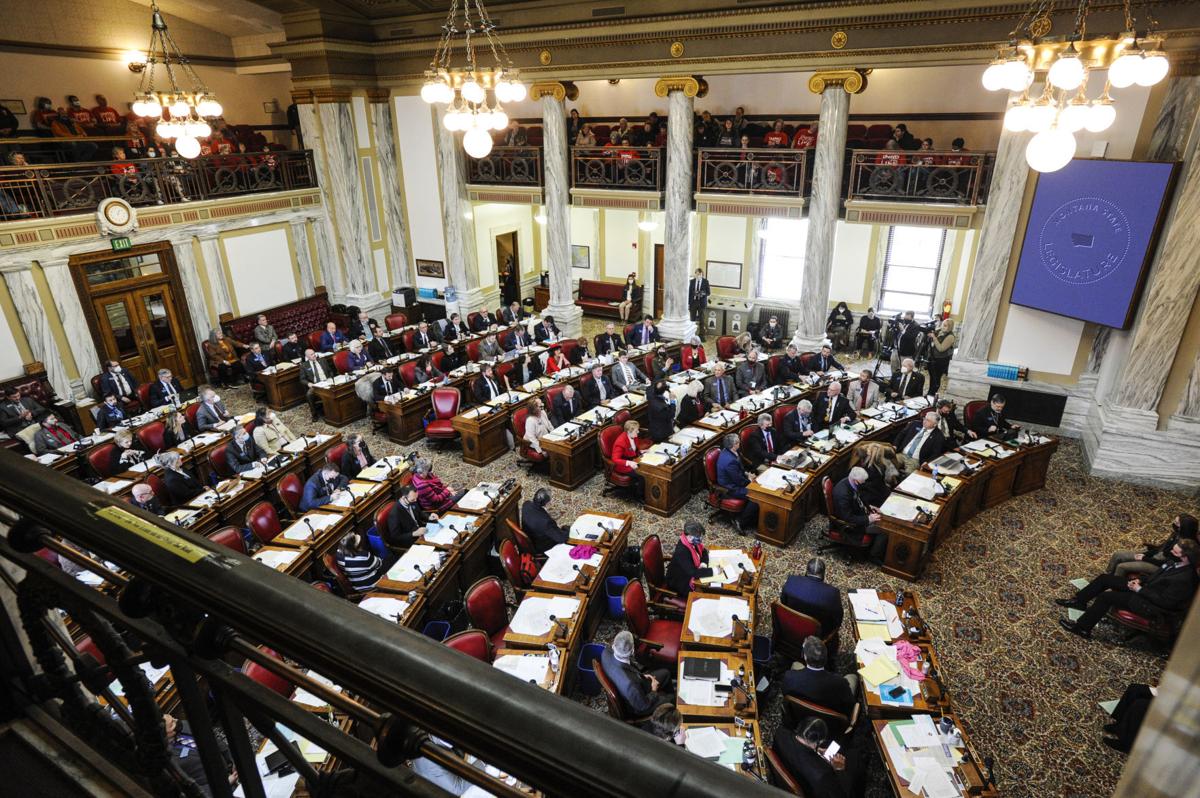 Candidates for public office in Montana would be able to use campaign contributions to cover the costs of childcare while they're out knocking on doors, under a bill that narrowly passed a preliminary vote by the House on  Friday.
Rep. Alice Buckley, D-Bozeman, called her measure "a way to make candidates at all levels, with kids at home, better candidates and better public servants."
A number of Republican House members also supported House Bill 221, with several speaking in support during the floor debate and another half-dozen signed on as cosponsors.
"I believe this bill is about more freedom," Rep. Paul Fielder, R-Thompson Falls, said. "Freedom for the the candidate to use their campaign donations the best way they think they can to get elected."
An amendment brought by Republican Rep. Derek Skees of Kalispell failed to pass. It would have required that candidates obtain permission from a donor specifically allowing them to direct the campaign funds toward child care, including signing a form.
"When you go to constituents and you ask them for money for your campaign, for 100 years, they're expecting you to spend it on political expenditures, signs, mailers, get-out-the-vote (efforts)," Skees said. "I think it would be a shock to me to find out that I donated some money to folks and they used it in a way that I wasn't ready for."
The amendment would have also required that candidates only be able to use campaign money at licensed daycare centers. Rep. Geraldine Custer, R-Forsyth, argued against that proposal, noting that daycare centers are often unavailable to candidates in more rural areas, or candidates campaigning in the evening.
Rep. Emma Kerr-Carpenter, D-Billings, said the legislation would help to preserve Montana's citizen Legislature.
"It allows us to make that balance between our family life and our public service," she said, adding, "We know how many long, long hours we spend, knocking on doors, writing letters, talking to people, putting up signs. It's hours and hours. This is one more way that our voters can support us as we go through that process."
The discussion took a heated turn after Republican Rep. Ron Marshall, R-Hamilton, suggested the bill opens the door to candidates spending campaign funds to care for their goldfish or other pets, and Rep. Barry Usher, R-Billings, argued the policy would discriminate against him.
"We've had a lot of discussions about the importance of human life and children, and today they're being compared to goldfish and pets?" responded Rep. Marilyn Marilyn Marler, D-Missoula. "I'm hearing a lot of talk about not trusting women, and then the cherry on top is it's discriminatory toward men? Good grief."
Usher clarified that that he was not referring to gender discrimination.
"I said discrimination between those who have children at this point in their life, versus those who do not have children at this point in their life," he said.
The bill passed 56-44 on second reading. It will likely face a final vote on Monday.
Earlier in the day, the House State Administration Committee discussed two other election-related bills, including one that would require the state to pay for the return postage on mail-in ballots.
Proponents of the measure, House Bill 287, argued that it would make voting easier for groups of people, including those with disabilities, who are less likely to have easy access to in-person polling places or the stamps needed to return their ballots.
Beth Brenneman, an attorney with Disability Rights Montana, said that workers in institutional settings, such as hospitals and nursing homes, often don't keep stamps on hand for patients, and noted that they are typically focused on the more immediate needs of people with disabilities.
"They are not buying stamps, and they are not looking at ensuring that people in those settings have access to the voting process," she said. "I'm not surprised by that. That is not their job."
Secretary of State Elections Director Dana Corson was the bill's sole opponent, arguing that it would amount to an unfunded mandate for his office. The bill's sponsor, Rep. Kelly Kortum, D-Bozeman, noted that the legislation would appropriate money from the general fund, which the Secretary of State's office would then use to reimburse counties for the expense.
As of Friday afternoon, there was no available estimate of how much the postage measure would cost.
The committee also debated House Bill 278, which would repeal a section of campaign finance law that already can't be enforced. It had required that political action committees carry names that reflect who a majority of their donors are.
That 1985 law was already struck down by a federal judge last summer, who ruled that it infringed on First Amendment rights. In his ruling, U.S. District Court Judge Dana Christensen also noted that the state's campaign finance reporting requirements already provide sufficient information about who contributes to political action committees.
The bill is sponsored by Rep. Brandon Ler, R-Savage, whose district in Eastern Montana was at the center of the court case.
During the 2020 primary, a political action committee called Doctors for a Healthy Montana had taken aim at former Rep. Joel Krautter, a Sidney Republican who had joined Democrats and some moderate GOP lawmakers in voting for the Medicaid expansion bill in 2019. The group leased a billboard in the legislator's hometown stating that he had "voted for taxpayer-funded abortions."
Krautter filed a complaint with the Commissioner of Political Practices in April, alleging that the group violated state law requiring that it be named in a way "that clearly identifies the economic or other special interest" of a majority of its contributors.
Commissioner Jeff Mangan sided with Krautter, finding that a majority of the four contributors to the PAC were state legislators, not doctors. The political committee appealed Mangan's decision, ultimately prevailing at the federal level.
Ler narrowly defeated Krautter in the House District 35 primary election, beating the incumbent by 1,457 votes to 1,313 in the deeply Republican district. He was unopposed in the general election.
Ler's bill was supported by Mangan, who said the bill is effectively a simple language clean-up in state law, since Christensen's ruling bars him from continuing to enforce the statute. Mangan, who was appointed by Democratic former Gov. Steve Bullock, also noted that he had supported a similar bill during the 2019 session, which was narrowly defeated on a House vote.
Responding to Democrats' concerns that Ler's bill would loosen restrictions on dark-money groups, Mangan said that other state laws already require disclosure of most donors to PACs in Montana.
"A political committee's contributors are still transparent through Montana's campaign finance law," he said. "They're still required to report all contributions by identifying all contributions over $35, including occupation and employer. None of that has changed."
He added that his office had spent about $20,000 defending the state law in court.
The committee took no immediate action on the bills.