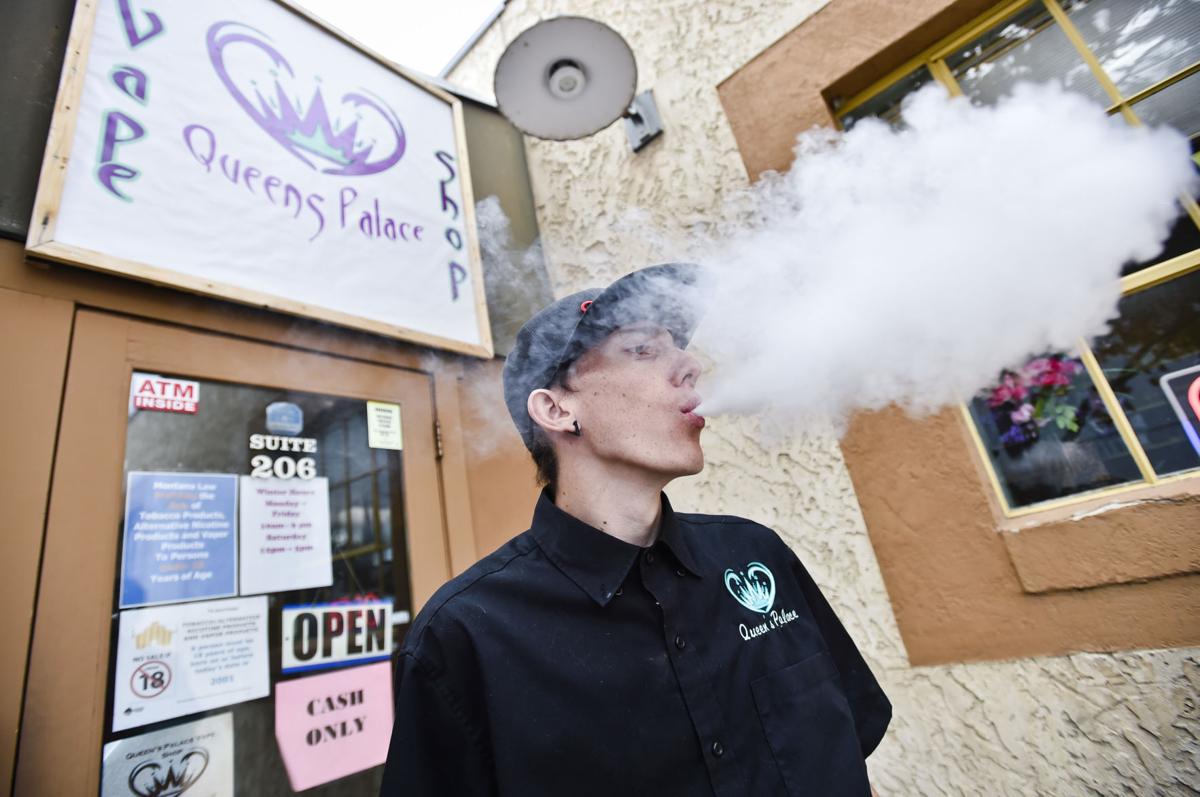 A bill to prohibit local governments from putting regulations on vaping and alternative nicotine products got the initial approval from the Montana House Friday, a proposal carried by a lawmaker who co-owns three vape shops.
House Bill 137 defines vaping products separately from tobacco products as "alternative nicotine products and vapor products." It would also retroactively strip local governments' regulations in place on the matter, like Missoula's ban on flavored vape products was intended to go into effect last week.
Instead, The Missoula City Council delayed activating the law after it was sued by a local vendor on Monday. Mayor John Engen suggested postponing the ordinance given the possibility that the Legislature might take away its local control, according to City spokeswoman Ginny Merriam. Passage of HB 137 would do that, making the local lawsuit moot. 
The House passed the bill on second reading, 65-35. The makeup of the House is 67 Republicans and 33 Democrats; Republican Reps. Sharon Greef, of Florence, and Geraldine Custer, of Forsyth, both went against the proposal. The House must still vote on a third reading of the bill, typically something of a formality, before HB 137 is passed over to the Senate.
Sponsor and Rep. Ron Marshall, R-Hamilton, said during the bill's committee hearing earlier this month the proposal was brought after the state imposed an emergency ban on flavored vaping products in 2019. At the time, Marshall and his wife, who own vape shops in Hamilton, Missoula and Belgrade, vowed to fight the ban in court. After some legal tangles and a ban that did go into place, the state abandoned its prohibition in August, but Missoula enacted its own local ban on flavored e-cigarette and vape products. 
"This bill is saying that the small guy, the little business owner ... can sell a legal product licensed by the state of Montana," Marshall said during the floor hearing Friday, "Have a business license with the town, have a product that's geared toward adults who are trying to get away from combustible tobacco."
Dissent on the House floor came mostly from Democrats who urged the body to give local government control over its own ordinances. An amendment from Rep. Jessica Karjala, D-Billings, would have removed the retroactive application — the measure that strikes down Missoula's local ordinance. Marshall contended the amendment would gut the bill; the amendment died on a 34-66 vote.
A Republican Rep. from Missoula, Mike Hopkins, argued during the debate that the bans on such products is hypocritical because alcohol and cigarettes kill more people than vaping.
"If I was going to come in and stop you from selling tofu, and then I'm over here selling a product that's worse for you, wouldn't that be a little bit hypocritical?" Hopkins asked.
Custer, the Republican from Forsyth, countered that counties that go through a vetting process, with public comment and chances for opposition, before passing any ordinances. 
"I'm sorry the counties are charged with public health and public safety and if there's something that's going on that needs to be corrected so it doesn't become a hazard to everybody, that's what their job," Custer said.
Even in dissent, Custer said she respected why Marshall, as a business owner, had proposed the legislation.
"I appreciate that he's trying to make a living and I totally get that," she said.
The House on Friday also voted down a bill that would have raised the population threshold for local governments to impose a resort tax from 5,500 to 10,000. The bill's sponsor, Rep. Dave Fern, D-Whitefish, said it would help communities that see an impact to their infrastructure from tourist traffic but aren't eligible under the current statutes. Opponents argued its application would be a precursor to a statewide sales tax. 
"This is just a camouflaged sales tax," Rep. Lola Sheldon-Galloway, R-Great Falls, said.
The House rejected the bill on second reading, voting 33-67.