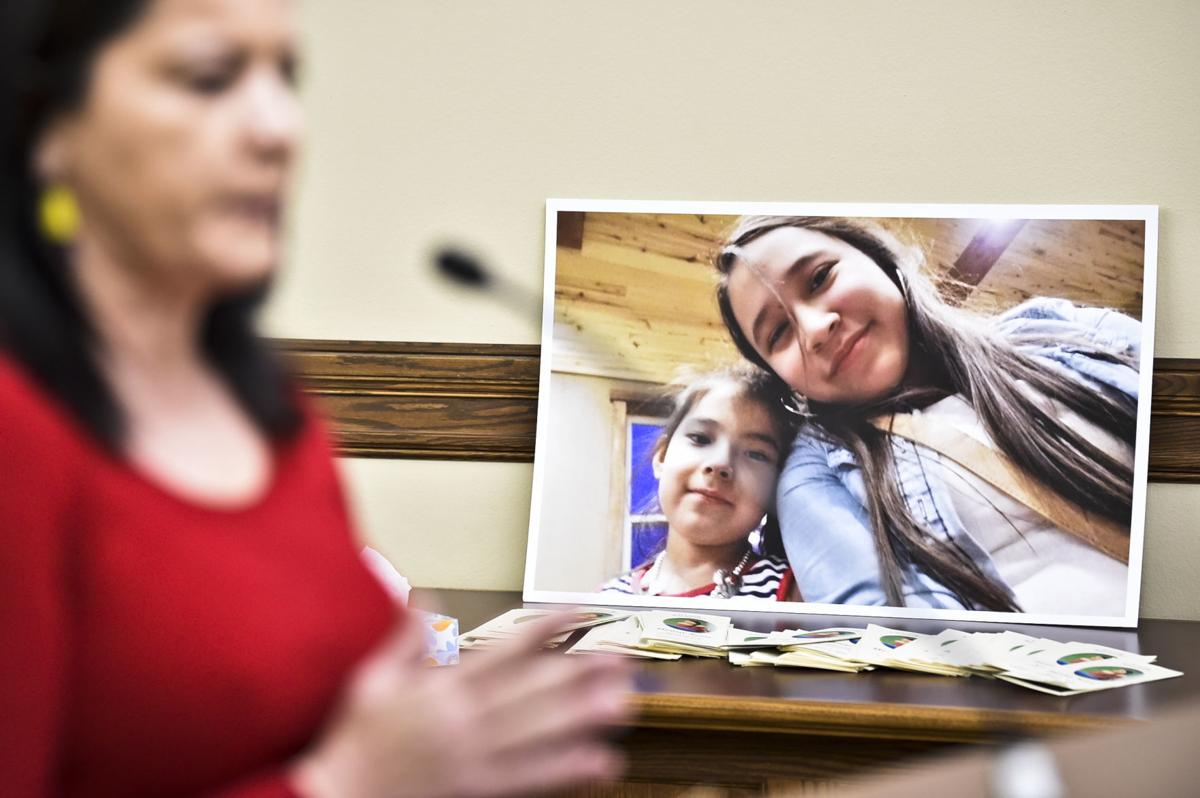 The Senate Judiciary Committee, on a tied 5-5 vote, defeated a bill that would have established Hanna's Act, named for a Native woman who was missing for several days before she was found murdered near the rodeo grounds on the Northern Cheyenne Reservation.
The bill would have created a missing persons specialist within the state Department of Justice to assist with the investigation of all missing persons cases. An appropriation of $100,000 to pay for the position was stripped from the bill.
Rep. Rae Peppers, a Democrat from Lame Deer who carried the bill, released a statement after the vote.
"The epidemic of missing and murdered Indigenous women has devastated too many families and split apart too many communities," Peppers said. "We cannot continue to put the lives of Native women on the back burner. Montana law enforcement needs better tools to seek justice for Native women and children. I urge my colleagues in the Senate to reconsider Hanna's Act, because we don't have time to wait."
As lawmakers voted to table Hanna's Act, the Confederated Salish and Kootenai Tribes were hosting a conference in Polson on missing and murdered indigenous women. Asked about the vote, Tribal Police Chief Craige Couture said of the bill, "I think it would have been helpful."
With missing persons cases, he said, "You have so many different agencies trying to do the same thing, and no one does it the same. I think having one place to stop and one person to be the advocate (to) do that would be helpful, because then they could actually compile the information."
Before voting against the bill, Sen. Jennifer Fielder, a Republican from Thompson Falls, said she didn't think the problem could be addressed with another position in state government. Fielder also said she wanted to see tribal governments pay for a share of the program. She voted against the bill.
"The question that I've had on my mind since hearing the testimony was whether or not adding another person to state government is going to solve the problem. I'm afraid it won't," Fielder said.
"I'm glad to see, particularly the Indian community, rallying around and trying to get something done. I believe the tribal governments have extensive resources and I'd like to see some participation from those tribal governments in financing a position like this rather than just ask the state to do it. Those governments have quite extensive resources available to them through the federal government."
Couture said tribal governments, like others around the state, are always in need of funding.
"No government, whether it's a state, city or tribal government has enough resources to do what they need to do," Couture said.
Sen. Margie MacDonald, a Democrat from Billings, objected to the idea tribal governments were flush with money, saying she sees the Crow reservation struggle with providing clean water in that community after contamination was found.
The Billings Gazette has reported that the tribe was unable to account for millions it received for water improvement projects, though that money was directed specifically for water projects and not the problem of missing and murdered people.
Sen. Diane Sands, a Missoula Democrat, said not all Native people live on reservations that would fall under tribal law enforcement or government jurisdiction. She also said the bill had strong support from people who testified in front of the committee.
"The issue of missing and murdered indigenous people is a crisis. It is at a level at which most of our communities would never tolerate and it is not just on reservations. Native people die in our urban areas as well," Sands said.
Gov. Steve Bullock said Monday he was "deeply disappointed" the bill failed.
"We have a moral obligation to put fundamental policy in place to assist in the missing and murdered Indigenous women epidemic. I hope that Republicans in the Senate Judiciary committee will do the right thing and reconsider supporting Hanna's Act," Bullock said. All but one Republican, Sen. John Esp, of Big Timber, on the committee voted against the bill.
Attorney General Tim Fox said he was disappointed but would continue to advocate for the bill.
"This important legislation isn't just about indigenous women, but improving law enforcement's response to all cases of missing persons," Fox said.
The bill was part of a package of bills trying to address the issue of missing and murdered Native women, developed by the Department of Justice in conjunction with the State-Tribal Relations committee during the interim.