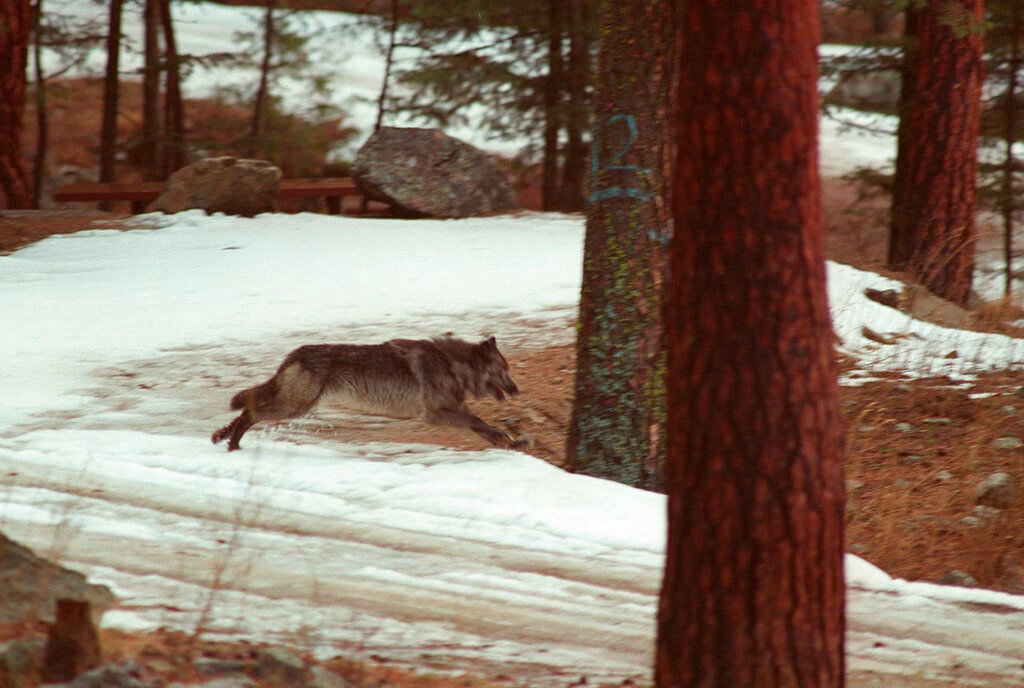 A trio of environmental interest groups petitioned the Biden administration Wednesday to reinstate federal protections for wolves in response to new laws in Montana and Idaho directing state wildlife managers to reduce populations.
The Center for Biological Diversity, Humane Society of the United States and Sierra Club submitted the petition to Interior Secretary Deb Haaland and U.S. Fish and Wildlife Service Principal Deputy Director Martha Williams, requesting that wolves in the Northern Rockies or across the entire West see emergency relisting under the Endangered Species Act. The department has 90 days to reply.
The request comes after Republicans in Montana and Idaho passed new laws aiming to lower the estimated population of 2,700 animals between the two states. The laws are necessary, supporters have said, to help bolster elk, deer and moose numbers and reduce livestock depredations. Opponents counter that some of the methods either legalized or encouraged cross ethical lines and drastic reduction of wolf populations is a drive toward extirpation.
The petition questions whether the new laws have left state wildlife mangers enough tools and flexibility to maintain viable wolf populations. 
"The best available information shows that the changes to Idaho and Montana state law will drive populations below these minimum thresholds, and strip state agencies of their already limited capacity to maintain populations above these levels," the petition states. "Rather than wait for state wolf populations to fall below minimum recovery levels, the Service should proactively reinstate federal protections."
Montana's estimated population is currently about 1,200 wolves with hunters and trappers taking about 400 annually.
The law allows hunting and trapping of unlimited wolves on a single license, hunting at night and the use of snowmobiles, ATVs and helicopters. The measure could lead to a 90% reduction in the state's 1,500-wolf population, the Associated Press reported.
Wolf populations surged in the 1990s in the Northern Rockies following transplants in Yellowstone National Park and Idaho as well as natural repopulation. Federal officials first delisted wolves in Montana and Idaho in 2009 — a decision overturned a year later in court. In 2011, Democratic Sen. Jon Tester of Montana and Republican Rep. Mike Simpson of Idaho added a rider to a budget bill delisting wolves in the region.
Since 2011, Montana, Idaho and later Wyoming have managed state hunting and trapping seasons.
"These state laws, which include payments to wolf hunters and trappers to cover their expenses, hearken back to government-funded bounty systems that contributed substantially to pushing gray wolves to the edge of extinction nationwide over a century ago," a letter accompanying the petition states. "Rather than once again resort to harmful exploitation and needless persecution, the Service must commit to gray wolf conservation and recognize the incalculable value of having wolves on the landscape."
While Montana's fish and wildlife commission has yet to decide on some of the suggested regulation changes, Andrea Zaccardi, attorney with the Center for Biological Diversity, believes the new laws as a whole significantly expand the methods and means people can use to kill wolves in the state.
"I think the other bills go far enough, and hopefully this (petition) signals to the commission if they do implement the suggestions and strong recommendations from the Legislature, those actions could backfire, and under federal protections nobody will be hunting or trapping wolves," she said.
Zaccardi declined to speculate on what the groups will do, including whether that would include a lawsuit, should the wildlife service decline to issue an emergency relisting.
Some of the legislation, such as allowing snares, includes little discretion for FWP or the wildlife commission. But others such as the bill mandating the agency reduce wolf populations leave final decisions on new regulations with commissioners.
FWP is not expected to release a target population for wolves in the state as part of the package of new regulations, Lemon said in a previous interview.
Lemon said Wednesday he could not comment directly on the petition, but touted FWP's history and future ability to manage wolves.
"I'm confident in the state's management of wolves," he said. "I think we have a successful wolf management framework and we've adjusted it over the years. In Montana we have a healthy number of wolves and also lots of opportunity for landowners to protect property and livestock, there's a significant amount of hunting and trapping opportunity and that's been expanded with some of the legislation. So to the general concept of whether they need to be relisted, our response to that is we feel like we've proven ourselves to be very capable of managing wolves."